We're spending 12 months with this Mazda3 Hatchback, reviewing the full ownership experience with ongoing updates.

The new Mazda3 hatch can swallow a living room chair
by Matt Degen on January 3, 2020
Price: $31,470 | Price yours
Current Odometer: 1,405 miles
Latest MPG: 22.4 mpg
Maintenance/Service Costs: $0
Days out of Service: 0
If you've ever owned a hatchback, you already know their x-factor. And if you haven't, here it is: Hatchbacks have an innate advantage over sedans to accommodate big, bulky items. That's by design, as hatchbacks swap a sedan's traditional trunk for a roomier space accessed by a rear door that rises. In this respect, a hatchback is more akin to a small crossover SUV. This cargo advantage is among the biggest reasons why I opted for the Mazda3 hatchback vs. the Mazda3 sedan for a long-term test car.
While the 2020 Mazda3 sedan has a good-for-its size trunk capacity of 13.2 cubic feet, the hatchback boasts 20.1 cubic feet behind the rear seats. With the 60/40-split rear seats folded, the 2020 Mazda3 hatchback's cargo space swells to 47.1 cubic feet.
But can it fit a living room chair?
I put the 2020 Mazda3 hatchback's cargo ability to the test over the holiday break. The challenge came in the form of a living room chair. My wife and I found it at Cost Plus, and she instantly was enamored with the version in baby blue. She also said it was comfortable to sit in, but priorities, right?
The new chair came in a box, and judging from its size I really wasn't sure if it would fit in the Mazda3, and if it did the box would only make it by a hair. It turns out the big, boxed chair did manage to squeeze into the Mazda3, and it slid in with the narrowest of margins. Yet it fit, saving the need for a return trip in an SUV or truck.
To make it work, all I needed to do was drop the back seats, remove the cargo cover, and I instantly had the room required for the bulky item. In fact, we had room to spare, allowing a Target run on the way home that added three or four more bags to the haul.
The rationale for choosing a hatchback Mazda3
And that's why I love hatchbacks like the Mazda3. They offer cargo versatility you simply can't get in a sedan, while also being shorter in length (and thus more garage- and parking lot-friendly). And while hatchbacks have almost as much space as a small crossover, they usually are nimbler than an SUV and lower in price — though admittedly, in this case, the 2020 Mazda3 hatch has a higher starting price than the all-new 2020 Mazda CX-30, whose interior capacities are nearly identical. That is due to the longer roster of features that come standard on the Mazda3 Hatchback, such as dual-zone climate control, leatherette upholstery and blind-spot monitoring.
Thanks to the Mazda3 hatch's surprising utility, our home was treated to a nice piece of new furniture to welcome the new year.
---
Buckle up, or else
by Matt Degen on December 18, 2019
Price: $31,470 | Price yours
Current Odometer: 1,056 miles
Latest MPG: 22.6 mpg
Maintenance/Service Costs: $0
Days out of Service: 0
I've been driving our new Mazda3 hatch for just over a month now and so far have been very impressed. So far it's been an excellent addition to our fleet of long-term vehicles, and a perfect fit for my life. But there is one potentially aggravating feature that I can't help but keep noticing: The buckle-up chime.
Like other new cars, when you start the 2020 Mazda3 it prompts you to fasten your seatbelt. But the way it does so is, in a word, annoying. Instead of a polite chime, the Mazda3 projects an abrupt and harsh signal. Eight of them, to be exact, over 8 seconds. This of course ceases once you buckle up.
For the record, I ALWAYS wear a seatbelt and mandate that anyone riding in my car does, too. I'm such a stickler about safety that I buckle up in chauffeured buses. What I don't like about the Mazda3's prompting is that to avoid the blaring, you have to buckle in before pressing the start button. I don't always like to do that.
I usually start the car and then get settled, adjusting climate control, audio features, maybe reaching across the seat for something, etc. And amid the cold mornings we've had lately — well, cold by Southern California standards — I also like to first start the car (there's no remote start on the Mazda3) to warm it up and get settled before buckling up and going on my way.
This nuisance with the Mazda3 is only that, of course. And if the worst thing that comes of it is that driver buckles up earlier than usual, then great. I just wish that reminder prompt was broadcast in a less blaring manner.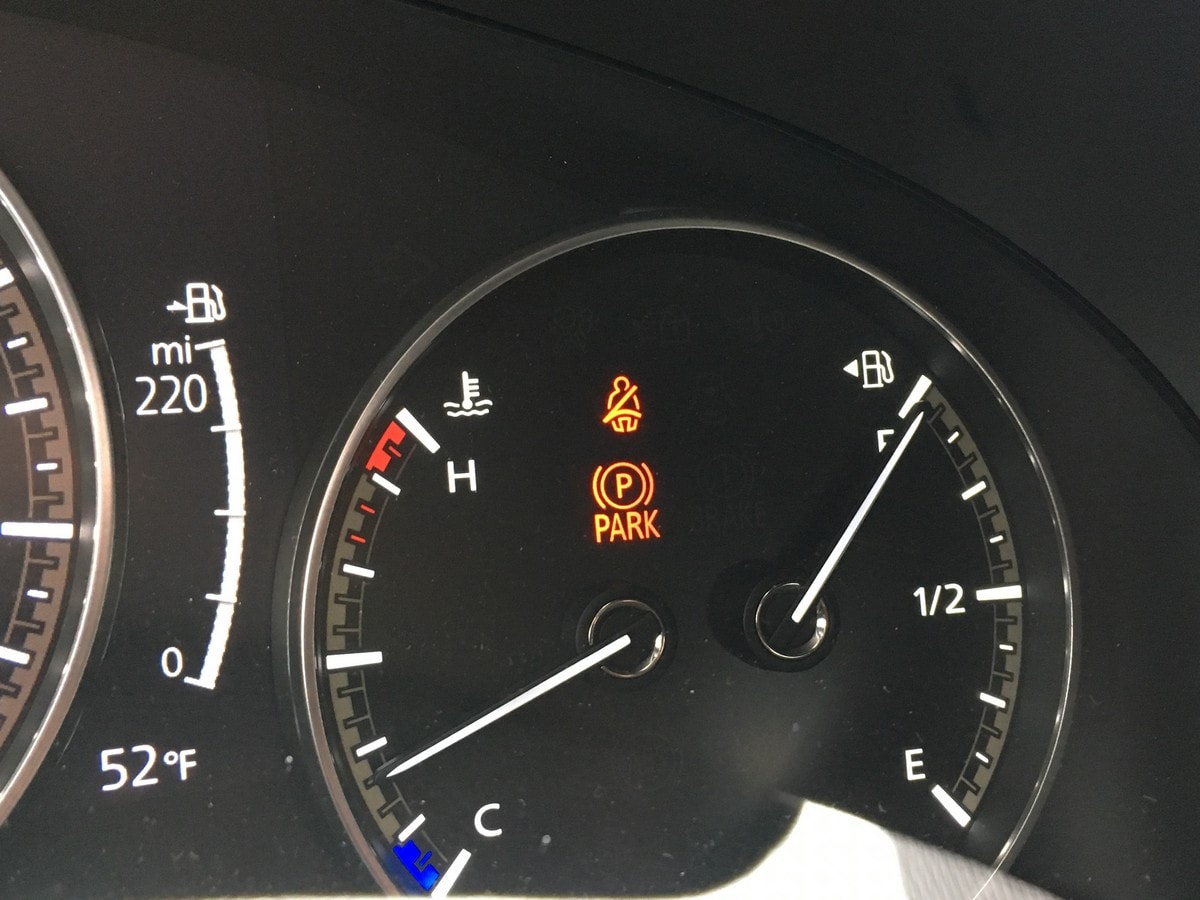 ---
Introduction
by Matt Degen on November 20, 2019
Price: $31,470 | Price yours
Current Odometer: 408 miles
Latest MPG: 21.6 mpg
Lifetime MPG: 21.6 mpg
Maintenance/Service Costs: $0
Days out of Service: 0
The 2020 Mazda3 is the newest member of the Kelley Blue Book family of long-term test vehicles, and we are excited to have it join our clan. The latest Mazda3 debuted earlier this year as a 2019 model, marking an all-new version of Mazda's compact car and its fourth generation.
As with prior versions of the Mazda3, it is available as a sedan or 5-door hatchback, and it intertwines fun and frisky manners with high fuel efficiency. That's about where similarities to prior models ends.
From its design to the technology if offers, this fourth-gen Mazda3 strives for a more premium feel. This is also the first Mazda3 to offer all-wheel drive as an option instead of the standard front-wheel drive.
The model we chose
We're partial to hatchbacks because they are by nature more practical with the ability to hold extra stuff, all while being smaller dimensionally. They are also great for drivers seeking some of the practicality of a small SUV but also wanting agile, car-like road manners. Thus I chose the 5-door hatchback version of the Mazda3 as the one to test over the coming year.
Additionally, we checked the box for all-wheel drive (AWD). Admittedly, here in Southern California we don't deal with the kind of inclement weather in which AWD is a real asset. But I did test the Mazda3's AWD abilities in snow earlier this year in Lake Tahoe during the car's media introduction, and found it worked exceptionally well. And as you probably know, AWD helps performance and grip on dry roads, too.
These factors, combined with this being an all-new feature on an all-new car, made the decision easy. And who knows, maybe it will even prompt me to take a jaunt to the local ski resorts this winter.
Equipped well to start, with plenty of options available
The 5-door Mazda3 has a higher starting price than the sedan — $23,600 vs. $21,500 – but comes better equipped. The hatchback begins at the Select level of the sedan and includes features like Apple CarPlay and Android Auto integration, a widescreen 8.8-inch display, 18-inch alloy wheels, dual-zone climate control, and leatherette seats.
Admirably, for the 2020 model year Mazda has made its suite of active safety and driver-assist systems standard. Formerly you had to step up a trim to get the i-ActivSense suite. But it's now standard on even base sedans and bundles features such as lane-departure warning and lane-keeping system, adaptive cruise control, and Smart Brake Support, the name of Mazda's automatic emergency braking system.
Hatchback models also get blind-spot monitoring standard. It's pretty much a requirement given the new Mazda3 hatchback's, uh, distinctive C-pillar. And yes, I'll be addressing that design element soon enough.
Getting back to our particular model, we opted for a top-line Premium Package model, which has leather interior, heated front seats with driver's power adjustment, 12-speaker Bose audio system, moonroof, color heads-up display, and steering wheel-mounted paddle shifters. Furthermore, our test model is equipped with navigation, illuminated door sill plates,  and a wireless charging pad. Needless to say, this is about as loaded – and expensive – as a new Mazda3 can get. Total price including destination charge: $31,470.
What's under the hood of the new Mazda3?
All models of the new generation Mazda3 come standard with what was previously the optional engine of the last-gen model: a 2.5-liter 4-cylinder that makes 186 horsepower and 186 lb-ft of torque. As we said, ours has the all-wheel drive system. That also means it comes with the 6-speed automatic transmission.
In another change for this generation, the 6-speed automatic is the standard transmission. A 6-speed manual is available, but only on one model: a Mazda3 hatchback with the Premium package and front-wheel drive. Mazda knows that most new-car buyers aren't buying manuals, and those who do are enthusiasts.
How we'll use it
At Kelley Blue Book, we use our long-term test cars just as you would: Commuting to work every day, taking them on weekend trips and basically living with them daily. That's why we call them "Ownership Reviews." Our Mazda3 arrived with just 207 miles on the odometer, so we are essentially taking rein of this car from new.
We'll dig into the details big and small. The kind of things you only really learn about a car when you are in it every day. We'll be doing that with this 2020 Mazda3 over the next year, and we look forward to sharing our experiences to help you determine if this is the car that you, too, would like to own.
Think that a Mazda 3 Hatchback might be right for you? Shop for one now at a dealership near you.