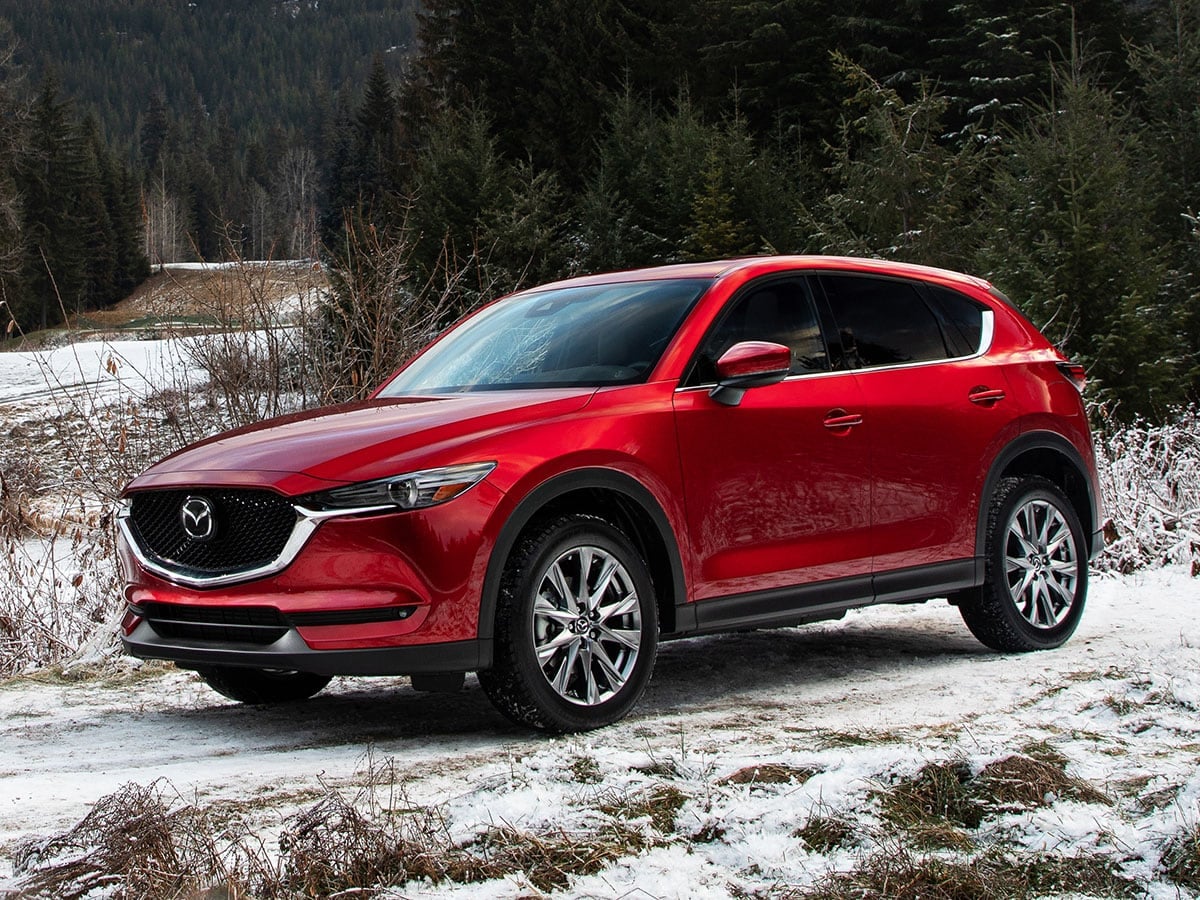 Deep discounts on Mazda CX-5 Diesel
VW prices 2020 Atlas Cross Sport
Makers enter year with lean inventories
Trucks rule in 2019
When Mazda rolled out its diesel version of the 2019 CX-5, our eyes popped at the $42,045 price tag for the oil burner, which was nearly $8,000 more than the top-line gas version of the AWD Grand Touring Reserve trim. In addition to the big price premium, the CX-5 diesel's fuel economy of 28 mpg combined, 27 city and 30 highway was better than the Grand Touring's 24 mpg combined, 22 city and 27 highway. But the EPA calculates annual fuel costs of $1,650 as a result of the higher price of diesel compared to $1,600 for models fueled by gasoline.
As a result, sales have been dismal for the diesel.  There are reports of discounts of up to $10,000 on the 2019 Mazda CX-5 diesel (there's no diesel model for 2020 on Mazda's official website). And while Mazda advertises a $2,000 customer cash incentive on all 2019 CX-5 models, Carsdirect.com says there is a non-advertised direct-to-dealer incentive of about $5,000 on the diesel. Coupled additional discounts offered in various regions around the country, the website said it found a dealer in Dublin, Calif., offering a 2019 CX-5 with the Skyactiv-D diesel at $32,045, exactly $10,000 less than sticker.
Given the uncertainty of the product's future, if you're a diesel aficionado looking for a deal on the technology, the 2019 Mazda CX-5 may be your best opportunity to get one without the hefty price premium over a conventional gas-powered model.
VW prices 2020 Atlas Cross Sport
The midsize 2-row crossover SUV category is one of the hottest segments in the industry with a whole slew of new competition cropping up. Volkswagen is looking to get a piece of the action with its all-new 2020 VW Atlas Cross Sport, a sportier-looking variant of its 3-row Atlas model. The new entry goes toe-to-toe with the 2020 Chevrolet Blazer, Honda Passport and Hyundai Santa Fe.
Pricing for the Cross Sport starts at $30,545 for the 2020 Atlas Cross Sport S with front-drive and a 2.0-liter 4-cylinder engine. The SE model is priced from $33,945, followed by the SE with Technology at $35,945. The latter can be specified with a V6 for $37,345. SEL models start at $39,545 for the 4-cylinder and $41,345 with the V6. On all these models 4Motion all-wheel drive is $1,900 extra.
The range-topping Atlas Cross Sport SEL Premium starts at $46,295 for limited availability 4-cylinder models and $48,095 for the V6. All SEL Premium trim vehicles come with standard 4Motion all-wheel drive. Later, R-Line models will be added. The SE with Technology R-Line will be priced from $37,345 with the V6 adding $1,400; the SEL R-Line starts at $41,245 and goes to $43,045 with optional engine. R-Line models with 4Motion cost $1,900 more. The SEL Premium R-Line carries respective stickers of $47,995 and $49,795 for the 4-cylinder and V6 models with 4Motion standard. Delivery adds $1,020 to all pricing.
Prices for the 2020 VW Atlas 3-row models are slightly more, starting at $30,845 ($350 extra) for the base model S up through the top-line SEL Premium which is $48,395 or $300 more than the Cross Sport.
Makers enter year with lean inventories
The industry returned from the holidays after successfully topping the 17 million mark in 2019 to leaner inventories thanks to its successful year-end sales events. According to Automotive News, makers had a 58 days' supply of vehicles on hand compared to 62 days' worth a year earlier. The figure was down substantially from the 69 days' supply December 1. Days' supply is the number of days it would take for the industry to move all the vehicles on the ground at the current sales rate.
The trade paper reports that the total supply of light vehicles January 1 stood at 3,554,900, about 188,000 less than the previous month and down 366,000 units from a year ago. The supply is less than the 60 days' supply benchmark considered ideal by the industry. Tighter supplies mean that makers are less likely to offer generous discounts or incentives. While truck inventories totaled 59 days' worth, cars tightened considerably to 53 days or just over 800,000 units. That means that while overall sales of traditional cars are down, tighter stocks also mean fewer spiffs.
By manufacturer, Subaru continues to have the leanest inventory at 21 days, followed by BMW  and Mercedes-Benz at 38 each, Volvo at 43 and Jaguar Land Rover at 48 days. Makers with the largest inventories include Mitsubishi at 84 days, VW group at 76, FCA registering 75, Ford 73 and Nissan with 63 days' worth.
Trucks rule in 2019
End-of-year sales totals show that trucks definitely ruled in 2019 accounting for more than 12 million of the 17 million total sales. That number represents 72 percent of volume, up three percentage points from a year earlier and 15 percent from 2015.
Interest in trucks helped propel Ram past Chevrolet for the first time among pickups with an 18-percent bump in sales to 633,694. Chevy Silverado sales were down 1.7 percent to 575,600 units.
We may have hit peak truck. While midsize and compact car sales are down considerably from 4.6 million in 2015 to just 2.8 million, that number equals the 2.8 million units last year for compact crossover SUVs. That segment was up by about 400,000 units over the same period.
RELATED: See how KBB can assist you with financing a new or used car
The rundown 
It's the New Year and perhaps you're planning to buy a vehicle in the coming months. Don't miss our take on 10 Resolutions for Car Buying in 2020.
Do you have a dream car on your mind? Maybe we can help. Check out this new feature: Our Favorite Used Car Listings on KBB.com Right Now.
If you want the fuel economy and pulling power of a diesel, it looks like you'll be in the truck market. Check out our Guide to 2020 Diesels for model availability.
In the market for a new car? Explore these useful tips on how to get the best deal:    
Kelley Blue Book's Complete Guide to Incentives
All you need to know about leasing
Which dealer services are right for you