We're spending 12 months with this Nissan Altima, reviewing the full ownership experience with ongoing updates.
Auto Hold: Know what it is?
by Andy Bornhop on January 23, 2020
Price: $32,930 | Price yours
Current Odometer: 9,479 miles
Latest MPG: 36.0 mpg
Lifetime MPG: 26.7 mpg
Maintenance/Service Costs: $85.82
Days out of Service: 0
There's a small button on our Altima's center console, located just aft of the switch for the electrically actuated parking brake. In capital letters, emblazoned right on the button itself, are the words "AUTO HOLD," which are accompanied by a small orange indicator light that illuminates when the feature is functioning.
Problem is, do you know what Auto Hold is? KBB, in a very informal poll with friends and family, has learned that many people don't, even though it's a feature we're starting to use often in our long-term Nissan Altima.
What it does is pretty simple. By pressing the button with the Altima engine running, Auto Hold is activated. When you bring the car to a stop, let's say at a red light, Auto Hold maintains the brake pressure you've just used to stop the Altima, allowing you to take your foot off the pedal and not experience any of the vehicle creep you'd experience without the feature. And the moment you touch the accelerator again, brake pressure is released in a smooth, basically unnoticeable fashion.
While Auto Hold is by no means essential to the enjoyment of KBB's long-term Altima, it's freeing to not have to keep your foot on the brake whenever you're stopped at a traffic signal or inching forward in heavy traffic. Auto Hold also comes in handy in the drive-through line at our local Del Taco.
In other Altima news: Keen-eyed KBB fans will see that the attractive Altima returned 36 mpg on its most recent tank of fuel. That's excellent fuel economy, but we must confess that the bulk of the tank was highway miles from a long and relaxed road trip we took to Bakersfield on our recent Martin Luther King Monday.
Why Bakersfield? Well, we enjoyed a burger and a milkshake at the original lunch counter inside the neat old Woolworth's, the downtown department store that closed long ago but has retained its cool vintage vibe and is now an active antique mall. You may recall that the Woolworth's lunch counter in Greensboro, North Carolina, was the site of the famous Civil Rights sit-in of 1960, so it seemed appropriate for us to visit a place just like it on MLK Day.

---
Seven traits we like
by Andy Bornhop on January 8, 2020
Price: $32,930 | Price yours
Current Odometer: 8,106 miles
Latest MPG: 24.6 mpg
Lifetime MPG: 26.6 mpg
Maintenance/Service Costs: $85.82
Days out of Service: 0
KBB's long-term Nissan Altima 2.5 SL AWD enters 2020 with more than 8,000 basically trouble-free miles under its belt. While it's common at this time of year to make resolutions, we've decided to look back on our time with this comfortable all-wheel-drive Nissan sedan and share seven traits we've really come to appreciate. Here goes:
Superb suspension: Thanks in part to its plush ride quality, our long-term Altima has proven to be a popular road trip car, effectively smoothing out weekend adventures to places like Las Vegas and San Francisco. Yet the supple ride quality doesn't translate to an Altima with a floaty feel. On the contrary, the Altima, aided by Sachs rear dampers, feels beautifully buttoned down while cornering. In fact, on one particular road near the KBB office that features a pronounced dip in the middle of a high-speed corner, the Altima stays totally composed, even when it's loaded with staffers coming back from lunch.
Seat heaters: Yeah, we know, seat heat's a common luxury these days. But Southern California has been cold this last month (it's relative, we know), and we've learned that a little seat heat, which is standard on the Altima SL model, goes a long way toward making you feel warm and snug on a chilly morning commute. Indeed, the Altima's seat heaters are excellent, and the leather-covered seats only add to the excellent overall comfort of the car.
Trunk-mounted seat releases: These pull releases, mounted high in the trunk and below the rear parcel shelf, allow you to fold the Altima's rear seatbacks forward without having to open a rear door and release them from inside the car. This is a big help when you're trying to load the Altima's large trunk with, say, a new 55-inch Samsung TV from Costco.
Rear Seat Alert (RSA): Sometimes, our Altima will chirp its horn at us after we shut the car down and start walking away from the vehicle. Is the Altima trying to tell us something, a la Herbie the Love Bug? It is. If this Nissan senses that a rear door has been opened and closed prior to your most recent trip in the car, it assumes you've placed something in the rear seat, possibly an infant in a baby seat. In today's increasingly hectic world, a little beeping reminder to check the back seat might save a life. For Altima owners without kids, RSA is easily shut off.
Rear Cross-Traffic Alert: When you're backing out of a tight spot in a crowded holiday parking lot at the mall, the Altima applies its brakes automatically if it senses any cross-traffic the driver might not see. We can say from firsthand experience that this system works well. FYI: It works in conjunction with Blind-Spot Warning, which we also appreciate. Lights on the respective windshield pillars tell us whenever there's a vehicle in the Altima's rear three-quarter blind spot. Very simple. Very effective.
No automatic start/stop: That's right, our Altima doesn't have automatic start/stop, and we couldn't be happier. Most of the time, we spend time trying to find how to shut these systems off, but you don't have to do that in the Altima. Evidently, Nissan has decided that the Altima doesn't need fractionally better EPA City fuel economy. And by not having stop/start, Nissan dramatically reduces wear and tear on the Altima's starter.
Adaptive Cruise Control: This system, which maintains the gap to the vehicle in front, works well on the highway. And whenever a car changes into your lane and fills that gap, the Altima thankfully does not over-react and jam on the brakes. Rather, it gradually slows the car until the set gap is reached again. The overall smoothness of the Altima's adaptive cruise is impressive, which makes the miles go by with much less stress.
As always, check back for more updates on KBB's 2019 Nissan Altima 2.5 SL AWD. This winter, we're hoping to see how its all-wheel-drive system fares in the snow of our local mountains.

---
Replaced: the Altima's satellite antenna
by Andy Bornhop on December 16, 2019
Price: $32,930 | Price yours
Current Odometer: 7,817 miles
Latest MPG: 27.0 mpg
Lifetime MPG: 26.7 mpg
Maintenance/Service Costs: $85.82
Days out of Service: 0
When KBB took our long-term Altima in for its first service, at about 6,000 miles, we had Nissan of Tustin take a close look at the car's stereo. While most everything with the premium Bose sound system was working just fine, the XM satellite radio would cut out at random times, not just under freeway overpasses that block the satellite signal. As I stated before, I really came to miss my Tom Petty Radio.
Now, though, the 9-speaker system is working just fine, and I can get all the way through "Listen to Her Heart" without interruption. The problem, according to Nissan of Tustin, was a bad satellite antenna, which is contained within the aerodynamically shaped pod on the Altima's roof. They said it would be an easy fix, but the part would have to be ordered.
Sure enough, a few days later, the dealer called and asked us to bring the car in. Which we did, and about two hours later we picked up the repaired Altima and headed back to the office. The first Petty tunes I heard were two gems: "Walls (No. 3)" then "Wildflowers."
In retrospect, it seemed like two hours was more than enough time for the dealer to replace the satellite radio's antenna. But, in studying the paperwork later, we learned that the dealer also performed a software update for the Altima's backup camera, which was part of a large NHTSA recall involving the Altima and several other Nissan models. In short, a software update was needed to ensure that the view seen by the Altima's backup camera returned to factory settings each time the Altima was placed in reverse.
While we never experienced any issues with the Altima's back-up camera, the software fix was made free of charge, just like the antenna replacement.
Under-promising and over-delivering
by Andy Bornhop on October 29, 2019
Price: $32,930 | Price yours
Current Odometer: 6,267 miles
Latest MPG: 26.3 mpg
Lifetime MPG: 26.4 mpg
Maintenance/Service Costs: $85.82
Days out of Service: 0
It's never a good idea to run your fuel tank super low, as the fuel-pickup inside the tank can get clogged with foreign debris that may have accumulated or formed within the tank.
This, for the record, did not happen with KBB's long-term Nissan Altima. But we did run the tank pretty low recently. We drove our Altima for approximately 20 miles after the low-fuel light came on, to a point where the estimated driving range dropped to only 30 miles.
We figured there must have been about a gallon of gas left in the tank, but we never quite know how cautious a manufacturer is with its distance-to-empty ratings. So, we thought it might be helpful (or at least instructive) to other Altima owners to see just how much fuel our car took when the low-fuel light was on and the range had dropped to an indicated 30 miles.
At the Unocal 76 station this morning, our Nissan took 14.61 gallons of regular 87-octane gas, which was priced at $4.15 a gallon (sadly, a typical price for fuel here in California). However, our Altima has an 18.0-gallon tank, which means there was still 3.39 gallons left in the tank. Clearly more than enough to travel 30 miles.
What gives? Well, Nissan, like other manufacturers, tends to be conservative with its indicated range, not wanting to strand those Altima drivers who choose to push their luck (who, us?). And while we think it's smart for Nissan to under-promise and over-deliver (regarding remaining driving range), this does mean you'll be stopping for fuel a bit more often.
Our Altima, with its 18-gallon tank and lifetime average fuel economy of 26.4 mpg, has a real-world range of about 475 miles. But its cautious low-fuel warning light likely will suggest a refuel long before that, which for our most recent tank was at roughly 365 miles.
While this is valuable information to know (and each car may be different), KBB reiterates that it's never wise to run your car's fuel tank nearly dry between fill-ups.
Time for the Nissan Altima's first service
by Andy Bornhop on October 21, 2019
Price: $32,930 | Price yours
Current Odometer: 6,105 miles
Latest MPG: 29.8 mpg
Lifetime MPG: 26.4 mpg
Maintenance/Service Costs: $85.82
Days out of Service: 0
Although an oil-replacement indicator light hasn't come on yet, we nevertheless decided to take our long-term Nissan Altima into the dealer for its first service, at 6,105 miles. We thought this was wise because our Altima makes many short trips, a much tougher duty cycle than sustained drives in which the oil stays at its ideal operating temperatures for long periods.
At any rate, in about an hour, Nissan of Tustin had changed the Altima's oil and filter and filled its crankcase with five quarts of fresh Nissan 0-20W synthetic oil. The oil, at $2.15 per quart, was much cheaper than expected, and the Genuine Nissan oil filter cost $8.53.
All told, this first service – which included a new drain plug washer (all of 23 cents), a multipoint inspection and a tire rotation – totaled $85.82, with $64.80 of that being labor.
While the Altima was at the dealer, we also had them look at its Sirius XM satellite radio, which had been cutting out intermittently (and rather annoyingly) for the last couple of months. Although this issue seriously limited my ability to listen to the Tom Petty Radio, First Wave and Outlaw Country stations, the AM and FM stations continued to work just fine.
Turns out the Altima's satellite-radio antenna needed to be replaced. The dealer says the $82.81 part is on order, and that he'll call or text within a few days. We're confident the fix will be covered by the Altima's basic 3-year/36,000-mile warranty.
All in all, our Altima had a good first experience at the Nissan dealer, one made even sweeter by a complimentary car wash.
What's that little button on the shifter?
by Andy Bornhop on September 20, 2019
Price: $32,930 | Price yours
Current Odometer: 5,676 miles
Latest MPG: 33.6 mpg
Lifetime MPG: 26.3 mpg
Maintenance/Service Costs: $0
Days out of Service: 0
The button on the back of the Altima's shifter is so small that you could own this Nissan for a year without noticing it. But, being the observant KBB editors that we are, we spotted the tiny little pushbutton soon after picking up our Altima.
And we're glad we did, because this small button has a big effect on the way the Altima drives. With the simple push of your right thumb, the Altima's continuously variable transmission (CVT) is switched into Sport mode, which makes Nissan's all-wheel drive sedan snappier and much more responsive.
While the Altima's CVT works just fine in casual around-town driving, there are times when we wish it would switch more quickly to lower ratios, particularly when passing other cars.
With Sport engaged (indicated by a little S appearing next to the D in the instrument panel), the Altima indeed feels much livelier. Nissan does this by allowing the Altima's 2.5-liter 4-cylinder engine to run at slightly higher rpm for a given speed, which makes for a car that's more immediately responsive to throttle inputs, more like it's equipped with a conventional torque-converter automatic transmission.
As a result, we've been driving the Altima 2.5 SL quite a bit lately in Sport mode, and wishing the improved response provided by that hidden little button was the standard state of tune for this handsome Nissan. While extended use of Sport mode may have an adverse effect on fuel economy, we're happy to report that our Altima has averaged over 30 mpg for each of its last three tanks of fuel.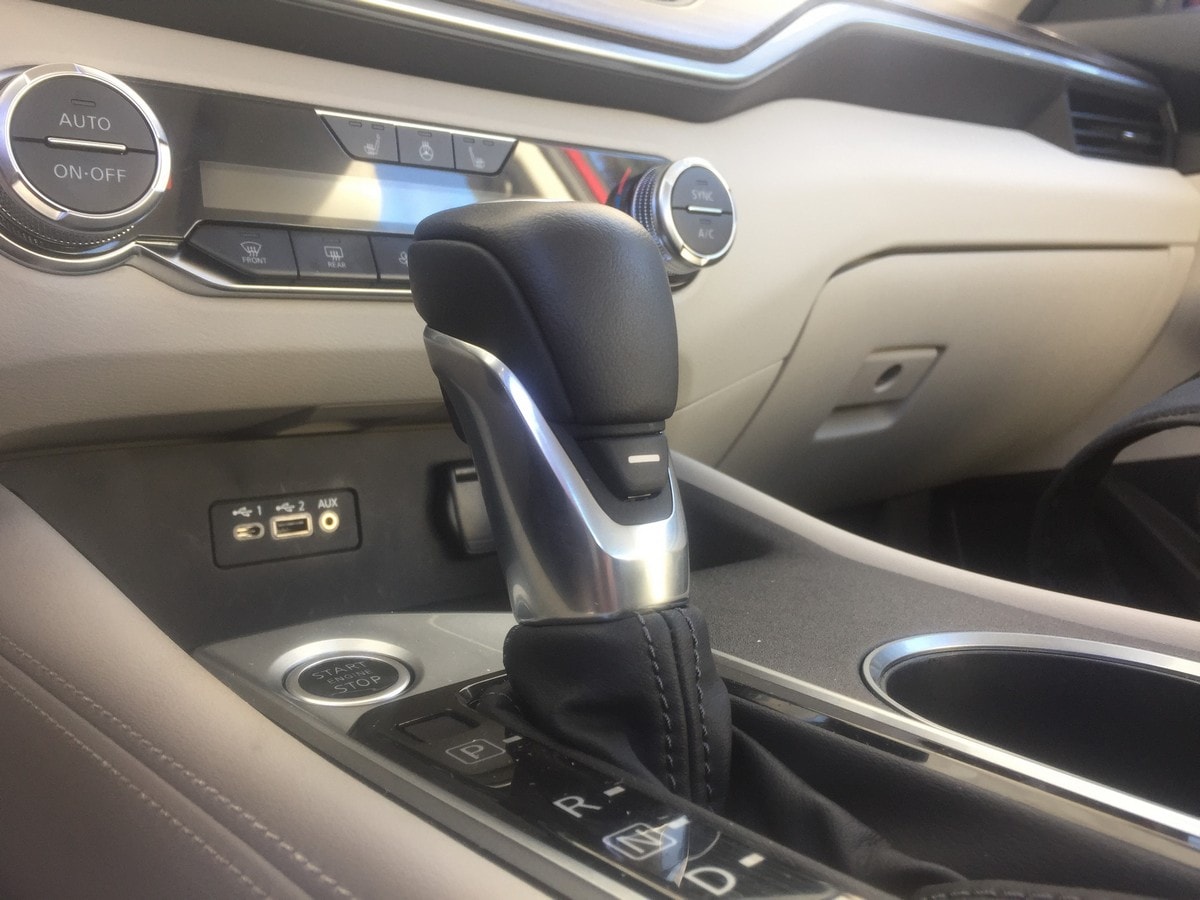 Does all-wheel drive affect Altima fuel economy?
by Andy Bornhop on August 16, 2019
Price: $32,930 | Price yours
Current Odometer: 3,783 miles
Latest MPG: 31.9 mpg
Lifetime MPG: 24.91 mpg
Maintenance/Service Costs: $0
Days out of Service: 0
We're happy to report that the 2019 Nissan Altima, a 2019 SL model with all-wheel drive (AWD), has gotten off to a smooth, problem-free start at KBB. AWD, you may not know, is a rare trait in the world of midsize everyday sedans. Yes, AWD may be standard in a Subaru Legacy, but you won't find it in a Camry or an Accord, or in an Optima or a Sonata.
When I was showing our Altima to my neighbor friend Larry the other day, he asked if AWD hurt this Nissan's mileage. While I suspected it did, I didn't know for sure, so I promised to get back to him with some EPA fuel economy specifics. I share them here with you now:
According to the EPA, a front-wheel-drive (FWD) 2019 Nissan Altima powered by the 2.5-liter 4-cylinder engine is rated at 28 mpg city/39 mpg highway/32 mpg combined. That's excellent fuel economy. For comparison, an AWD 2019 Altima powered by the same 2.5-liter is rated at 26 mpg city/36 mpg highway/30 mpg combined. So, AWD hurts Altima economy by 2 mpg in the city and combined ratings, while dropping highway economy by 3 mpg.
In sunny Southern California, where the roads are dry and it's hard to tell that our Altima even has all-wheel drive, that's a legitimate consideration. But in any areas with real winters (just look for the Subarus), that's a small price to pay for the added security provided by AWD.
Thus far, we've put nine tanks of fuel in KBB's long-term Altima, and the most efficient one, which included a fair amount of highway driving, returned 31.9 mpg.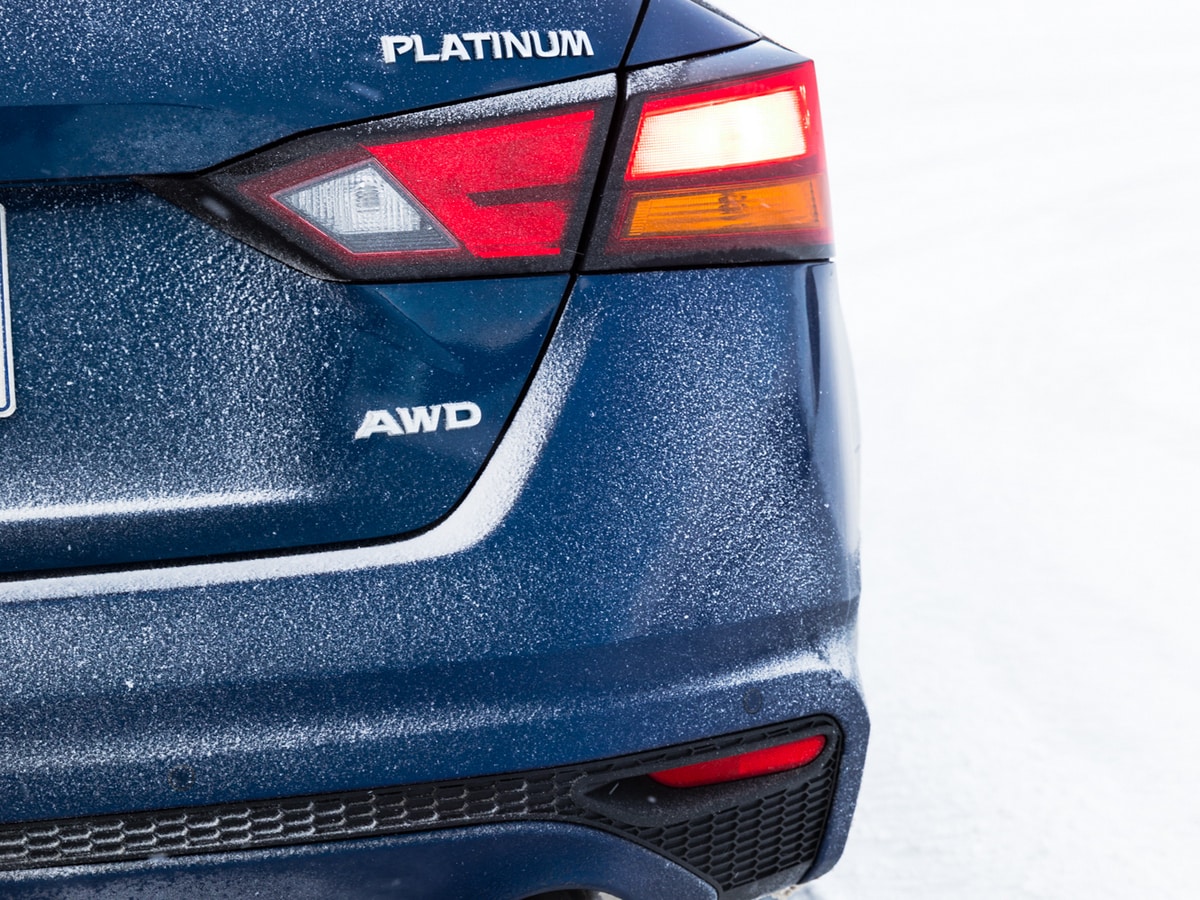 Altima: One Thumb Up, One Thumb Down
by Lyn Woodward on August 5, 2019
Price: $32,930 | Price yours
Current Odometer: 3,487 miles
Latest MPG: 25.2 mpg
Lifetime MPG: 25.1 mpg
Maintenance/Service Costs: $0
Days out of Service: 0
Thumb Up
Driving on Southern California freeways everyday can become a grind for body and soul. It's a pleasure to get into a car that takes a long commute into account by way of comfortable seats. Our long-term Nissan Altima is one such car. Over the past four days I drove almost 300 miles in the midsize sedan. Most of that was in stop and go traffic. Along with the ProPILOT Assist, which I appreciated very much for help with keeping on the straight and narrow, the exceedingly comfortable seats were my most appreciated feature in the car.
This is the sixth-generation Altima and included are better bolstered seats that are at once comfortable and supportive. There are no hard pressure points on the seats whatsoever, at least not on my proportions, and after a solid two hours of driving there was no posterior fatigue or numbness. Yes, sometimes in the wrong car, your backside can go numb. It's a thing. The seats in the rear of the Altima don't skimp either. They're equally comfortable as those in the front. They're wide and accommodating and offer plenty of leg room for your passengers. Time for a road trip!
Thumb Down
One negative note for me: the rear visibility, the view out the rear window. I'll assign responsibility to the Altima's sloped roofline and handsome styling. While it strikes a sleek profile, the disadvantage is a seriously angled rear window. That, together with the third brake light atop the trunk, significantly impeded my view. Granted, I tend to sit low in a car. That's my preference. But even with the seat raised, I found that I couldn't see anyone tailgating me, especially at night. Given that scenario, Nissan's ProPILOT Assist and the Altima's other safety features are handy tools to have.
Lane-Keep Finesse 
by Micah Muzio on July 22, 2019
Price: $32,930 | Price yours
Current Odometer: 1,836 miles
Latest MPG: 23.82 mpg
Lifetime MPG: 24.90 mpg
Maintenance/Service Costs: $0
Days out of Service: 0
Lane-Keeping Assist is a technology that enables a vehicle to recognize when it has departed its lane, typically during a moment of inattention, and automatically steer itself back into the proper lane. Lots of cars offer this technology but not all systems are equal. Having experienced the lane keeping abilities of Kelley Blue Book's 2019 Nissan Altima, I think it's one of the best…with one caveat.
What makes one Lane-Keeping Assist system better than another? Simply put, it's finesse. I recently drove the new BMW X5 SUV. When it detected a lane departure the system initiated an aggressive steering input that, even though I've used these systems countless times, totally alarmed me. Meanwhile, some lesser systems react to a lane departure by steering blindly toward the opposite side of the lane, inviting a second departure.
In my view, the best Lane-Keeping Assist systems intervene with gentle yet confident steering while smoothly guiding the vehicle to the center of the lane. Sounds logical, right? That's the exact behavior I witnessed from our 2019 Altima sedan. Crossing the lane markers at freeway speeds invoked a warning tone and a vibration through the steering wheel accompanied by smooth, rational steering to the center of the lane. In other words, finesse.
As hinted earlier, there is a caveat for the Altima's Lane-Keeping Assist. In my estimation, 45 miles per hour on well-marked city streets should be plenty quick for our Altima to identify its own lane but at these speeds the system's willingness to activate was inconsistent. No sweat. We've got a year to suss out the quirks of our car's driver- assist features. In fact, our Altima's lane-keep abilities are merely one aspect of Nissan's broader Intelligent Mobility suite of driver-assist features. As we explore the 2019 Altima's driver-assist tech, we will share its strengths and shortcomings. Stay tuned.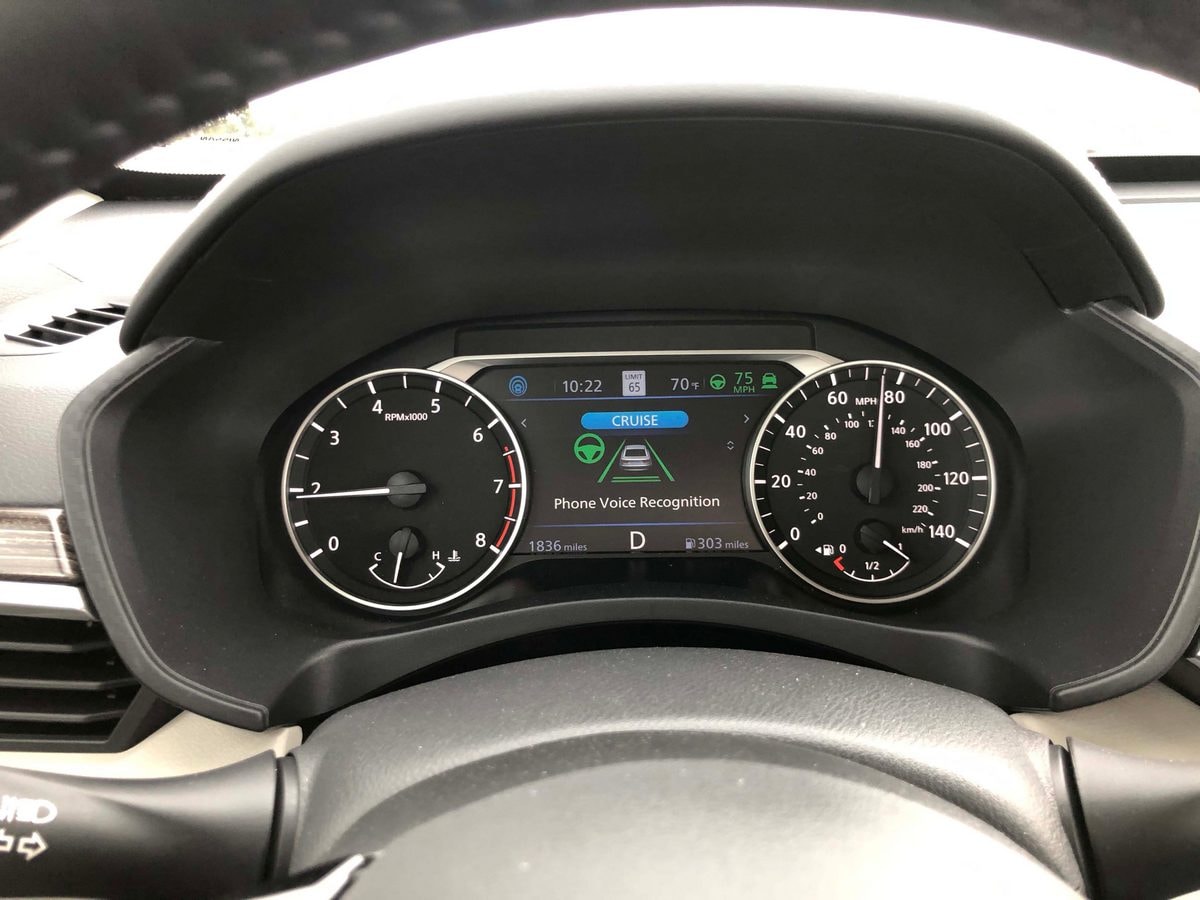 Wonky Trim?
by Micah Muzio on July 8, 2019
Price: $32,930 | Price yours
Current Odometer: 1,798 miles
Latest MPG: 23.82 mpg
Lifetime MPG: 24.90 mpg
Maintenance/Service Costs: $0
Days out of Service: 0
A casual observer might not notice but something popped out to me when driving Kelley Blue Book's long-term Nissan Altima. And I mean, literally popped out! Two pieces of trim on the passenger's side dash didn't look right. A closer inspection revealed some slight wonkiness.
First, there's a small plastic vent that directs air toward the window for defrosting purposes. It isn't sitting quite flush. The gap is subtle but when compared to the matching vent on the driver's side, something is clearly amiss. Meanwhile, near that vent sits a speaker grate for our 2019 Altima's 9-speaker Bose audio system. In similar fashion, one edge of that speaker grate is raised where it should be sitting flush with the surround dash surface.
In the big scheme of things these are minor complaints. The car functions just fine despite a little lightly misaligned plastic. Then again, I know folks who would absolutely obsess over these kinds of imperfections. And why not, our Altima's $33,000 MSRP is real money. If I'd personally paid for this particular Altima sedan, no, I would not run to the dealer screaming for a fix. But at its next service appointment, yeah, this'll be a topic of conversation.
Welcome to KBB: 2019 Nissan Altima 2.5 SL AWD
by Andy Bornhop on June 24, 2019
Price: $32,930 | Price yours
Powertrain: 182-horsepower 2.5-liter 4-cylinder
Continuously variable transmission (CVT)
All-wheel drive
EPA fuel economy: 26 mpg city/36 mpg highway
Those of us with good memories will recall that the first Nissan Altimas dating back to 1992 and 1993 were compact little sedans called "Stanza Altimas," with subtle trunk badging reflecting that fact. The Stanza part of the name, though, soon got dropped, and the Altima went on to become a huge sales success for Nissan.
Just how huge?
Consider this: Nissan, over the last 25 years, has sold more than 5.6 million Altimas, which are built in the U.S. and effectively bridge the gap between the Sentra and Maxima.
For 2019, an all-new sixth-generation Nissan Altima proves that sedans are not dead. And we're happy to report that Kelley Blue Book has arranged a long-term loan of a 2019 Altima to give our readers a sense of what it's like to live with this new Nissan sedan for a year.
Our new Altima: the particulars
Our long-term 2019 Nissan Altima is a midlevel 2.5 SL with all-wheel drive, the first time AWD has been available on any Nissan sedan in the U.S. The AWD system, which adds about 120 pounds to the weight of the Altima, works like a fuel-efficient front-wheel-drive system much of the time, but it can send as much as 50 percent of the power to the rear wheels whenever it senses the front wheels are scrambling for traction.
With its Scarlet Ember exterior paint, light-colored leather interior, edgy exterior lines and 17-inch alloy wheels, our new Nissan long-termer is a sharp-looking car, a 5-seat sedan with an MSRP of $32,930 (plus a destination fee of $895). We've already noticed how the Scarlett Ember paint, a $395 option, changes its hue in differing light conditions.
As a midlevel 2.5 SL model, our Altima is powered by Nissan's naturally aspirated 2.5-liter 4-cylinder engine that sends 182 horsepower to the wheels via an Xtronic continuously variable transmission (CVT). Although it's still a 2.5-liter as in the previous Altima, this direct-injected engine is comprised of 80 percent new or redesigned parts.
The 2.5 SL is well equipped. Standard comfort and convenience items include a power moonroof, a Bose sound system with 9 speakers, heated power front seats, a heated steering wheel and dual-zone automatic climate control. It also has remote engine start and a 60/40 split-folding rear seat that will allow us to pick up some 2x4s at our local Home Depot.
ProPILOT Assist
More significantly, KBB's new long-term Altima is equipped with Nissan ProPILOT Assist, a technology that's a steppingstone to an autonomous driving future. ProPILOT Assist is said to reduce the hassle of stop-and-go driving on single-lane highways by automatically controlling the Altima's acceleration, braking and steering, but only when drivers keep their hands on the steering wheel.
While we look forward to testing (and reporting on) the efficacy of ProPILOT Assist, we relish the idea of spending a lot of quality time in our new Altima, whose comfortable interior features an  8-inch touch screen and two pairs of USB ports (one set in front, one in back), plus NissanConnect, an infotainment system that includes standard Apple CarPlay and Android Auto, a navigation system, XM satellite radio and Bluetooth streaming audio. Traffic sign recognition, which displays the speed limit of the road you're driving on, also is standard, along with a hands-free text messaging assistant.
Safety and Security
On the safety and security front, our new 2019 Nissan Altima SL is similarly well equipped. In addition to a raft of airbags (10, to be exact), this Canton, Mississippi-built Nissan sedan boasts automatic emergency braking (with pedestrian protection), forward collision warning, rear automatic braking, blind-spot warning, and rear cross-traffic alert as standard. Lane-departure warning also is standard, along with intelligent lane assist, high-beam assist and a driver alertness monitor. While we're a bit disappointed that our new long-term Altima is not equipped with Nissan's excellent Intelligent Around View Monitor (which makes backing up in tight parking so much easier and safer), it's by no means a deal-breaker.
Key specifications/features
Price: $32,930
Engine: 2.5-liter 4 cylinder
Horsepower: 182 at 6,000 rpm
Torque: 178 lb-ft at 3,600 rpm
Transmission: Xtronic CVT
Power moonroof
Leather-appointed interior
Heated front seats and steering wheel
Dual-zone automatic climate control
Bose stereo with 9 speakers
Sirius satellite radio
ProPILOT Assist
Active cruise control
Automatic emergency braking
Steering Assist
NissanConnect
Satellite navigation
8-inch color touch screen
Blind-spot warning
Rear cross-traffic alert
17-inch alloy wheels
LED headlamps and foglamps
Curb weight: 3,423 pounds
EPA fuel economy:  26 mpg City/36 mpg Highway/30 mpg Combined
Looking ahead
In the coming year, our KBB team plans to share our experiences with the Altima and answer questions such as these along the way: Is the Altima still an attractively priced midsize sedan with a spacious back seat and a huge trunk? How does the AWD system affect the Altima in everyday use? How will our taller staffers fit inside, given the Altima's sunroof? Is this Nissan fun to drive, or is it more of an efficient appliance? And lastly: Should we have ordered our Altima with the new VC-Turbo powerplant (which replaces the V6 in the Altima lineup) instead of the 2.5?
Clearly, there's much to be answered here, so we better stop writing and start driving our new long-term Nissan Altima right away. Check back for regular updates.