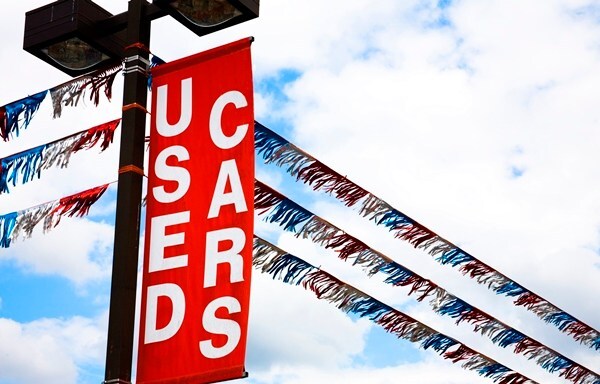 Step 1: Find Out How Much You Can Afford
Many of us may remember when buying a used car ranked right up there with a trip to the dentist. But times have changed and buying a used car need not be the horror it once was. Today's consumer has so much information (at least, the information is available), as to make the experience of buying a used car far less stressful. This transformation will occur, however, only if you obey a rule taught to every first-grade student: DO YOUR HOMEWORK. 
Decide What You Want to Spend, and Can Spend
Before considering the purchase of a used car, it is wise to establish the amount you are willing to spend or, if taking a loan, calculate your maximum monthly payment – and then make a firm commitment to stay within that amount. 
Once you figure out how much your payment should be, research your financing options. You can work out a loan with the dealership or manufacturer, but it is also possible to walk into a dealership with financing already secured through a third-party source, such as our official, preferred lender LightStream, an online lending division of SunTrust Bank, and the preferred lender of Kelley Blue Book. Third-party financing can generally be obtained without having to indicate a specific make or model of vehicle ahead of time. Some institutions will give you a lower interest rate if you have direct deposit and an electronic loan payment, so be sure to ask about these options when applying for financing. 
Don't forget to consider the costs of tax, title, registration and insurance for your new car. As a very broad, general rule, and depending upon where you live, tax, license, assorted fees and other costs will add roughly 10 percent to the purchase price. This makes the price of a $30,000 car actually about $33,000 and, if you're financing the deal, you will be paying interest on that additional amount. You should be able to afford the car as well as its costs of ownership. Insurance can be a deal-breaker for some, since some companies will raise your rates considerably, depending upon the type of vehicle you choose and your driving record. Typically, sport cars, anything with "turbo" or "supercharged" in the name, higher performance vehicles with larger or more powerful engines and vehicles with four-wheel drive will give you higher insurance rates. Also, consider that vehicles with histories of being stolen can demand a premium. It always pays to shop around, so check rates with your insurance company before you buy your new vehicle. Finally, if you have a long-standing and positive relationship with your current insurance company it may be best to stay with it, even though it may not offer the lowest of all rates. 
You may also want to consider an extended warranty plan. Chances are an extended warranty or service contract will be offered to you by the dealership. An extended warranty covers a wide range of repairs and services. The repairs can be done at any authorized dealership and tend to be easily approved. You won't pay a penny for approved repairs unless your contract includes a deductible. You can also purchase an extended warranty from an independent company that could cost less than an extended service contract from a manufacturer. 
Once you've established a price limit, steer clear of vehicles that barely squeeze under it. Leave yourself some wiggle room and shop for a less flashy vehicle with lower mileage or an older one in tip-top shape. You wouldn't want to buy the car of your dreams only to have it drain your bank account because you didn't factor in all of the costs of ownership. 
Research the Right Car
Many professionals will tell you that this is where huge numbers of buyers make their biggest mistakes. They don't buy the vehicle that is best for their needs, but instead get smitten with something that doesn't fulfill their requirements, costs far too much money or, typically, both. Figuring out how much you want to spend was the easy part; now you have to find the vehicle that's right for you. But most buyers (yes, most), are not really sure what's out there or even what they need and want. Here are some suggestions: First, make a list of all the things you need your vehicle to do (haul kids, go off-road, get good gas mileage, be absolutely reliable, maintain good re-sale value, be easy to park) and then make a second list of all the things you admire in a vehicle (body style, colors, luxury options). Cross-reference the two. You should end up with a list of required and desired characteristics, which you can use to eliminate models that won't work for you (you can't haul kids in a two-seat sports car or operate a full-size sport utility vehicle on an economy-car fuel budget). 
Use Helpful Internet Tools
There is a lot of information available on the internet but, many professionals will tell you, most buyers simply don't use that available information to their best advantage. To help, we've developed a couple of decision guides for refining your search. The Compare New Cars feature will put up to four new or used vehicles side by side for you to compare. 
Another useful area of information will be the various websites for the manufacturers. Often, you can learn specifics about not only the new cars, but that manufacturer's previous models, as well. 
Step 2: What's the Right Car for You?
OK, if you made it this far, we are assuming you have a year, make and model in mind. Now let's go shopping. If you haven't already done so, it's time to empower yourself by visiting Kelley Blue Book's Used Car Retail Values. Here you can find out how much a dealer might be asking for your desired model. Keep in mind that most used vehicles are sold below asking price, depending on local market conditions. We provide the Blue Book Suggested Retail value of models dating back 21 years. While you're there, take the opportunity to get a Blue Book Trade-In value for your own car. You will see how various options, mileage and overall condition will affect the value of your vehicle. 
If you need help assessing the condition of your car, we can help you rate it with the Condition Quiz. By filling out a series of questions, we help you determine whether the car is in Excellent, Very Good, Good, Fair or Poor condition. When you reach the options check-list page, fill in the vehicle mileage and various options, and then go to the bottom of the page. There is a section titled "Select Vehicle Condition." Check the box titled "Rate It," then enter your information onto the online form. Kelley will rate the condition of the vehicle based upon your input. 
Avoid making a very common mistake and do not over-estimate the condition and, therefore, the value of your current car. And do not take the position that you must have a certain amount of money for it. That car will be worth to the dealer exactly what the dealer figures it is worth, on that day, at that time, and sales managers, particularly those at larger dealerships, tend to have very accurate reads on current market conditions and therefore vehicle valuations. If you deceive yourself into inflating the value of your current car, it will only lead to difficulties later, when the dealership will deliver a reality check.
Step 3: Find Your Car's Value
Used Vehicle from a Dealer
If you visit a large, reputable dealer with a brand franchise, there will likely be a variety of used vehicles for sale on the lot. Although not necessarily backed by the manufacturer, these vehicles may include an extended or "aftermarket" warranty or service program offered by the dealer. Because dealers offer warranties and service programs, the used cars they sell must be refurbished to meet warranty standards. In truth, most vehicles in the used inventory of a brand-franchised dealer will not have been taken in trades for new cars at that dealership, but will instead have been purchased at one of the numerous auctions where dealers buy and sell used cars to and from each other. This means that most used cars any dealership takes in trades will be sold at those auctions, and for a variety of reasons. Perhaps a vehicle isn't in good condition, or maybe it doesn't fit within the mix that dealership prefers for its used inventory. The truth is, most cars that get traded for something newer aren't in very good shape; that's why their owners are getting rid of them. 
Pricing for retail cars at a dealership will vary, but because of the refurbishing a dealer must do to ready the car or truck for sale, the retail price of the used car will typically be more than a private party price. 
Used Vehicle from a Private Party
It's unfortunate that in this day and age we must be wary of buying from individuals, but this is where the risk of used car buying is at its highest. Before arriving at the home of the private party seller, it is advisable to ask the seller a series of questions about the vehicle. Get as much information as possible on ownership history, mileage, maintenance upkeep and especially the condition of the car. Is there any body damage, even relatively small dents or dings? Is the exterior paint dull, chipped, scratched or peeling? Is the interior of the car stained, faded, cracked or torn? How does the car drive? Does the steering pull to one side or the other? Are the brakes working well? Do the tires have wear and do they match? Another very important question is this: Is the seller in possession of the title or certificate of ownership? One good way to protect yourself from buying an unsatisfactory car is to check the vehicle's history by requesting an AutoCheck Record check. 
Used Online Buying
If you want to buy a used vehicle online, there are many used car buying sites, including eBay Motors, where you can search for the car you need and easily get in touch with the seller. 
For private party purchase, online classifieds can greatly increase the quality of communication between you and the seller with photos, history, mileage and other vital facts that are clearly displayed on each vehicle entry. You can also apply online for an extended warranty on your used car for added security. 
Certified Pre-Owned
Manufacturers' certified programs have taken much of the risk out of used car shopping by offering excellent warranties on very clean, refurbished used vehicles, called Certified Pre-Owned, or CPO. Only certain vehicles qualify for certification. Typically, the vehicle must be under five years old and have less than 75,000 miles on the odometer, although each manufacturer will have its own standards. 
Manufacturers vary in how many points of the Certified Pre-Owned vehicles are checked or reconditioned, but most put a vehicle through a complete check of all major systems. Visit our Certified Pre-Owned section to familiarize yourself with the different certified programs and you will be better able to make a decision. Certification is actually done by the dealer and, since it costs the dealer money, expect to pay more for a certified used car. 
For many buyers a Certified Pre-Owned vehicle represents the best deal in the industry. The vehicle will be in excellent condition, in most cases it includes additional warranty coverage, which can be quite extensive, and it may also be applicable to that manufacturer's financing programs. Since it will be a used car, that means the initial, and heavy, depreciation will have been taken by someone else – the first owner. You get a very clean used car, with the advantages of reduced depreciation and the peace-of-mind of some level of additional warranty coverage, which in many cases exceeds the original warranty. Unless you're the type of person who absolutely, positively needs a brand-new car, you will benefit tremendously by checking out a manufacturer's Certified Pre-Owned inventory, which can usually be done on-line through that manufacturer's website.
Step 4: Contact and Communicate with the Seller
If you are contacting a private party, it's important to find out why the vehicle is being sold. Ask them to describe the condition of the car and how it was used, if they have all the mechanical and maintenance records for the vehicle and if they have any objection to you taking the car to a private mechanic for an inspection. This is extremely important, as private party sales are almost always "AS IS" and, once you've bought the car, it's yours, period. If your state requires a smog certificate, insist the car pass inspection before you go to view it. Smog checks are the seller's responsibility; don't fall in love with a car only to find that it fails a smog check. Also be certain the car is still current on its registration. If the registration has expired, it can be costly to re-instate it, and that should also be the seller's responsibility. Registration fees and requirements vary from state to state so be sure to consult your state's Department of Motor Vehicles for details. 
If the seller says all the right things, set up an appointment to see the vehicle. Always try to view the vehicle while there is still daylight and bring along a friend. If you have to go alone and are feeling a bit uneasy, ask the owner to bring the car to a convenient location, such as a local shopping center parking lot or the DMV. One last word on private party sales: A private party in this context refers to an individual selling his or her personal car. You must be very alert to private party ads placed by professionals. These are individuals that purchase used cars, usually in poor shape or with questionable titles, and then sell them cheap without disclosing their past problems. Also referred to as "curbstoners," these shady characters can often be found with a few vehicles parked in a shopping center parking lot or in front of their places of business. Do not confuse them with reputable dealers. They cannot provide the warranty, inspection and accountability of an established used car dealer.
Step 5: Get Both a History and a Safety Report on the Car
Vehicle titles are one of the most important forms of consumer protection against being cheated in a used-car deal. Knowing something about titles and vehicle fraud can help you avoid falling victim to a scam artist, so checking it out is well worth your while. 
You should always be concerned about buying someone else's problems. Before making any deals, write down the Vehicle Identification Number (VIN) which is a 17-digit code usually located on the top of the instrument panel, at the base of the windshield. It will also be on a sticker on the driver's-side door pillar, and in several other places around the vehicle. Make certain that all the VINs on the vehicle match! If the one on the door pillar is different than the one on the dashboard, or title, or somewhere else, then something is not correct. Leave and find another car.
RELATED: See if the vehicle you're buying has been subject to any recalls 
The VIN will allow you to check the title and get a detailed AutoCheck Vehicle History Report. An AutoCheck report can identify major problems with the vehicle, including past accidents, flood damage and odometer discrepancies. Also, request copies of the service records from the person selling the vehicle and have the vehicle inspected by a trusted mechanic before you give the seller any money. 
We also advise that you research the car's recall history by visiting the National Highway Traffic Safety Administration's (NHTSA) website. There you can search an extensive database for safety defects and recalls regarding motor vehicles, tires and motor vehicle equipment, as well as learn about current and past defect investigations. Whether buying from a dealer or private party, it would be wise to utilize both resources. If the car's history does not match what the seller has told you, don't buy it.
Step 6: Conduct a Thorough Walk-Around
A physical assessment of the vehicle is absolutely paramount before the purchase. Take your time and be thorough with your examination. While a private party may let you take the car to your own mechanic, a dealer may not be so obliging, insisting that his own mechanic perform the inspection. Don't let this stop you from doing some inspecting of your own. Again, if the seller objects or tries to belittle you for your effort, walk away. An honest dealer should stand behind every used car he or she sells, and there are plenty of good dealers out there. 
Look for the following warning signs: 
Signs of Poor Alignment
Check the tires for wear. Uneven tire wear — balding on the sides or in the middle — could indicate the need for a front-end alignment or a more costly repair to a suspension component. 
Signs of Possible Body Repair
Bring along a small refrigerator magnet and place it gently (so as not to scratch the paint) along various body panels (lower door, front fender, etc.). If there is any plastic body filler present the magnet will not stay in place, indicating the vehicle has been involved in an accident. Stand away from the vehicle and look at its panels and seams. Does everything line up correctly? 
Signs of Repainting
Open the trunk, hood and doors. Look for paint over-spray, a telltale sign all or part of the vehicle has been repainted. Now walk around the vehicle. Are all the body parts precisely the same color? 
Signs of a Cracked Block
Check the radiator fluid. If it is foamy or has oil droplets in it, there is a good chance the car has a defective head gasket or, worse, a cracked block or cylinder head, any of which will cause the coolant and oil to mix together. If so, don't buy the car. 
Step 7: Conduct a Thorough Test Drive
Reach up under the car and feel around the top of the gas tank. If you find mud or leaves up there, chances are the vehicle was involved in a flood or, in the case of a sport utility vehicle, taken off-road with some frequency. You can perform the same test inside the car by carefully reaching up under the instrument penal. If you find any signs of this sort of water damage, don't buy it. 
Signs that the Vehicle is Not Local
Check the inside of the car. Look in the ashtrays and under the seats. Listen to the radio. If the buttons are all set to stations in another area, you know the car is not local. 
Signs of Driver Abuse
Look at the condition of each foot pedal (gas, brake and clutch). Do the rubber footpads show heavy wear? If the steering wheel is leather, does it show excessive wear? These patterns on a low-mileage car may indicate that the vehicle has more mileage than the odometer indicates. Trust your sixth sense on this one. If you feel the odometer has been tampered with, don't buy the car. 
Contact the Manufacturer 
If everything checks out and you feel you have a good deal, do yourself one more favor. Contact the manufacturer. If the car you are buying is a late-model vehicle, find out what the warranty stipulations are.
It looks good and sounds fine, so now it's time for the all-important test drive. This gives you the opportunity to gauge a vehicle's driving characteristics and also minimizes the chance of future buyer's remorse. 
Most people take only a few minutes to test drive a car; this is a big mistake that often comes back to haunt them. Before driving, spend as much time as you can inside the car. Sit in it for a while and check out every interior function. You may want to bring along a favorite CD to find out if the sound system is up to your satisfaction. 
Things to notice before your test drive: 
Seat Comfort
Is the seat too hard or too soft? Does it hold you firmly with good lateral and thigh support? Do your legs start to cramp? Does your lower back feel like it needs more support? Take your time, because the seat is the one feature you use constantly every moment you're in the car. Imagine paying lots of good money only to find after the first hour on the road that your back is in agony. 
Cockpit Ergonomics
Is the steering wheel too high or too close to the instrument panel? When adjusted to a comfortable position, does it cut off your view of any or all of the gauges? Look at the layout of the radio and heater controls. Can they be easily adjusted without taking your eyes off the road? Look over your shoulder. Are there any blind spots that you cannot compensate for by using your mirrors? Climb into all the seats and check the head and legroom for future passengers. Do the headrests come up far enough? Do they touch your head or are they raked back at an angle away from you? Does the seat belt have an adjustable anchor or does it cut into your neck? Are there child-seat anchors? Check to see how far the rear windows roll down. Some models have windows that go down only a few inches or are sealed in place and don't roll down at all. Take your time to explore all these areas. Then take it for a drive. 
Dashboard Lights
Before staring the car, turn the key to the "Accessory" position (the last position before the engine starts). All the dash warning lights should illuminate. Be sure both the "check engine" and, if equipped with antilock brakes, the "ABS" lights illuminate. If they do not, the problem could be as minor as a burned-out bulb or as serious as tampering to disguise a problem. In either case, insist the problem be corrected or inspected before proceeding. 
Engine Noise
Upon first starting the engine, listen for any tapping or ticking sounds. A prolonged tapping could be valves needing adjustment or a bad hydraulic lifter. If equipped with power steering, turn the wheel from side to side and listen for belt squeal. Pump the brake pedal a few times and then press hard with your foot. If it slowly sinks all the way to the floor, there is either a leak in the line or the master cylinder or brake booster needs repair. Shift into gear. If the car is an automatic, the transmission should engage immediately and, as you drive, shifts should be crisp, firm and quick. There should be no grinding or groaning sound of any kind from the transmission when you select gears. With your foot firmly on the brake, shift from drive to reverse; clunks or grinding noises could indicate worn or broken engine or transmission mounts, bad universal joints or differential wear. 
Steering Vibration
As you drive along, does the steering wheel shake or vibrate? It shouldn't. Vibration in the steering wheel can mean anything from an unbalanced tire to a loose steering rack. If the steering wheel shakes but only when you are braking, this could indicate a warped brake rotor or sticking caliper. 
The Brakes
Cars with ABS (antilock brakes) will have a slight pulsating action in the pedal when the brake is applied with great force (panic stops, for example). Cars without ABS should not have pulsating brake pedals under any circumstances. The car should also continue in a straight line when the brakes are applied. If the car pulls noticeably to the left or right, it could indicate a problem with the front brake calipers or pads, some other area of the brakes, the suspension or steering gear.
Step 8: Go the Extra Mile to Assure Quality
If the car fails on any of these points, take it to a mechanic to evaluate repairs. It is then your call whether you want to walk away or negotiate the price based on the repair estimate. 
We recommend that you contact your local Department of Motor Vehicles. Ask what forms are required to transfer the title as well as any other information you need to provide. For example, some states will require you to bring the vehicle to the DMV for inspection, some states require a smog certificate and others require the bill of sale from the current owner. 
Finally, whatever you do, get everything IN WRITING. This means if you settle with a private party, write up a contract stating what you are paying for the vehicle and under what terms it is to be delivered.
Step 9: Negotiate Your Best Private Party Price
When buying from a dealer, you may receive a limited warranty (perhaps 30 days) and many dealerships offer manufacturers' Certified Pre-Owned programs for their late model cars that can extend the warranties out a number of years. Some advantages of buying from a private party include a lower price, you will have all the repair records (if they are available) and you know the previous owner, should any questions come up later. 
Most private party cars are not in perfect condition, which is why Kelley Blue Book's Private Party Values are usually much lower than used Retail Values. Most of the time, the seller and buyer assume the car is "AS IS," but there are always exceptions. Also, most sellers add in a few hundred dollars to the asking price for negotiating. Unless the seller specifically states the intention of a "firm" price, there should be room for some negotiation.
Step 10: Negotiate Your Best Dealer Retail Price
Negotiating with a Dealer
So, you are at the dealership, have completed your test drive and review of the car and have decided to make the purchase. At this point there is usually room to negotiate downward from the dealer's asking price on a used vehicle. However, in the last few years several "No-Haggle Pricing" dealerships have popped up across the country and, while the "no-haggle" approach usually applies only to new cars, it may apply to the used inventory, as well. While there may be little or no room for directly negotiating the price of the car at these dealerships, there are other opportunities to put your negotiating skills to work. 
The Kelley Blue Book Retail Value you have printed out and brought with you to the dealership (make sure to print the "Retail Value" and not the Private Party or Trade-in Value) represents the typical dealer's asking price or the number likely to be on the window sticker, and not necessarily the selling price. If you're up for a little negotiating it is very likely that you will pay less than the Kelley Blue Book Suggested Retail Value. 
Here are a few tips:
You may have a better chance of saving yourself a few dollars if you negotiate the price of the vehicle, your interest rate and your trade-in separately. However, you should remember a very significant point. Nearly every new-car deal involves four separate items: The new (or newer) vehicle being purchased, the value of the trade-in, the down payment and the monthly payment. The industry works on a system of combining all these into the deal because, in the reality of the business, that is the way almost all deals are structured. It is, in fact, the way most people buy cars. To try to figure them as distinct, separate items with no relationship to each other is folly; the money has to come from someplace. Another truth is that most buyers have a vehicle to trade and, in most cases, they are upside-down on that trade, which means they owe more on the car than it is worth. Therefore, if you are attempting to purchase a new or newer vehicle of a certain price, and you are upside-down on your trade, and you don't want to put very much money into the down payment, the only remaining source for the money is the monthly payment. The people at the dealership most assuredly want to sell you a car, but they are not magicians and they will deal in reality. 
As part of the negotiation process the dealer will often ask how much you are willing to pay for a particular vehicle. There is less chance for confusion if you aim for an overall price rather than a monthly payment. Again, however, most buyers are what are known in the business as "payment shoppers," and they are looking for low monthly payments. This is absolutely a terrible way to purchase a car. The dealership may be able to meet your monthly payment demands, but it will quite often be at the expense of extending those payments for a longer duration. The best advice is to stay within a reasonable price range and don't over-extend yourself. 
Other items up for negotiation might include an extended warranty or options and accessories on the vehicle. The addition of options like an upgraded sound system, premium wheels or new floor mats can be negotiated. Many times these low-cost items can be thrown into the package. You may also be able to negotiate an extension to the vehicle's current warranty, providing coverage for up to one year rather than, say, six months. And, just as with a private party sale, if there is any work a dealer promises to do or options it intends to add, get everything in writing before you close the deal. This additional work is often written on a form known as a "Due Bill," for work "due" to be completed, and you should receive a copy of this form when you sign the final documents. 
What can be negotiated is between you and the dealer and you never know what you can get until you ask. 
And, here is one final point regarding negotiation that nearly every customer misunderstands, particularly men (who too often turn the process into a contest), but which is universally understood by every good car salesperson: He who talks the least is controlling the negotiation, he who talks first loses. 
With that, good luck, good shopping and good driving.