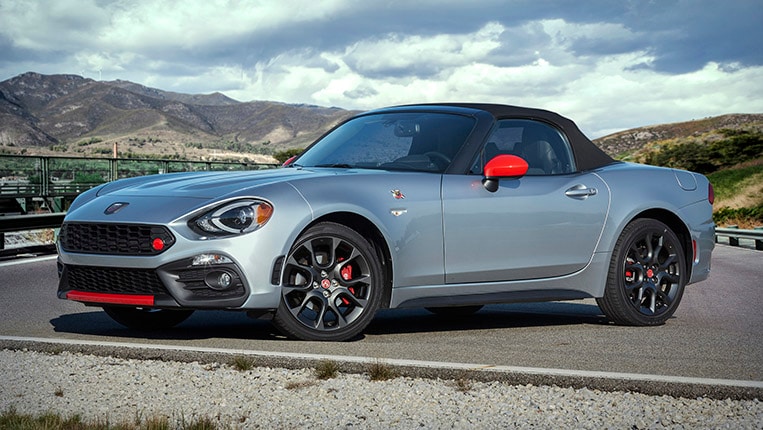 Predicted 5-Year Cost to Own:

$40,558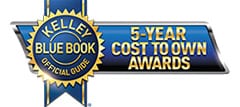 The Fiat 124 Spider has once again earned the title of Best Sports Car in KBB's annual 5-Year Cost to Own ratings. How did this Fiat roadster, which starts at $26,885 (including the $1,495 destination charge), take a repeat win for 2020?
For the same reasons it won in 2019. This is a fun little 2-seat sports car built in Japan by Mazda, and it's mechanically similar to the Miata roadster. This helps put to rest any questions about reliability. The Fiat, though, has its own distinctive styling and its MultiAir engine (a turbocharged 1.4-liter 4-cylinder) makes a stout 160 horsepower.
Moreover, top-down driving in this Fiat convertible is a joy, with thicker side glass and special acoustic windshield helping to keep the high-quality cockpit calmer and quieter than you might expect. Yes, this makes the 124 a bit heavier than a Miata, but the Fiat remains a kick to drive, aided by razor-sharp steering reflexes and a chassis that relishes curvy weekend adventures without being uncomfortably firm.
Our favorite 2020 Fiat 124 Spider is the $30,885 Abarth, fitted with sport suspension and a limited-slip differential. Other available 124 Spider models for 2020 include the Classica ($26,885), the Urbana Edition ($27,880) and the Lusso ($29,640). While these models differ in level of equipment and minor styling details, they are all classic rear-drive roadsters with the same engine and 6-speed manual transmission, so they all succeed in reminding us that driving always should be fun, not a chore.
With its low KBB Fair Purchase Price and good reliability, the Fiat 124 Spider continues to shatter perceptions by once again earning the title of Best Sports Car in the annual KBB 5-Year Cost to Own ratings.
More 2020 Fiat 124 Spider
Build and price your own 2020 Fiat 124 Spider to see this week's Fair Purchase Price, 5-Year Cost to Own and more, or check out the 124 Spiders for sale today at dealers near you.
You can also see more sports cars or check out the full list of this year's 5-Year Cost to Own Awards winners.
2nd Place: 2020 Subaru BRZ

Predicted 5-Year Cost to Own:

$41,192
A hardtop coupe, the entertaining rear-wheel-drive 2020 Subaru BRZ costs a bit more ($29,745 including the $900 destination charge) than the 124 but has similarly low cost-to-own ratings. Learn more about the BRZ or find one for sale near you
3rd Place: 2020 Toyota 86

Predicted 5-Year Cost to Own:

$41,739
The Toyota 86 has a lower MSRP ($28,440, including the $955 destination charge) than its Subaru BRZ mechanical twin, as well as a slightly higher KBB 2020 5-Year Cost to Own rating. Learn more about the 86 or find one for sale near you