Predicted 5-Year Cost to Own:

$47,697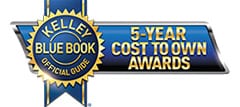 Every year, the full-size truck segment seems to get more competitive. There's a lot on the line here: After all, the top three vehicles sold in America – the Ford F-Series, Ram Pickup and Chevrolet Silverado — made up more than two million sales in 2019. When that many sales are at stake, each manufacturer does its best to find the advantages over the competition. In many cases it's the "bests" that differentiate one truck from another, and the Chevrolet Silverado has two: It has the best projected 5-Year Cost to Own data, and a best-in-class towing capacity of 13,400 pounds.
Redesigned from the ground up last year, the Silverado comes in a wide range of cabs and bed lengths, but most notable here are the engine and trim-level choices. There are five engines – including a turbocharged inline-4 and a turbodiesel – with transmission and fuel-saving variations that bring the total powertrain options to eight. And there are trim levels galore, everything from the budget-friendly Work Truck to the ultimate luxe High Country.
All of these choices are in a nicely refined truck, as we explain in our Expert Review: "The 2020 Silverado drives smaller than it is, with excellent ride quality, yet the handling is still taut and accurate with little body roll. From steering to braking, everything feels natural and linear. The Silverado had already earned a reputation for its quiet cabins; as far as we can tell, this new generation is even quieter."
And even though the Silverado is capable of towing up to 13,400 pounds, it's designed to make towing easier for beginners and experts alike. More from our Expert Review: "Chevy supplies a useful checklist for connecting a trailer, plus memory settings for five trailer profiles. The driver can monitor the trailer tires' pressures and even test the trailer lights (usually a 2-person job) through a smartphone app. An optional rear camera shows what's behind the trailer; the 2020 Silverado revision brings 15 views. In addition, an alarm sounds if the trailer is disconnected while the truck is locked."
Most truck buyers prefer the crew cab layout (with four full doors), which starts at just over $36,000 for the Silverado. If you want a truck for your small business, the short-bed regular-cab Work Truck runs less than $30K. No matter what your truck budget is, choosing a Silverado means you get the added value of low 5-Year Cost to Own numbers.

DID YOU KNOW? With State Farm, great coverage doesn't have to cost more.(sponsored)
More 2020 Chevrolet Silverado 1500
Build and price your own 2020 Chevrolet Silverado to see this week's Fair Purchase Price, 5-Year Cost to Own and more, or check out the Silverados for sale today at dealers near you.
You can also see more pickup trucks or check out the full list of this year's 5-Year Cost to Own Awards winners.
2nd Place: 2020 Toyota Tundra
Predicted 5-Year Cost to Own:

$49,625
Known for rock-solid reliability, the Toyota Tundra comes standard with V8 power, plus an impressive variety of cabs, bed lengths and trim levels. Learn more about the Tundra or find one for sale near you
3rd Place: 2020 Ram 1500
Predicted 5-Year Cost to Own:

$50,285
Highly capable, remarkably luxurious and filled with innovative technology, the Ram 1500 also offers excellent 5-Year Cost to Own performance. Learn more about the Ram or find one for sale near you