Predicted 5-Year Cost to Own:

$31,056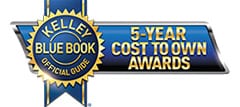 The 2020 Hyundai Elantra brings the features and overall feel of a midsize sedan into the realm of the compact car. And it does so with excellent style, two body configurations (sedan and hatchback) and an MSRP starting below $20,000. Moreover, safety tech like automatic emergency braking is now standard on the Elantra, and its powertrain warranty remains the best in the business. It's credentials like these that explain why the well-built Hyundai Elantra has earned the title of Best Compact Car in the 2020 KBB 5-Year Cost to Own Awards.
From our Expert Review: "There's no dispute, the 2020 Hyundai Elantra is really impressive. After a substantial makeover last year, Hyundai has made even more improvements this year… The Elantra competes with superb cars like the Honda Civic and Mazda3. It does so by emphasizing luxury and safety aspects, generous standard equipment, styling influenced by upscale cars, plus an unbeatable 10-year/100,000-mile powertrain warranty. For those seeking something sporty, there's the hatchback Elantra GT N Line (taking over from the GT Sport)."
Continues our review: "The base 147-horsepower engine at least has some zest, while the brakes feel confident. The Eco model's engine is a turbocharged 1.4-liter unit that balances a useful 128 horsepower with an average of 36 mpg. For more power, the Elantra GT hatchback brings 161 horses, while the Sport sedan model and the GT N Line enjoy 201. Incidentally, the Sport sedan and the GT N Line have a more sophisticated rear suspension, enhancing the cars' agility.
While the low MSRP of $19,870 (including the $920 destination charge) played a major role in the Elantra being named Best Compact Car in the 2020 KBB 5-Year Cost to Own Awards, so did its transferable warranty and strong resale values.
More 2020 Hyundai Elantra
Build and price your own 2020 Hyundai Elantra to see this week's Fair Purchase Price, 5-Year Cost to Own and more, or check out the Elantras for sale today at dealers near you.
You can also see more compact cars or check out the full list of this year's 5-Year Cost to Own Awards winners.
2nd Place: 2020 Toyota Corolla
Predicted 5-Year Cost to Own:

$31,118
The Toyota Corolla is new for 2020, available with three powerplants and a 53-mpg hybrid. Learn more about the Corolla or find one for sale near you
3rd Place: 2020 Kia Soul
Predicted Cost to Own Over 5 Years of Ownership:

$31,602
The 2020 Kia Soul benefits from a longer wheelbase and a stiffer chassis. What hasn't changed is an impressively low 5-Year Cost to Own rating. Learn more about the Soul or find one for sale near you