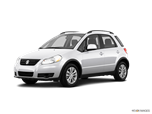 The 2013 Suzuki SX4 Crossover gets a new front fascia, new wheels and new colors. A new voice-activated navigation system is offered on the Crossover and is standard on the Sport Sedan. The system includes Bluetooth phone connectivity, a USB port and streaming audio capability.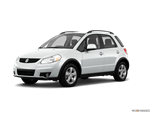 2012 SX4 models carry over with minor changes from 2011, when they were mostly unchanged from the 2010 model year that saw a slight power increase and interior modifications. Updates for 2012 include an upgraded Garmin navigation system and standard electronic stability control on SX4 sedans. Base sedan models now get rear disc brakes like other SX4 models, and the LE automatic version has a slight improvement in fuel economy. Two new color choices are available for 2012 SX4 models: Brilliant Blue Metallic and Crimson Red Metallic.
About Suzuki SX4
The SX4, a brand new model from Suzuki, joins a small group of all-wheel-drive hatchbacks favored by young buyers who want a low-end, compact-sized carry-all. A friendly little car with a distinctive design, the SX4 fits nicely into the economy-plus-power niche that the budget-conscious buyer seeks. Suzuki predicts huge growth in the compact five-door hatchback market in deference to fuel prices and the decline of large SUVs. With an engine designed by General Motors and built in Japan, the SX4 is assembled in Hungary, handy production locations for a model that Suzuki plans to sell as a world car. Sales of the carmaker's entire lineup have soared over the last two years, with Suzuki increasingly recognized as a reputable, reliable maker of market-driven, inexpensive models.