2015 Best Resale Value Awards: Mid-Size Pickup Truck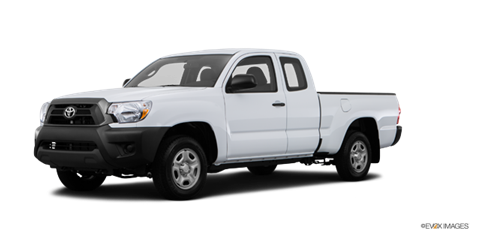 The tried-and-true Toyota Tacoma is tops in its segment for best resale value for a variety of reasons. It's known for rock-solid reliability and rugged off-road performance. Tacomas can -- and do -- rack up hundreds of thousands of miles, whether as daily drivers or on weekend runs to the desert.
The Tacoma gives buyers the toughness of a full-size truck in a more manageable package, with comparable levels of off-road capability. This midsize pickup has a 2-speed transfer case and an available electronic locking rear differential, plus optional TRD equipment can add even more trail prowess. The truck bed is also ideal for carrying a dirt bike or two, and has a D-ring tie-down system to keep the bikes secured while on the way to your next adventure. The bed even has a composite bedliner, a spot where you can store tools and an available 115-volt power outlet.
It is the right size truck for people who don't need the added bulk of a 1/2-ton -- and it also happens to be a good-looking pickup. The Tacoma can tow and it can carry plenty of gear, yet it fits in a garage and is much easier to park and maneuver when in the city.
For all of these reasons, the Tacoma has dominated sales it its segment for many years. There's something for everyone, too: it's offered as an Access Cab or Double Cab, with 2- or 4-wheel drive, and a choice of engines, transmissions and bed lengths, with a starting price of just over $21,000. There's new competition this year, yet the Tacoma's quality, versatility, reliability and toughness continue to keep it at the top of its class.
Get to know this car
Resale Value
at 36 months: 74.9%
at 60 months: 60.4%
Ratings & Reviews
Consumer Rating
9.2
Out of 10
Expert Rating
9.0
Out of 10
---

The all-new-for-2015 Chevrolet Colorado has the good looks, SUV-like interior, towing capacity and quality infotainment options to take the midsize pickup segment by storm.
Resale Value
at 36 months: 67.6%
at 60 months: 58.3%
---

Tough as nails with luxury touches that separate it from the rest of its segment, the GMC Canyon combines versatility and function with a premium interior.
Resale Value
at 36 months: 66.2%
at 60 months: 57.5%
---
Other Category Winners
---
Free Dealer Price Quote
Get the best price and be more prepared with your free, no-obligation price quote