2015 Best Resale Value Awards: Full-Size Pickup Truck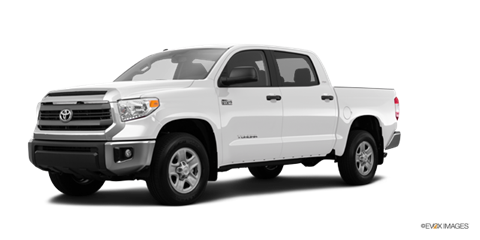 The Toyota Tundra has earned the best resale value in what is arguably the toughest vehicle segment in the industry. Full-size pickup truck buyers look for a vehicle that can do it all: tow around 10,000 pounds, ride comfortably, offer plenty of entertainment and connectivity options and provide a good combination of power and efficiency. These are the vehicles that are expected to take the family on vacation while towing an RV or boat and keep everyone on board happy, yet have the toughness and capability for hard work during the week. The Tundra does all of this and more.
The Tundra was updated for the 2014 model year, with new styling, a new Southwest-themed ultra-premium trim level (appropriate, considering the Tundra is built in San Antonio) and improved function and comfort inside. While it's very difficult to make inroads in the 1/2-ton segment, Toyota continues to chip away at the competition, and has earned impressive levels of brand loyalty.
Toyota's full-size truck is available with three cabs, 2- or 4-wheel drive, three bed lengths and comes standard with V8 power. Buyers can upgrade to the venerable 5.7-liter V8, with 381 horsepower and 401 pound-feet of torque, yet the 4.6-liter has plenty of power for towing and hauling.
Pricing for the Tundra starts at just over $30,000 for a regular cab model, which is $3,000-$4,000 higher than the base price of the competition. However, at that price, the Tundra comes with more equipment, including the bigger 5.7-liter V8 (while Ford, Ram and GM 1/2-tons come standard with V6 engines), and the best resale value in its class.
Get to know this car
Resale Value
at 36 months: 68.3%
at 60 months: 58.4%
Ratings & Reviews
Expert Rating
7.8
Out of 10
---

GMC's Sierra HD is one of the most luxurious 3/4-ton or 1-ton trucks on the market, yet it's also one of the hardest-working.
Resale Value
at 36 months: 65.3%
at 60 months: 57.4%
---

Available with three cabs, two engines, best-in-class conventional towing and 3/4- or 1-ton configurations, the Chevrolet Silverado HD is ready for all varieties of hard work.
Resale Value
at 36 months: 65.2%
at 60 months: 57.0%
---
Other Category Winners
---
Free Dealer Price Quote
Get the best price and be more prepared with your free, no-obligation price quote