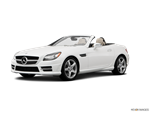 Still fresh from its redesign two years ago, the SLK only brings a pair of different exterior colors to the table for the 2014 model year.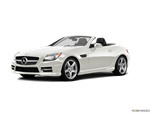 The Mercedes-Benz SLK was completely re-engineered for 2012, and rolls into 2013 with only minor upgrades. Mercedes' next-generation mbrace2 telematics system, with its many Internet-based features and applications, is now standard.

About Mercedes-Benz SLK-Class
With a retractable hardtop and Mercedes-Benz's innately high comfort level, the 2014 SLK roadster is satisfying to drive regardless of weather or road conditions. The latest generation of Mercedes' 2-seater is larger and roomier than past models, and its exterior design has matured into something truly elegant yet aggressive. A variety of engines – from a small and efficient 4-cylinder to a mighty AMG V8 – enable the 2014 SLK's performance to range from competent to blistering. Dynamically it still feels softer than the corner-carving Porsche Boxster, but the SLK's emphasis on comfort and prestige should come as no surprise for any car wearing the vaunted 3-Pointed Star, and those traits only add to this roadster's overall appeal.