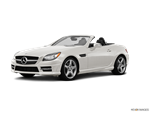 The Mercedes-Benz SLK was completely re-engineered for 2012, and rolls into 2013 with only minor upgrades. Mercedes' next-generation mbrace2 telematics system, with its many Internet-based features and applications, is now standard.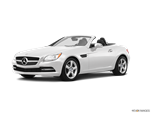 The Mercedes-Benz SLK350 is all-new and much improved for the 2012 model year. In February, 2012, Mercedes will be adding the turbocharged 4-cylinder SLK250 at the bottom of the lineup, and the SLK55 AMG model at the top, and more performance and sophisticated style throughout.
About Mercedes-Benz SLK-Class
For 2011 Mercedes-Benz has left the SLK-Class largely untouched, thanks to the fact that the company is planning to introduce an all-new version of the vehicle for 2012. Even while wearing the 2010 model's robes, the vehicle still offers an affordable way for buyers to enjoy one of the best retractable hard tops in the industry. Though the SLK-Class delivers less raw performance than competitors like the BMW Z4 and Audi TTS Cabriolet, the Silver Arrow brings unsurpassed comfort and refinement to the table - both traits that luxury roadster buyers are sure to admire.