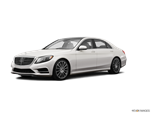 2015 sees the introduction of the CLS400 turbo-V6 model, as well as a major facelift for the entire CLS-Class lineup. A standing view screen is added to the sculpted dash, while the rear-drive CLS550 gains a new 9-speed automatic transmission. The CLS63 AMG S becomes the sole AMG offering.
Changes to the 2014 Mercedes-Benz CLS are limited to the AMG model, which gains more horsepower, standard 4Matic all-wheel drive and a new 577-horsepower high-performance S trim.
About Mercedes-Benz CLS-Class
The idea of the "4-door coupe" was invented by Mercedes-Benz, and no one yet has built a better example than the 2016 CLS-Class coupe, which comes in rear-wheel or all-wheel-drive (RDW, AWD) form. Pitted against such newcomers as the Audi A7 and BMW 6 Gran Coupe, the CLS still looks fresh and vibrant, although last year's refreshed front end somewhat diminished the original car's streamlined appearance. As brilliant on an enclosed track as it is on the open road, the 2016 CLS coupe from Mercedes-Benz offers its owners a sense of exclusivity and envy few cars can match. If you can swing the nearly $110,000 asking price, the 577-horsepower CLS63 AMG S 4Matic is your guest pass to a world shared only by a privileged few.
View
Mercedes-Benz CLS-Class vehicles for sale
near you.