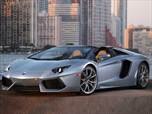 The 2015 Lamborghini Aventador LP 700-4 mostly carries over the same as last year. The only noteworthy change is that the LP 720-4 anniversary edition has been dropped, since the anniversary ended last year.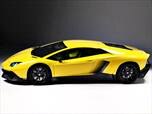 To celebrate its 50th anniversary, you can get a limited-edition 2014 Lamborghini Aventador LP 720-4 50th Anniversario edition. How limited? Only 200 are made, they cost north of $500,000, and yes, they're already sold out.
About Lamborghini Aventador
The 2015 Lamborghini Aventador LP 700-4 isn't a regular car any more than a Rolex Platinum Pearlmaster is just a watch. This V12-powered, all-wheel-drive 2-seater costs twice as much as the average price of an American home, and is purchased by those for whom money flows like water. Yet it's all with purpose. Those huge door vents feed the hungry engine, and the slats and spoilers keep the car on the ground as it rockets to its 217-mph top speed. The 700-horsepower engine shrieks to redline as the transmission bangs shifts into your back. But it's also luxurious, with an exquisite interior filled with soft leather and comfortable seats. If you think every drive should be an occasion, this is your car.
View
Lamborghini Aventador vehicles for sale
near you.