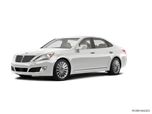 Changes to the Hyundai Equus luxury sedan for 2016 are minor. The most change is the addition of a hands-free trunk to the Ultimate model that automatically opens when approached.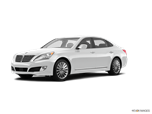 After a substantial refresh last year, the Hyundai Equus luxury sedan returns for 2015 with no significant changes.
About Hyundai Equus
Hyundai created the 2016 Equus luxury sedan to challenge such heavyweights as the Audi A8, Mercedes-Benz S-Class and the Lexus LS. That's a pretty tall order for a company primarily known for economy-minded family sedans and SUVs, but Hyundai thinks the Equus has the goods to get the job done. On paper, it would certainly appear the 2016 Equus is indeed a force to be reckoned with. A large, rear-drive sedan powered by a potent V8 engine and loaded with features, it seems the only thing the Korean auto giant can't engineer is a brand name that sparks envy when spoken. Equus buyers are more likely to be value-minded consumers who see it as a better investment than a $60,000 Audi A6 or Lexus GS.
View
Hyundai vehicles for sale
near you.