Kelley Blue Book Best Buys of 2016: Midsize SUV
By KBB.com Editors on November 12, 2015 2:52 PM
The 2016 Honda Pilot won our midsize SUV crown this year convincingly, with a unanimous vote for its first-place spot. However, we can't say we're terribly surprised at the outcome. After all, when we compared midsize SUVs earlier this year, the all-new Honda Pilot rose to the top with its combination of utility, comfort, features, and price.

2016 Honda Pilot

Making rising to the top in a highly competitive segment look easy.

The 2016 Honda Pilot won this year's midsize SUV crown very convincingly, with a unanimous vote for its first-place spot. We weren't surprised, because when we compared midsize SUVs earlier this year, the all-new Honda Pilot rose to the top with its combination of utility, comfort, features, and price.
All-New = All-Better
When we first drove the 2016 Honda Pilot earlier this year, it was already clear that Honda was onto something good. The old Pilot's low-rent interior plastics, on-road noise, and dated controls were all gone, replaced with an interior that's so upscale it could make luxury buyers rethink the Acura MDX. While a bit smaller outside, the new Pilot is still one of the largest SUVs in its class, with ample and cleverly designed cargo space, plenty of room for up to eight passengers, and styling that no longer looks like a shipping container for a cooler vehicle. But there's more to it than that. The V6 engine has more power than ever, and it's connected to either a 6-speed automatic or a new 9-speed with paddle shifters. A ton of new active safety features are available, including blind-spot and cross-traffic alerts, lane departure warning, collision mitigation braking, and active cruise control and lane keeping assist. All of it comes in a midsize SUV that's easier to drive, quieter, and more maneuverable.
Power Aplenty
Powering all new Honda Pilot models -- from base LX all the way to the new Touring Elite -- is a 3.5-liter V6 engine putting out 280 horsepower. While not as powerful as the Ford Explorer's twin-turbo 3.5-liter V6, it's more than enough to get the big Honda moving without hesitation, and passing and acceleration from a stop is never a problem. Power is routed to either the front or all four wheels, with all-wheel-drive models getting an Intelligent Traction Management system that adjusts how the all-wheel-drive system works depending on the surface you're on. New this year on Touring and Touring Elite models is a 9-speed automatic from ZF, a transmission that's shared with the Acura MDX. This is the same 9-speed that's been widely criticized in many Chrysler products recently, but Honda seems to have a better handle on it than anybody else, and it offers quick reactions in the Pilot, plus paddle shifters on the high-end Touring and Touring Elite models. However, we weren't so fond of the Pilot's idle-stop feature, which takes too long to restart if you're in a hurry, and isn't very smooth about it. Luckily, there's an off switch.
Convenient and Luxurious
When one editor pointed out that the new Pilot might have the best interior of any Honda, ever, nobody disagreed. There are soft-touch surfaces everywhere, high-end door panels, and soft leather on the sporty and comfortable seats. Second-row passengers have it even better, with a three-across bench that handily accommodates adults, or two captain's chairs in Touring Elite models. The three-place third row can actually seat three people in moderate comfort, although the floor is too low for tall adults, and it's easy to get back there thanks to our test model's one-touch release mechanism on the second-row seats. Cargo space was also very good. There's a large floor area behind the third row with a shallow hidden storage underneath, or you can reposition the floor panel into that well for additional cargo room for taller objects. The third row seats fold easily to open up more space, and the second row folds flat as well to max it all out. And that doesn't even take into account the awesome interior storage, including a humungous center storage bin with a roll top and multiple sliding trays.
High Tech Safety For All
It's no surprise that a brand-new vehicle like the 2016 Honda Pilot offers superior crash test ratings, earning a coveted Top Safety Pick Plus from the Insurance Institute for Highway Safety (IIHS). However, the new Honda Pilot goes well beyond surviving an accident, going a long way toward preventing one in the first place. Honda has made its Honda Sensing suite of active safety systems available on EX and EX-L models, and standard on Touring and Touring Elite. It adds forward collision warning and braking, lane departure warning and assist, active cruise control, and road departure prevention. That's beyond standard features like a multi-view rear camera (with active guidelines on EX and above) and Honda's right-side-view camera known as Lane Watch. Lots of companies offer similar systems -- except Lane Watch -- but with the Pilot you can get it on the mid-level, cloth-seat EX model for about $34,300, a tremendous value. That doesn't even include the multiple USB ports, available Blu-ray rear-entertainment system with HDMI inputs, standard active noise cancellation, and an Eco Assist system that coaches you to save gas. We wish that Honda would incorporate an actual volume knob on its infotainment system, but the single-screen interface is still an improvement over the dual-screen setup used on some other Honda products, like the Odyssey minivan.
More 2016 Honda Pilot
We have a feeling that this is going to be the first in a long line of accolades for the redesigned Pilot. Read our 2016 Honda Pilot full review for more insights and answers, or build and price your own to unlock this week's Fair Purchase Price, 5-year Cost-to-Own and more. If you're curious to explore all your options, head over to our Midsize SUV Buyer's Guide for more in-depth information on the entire segment.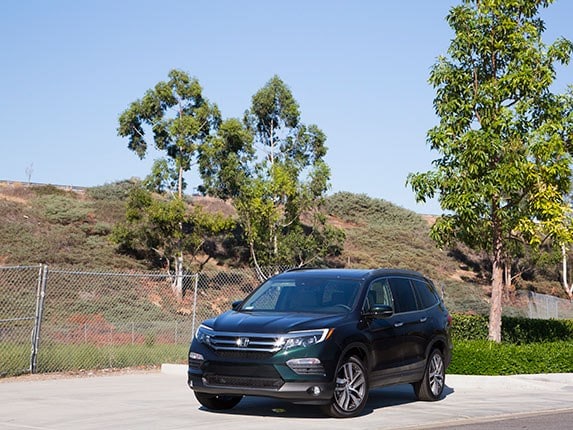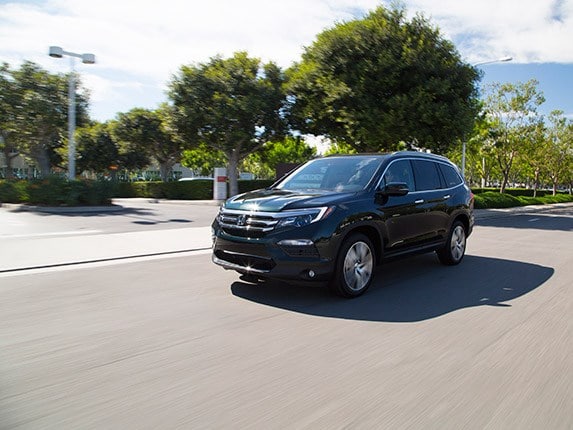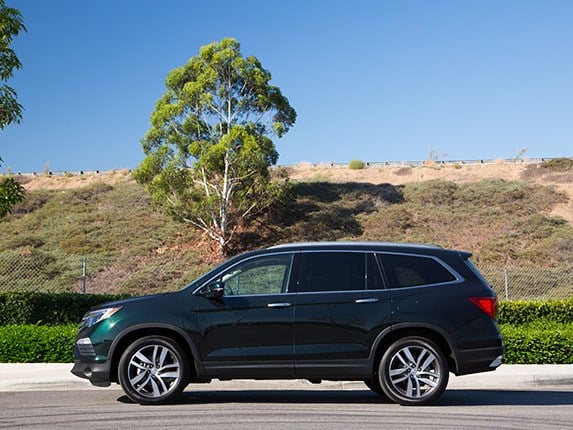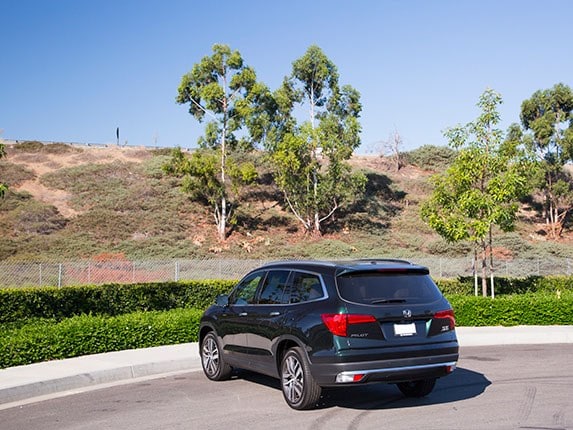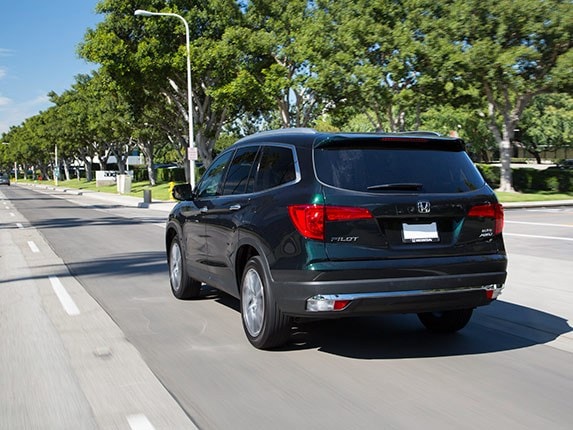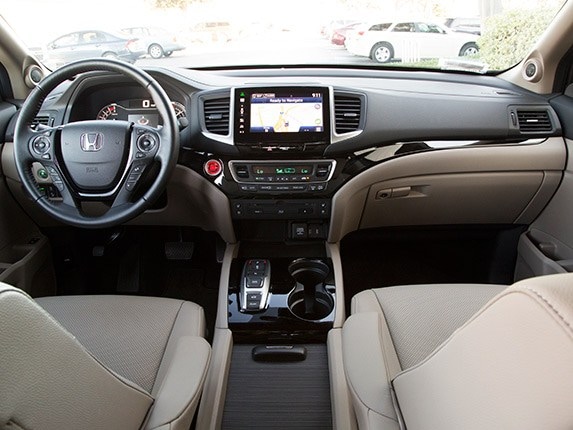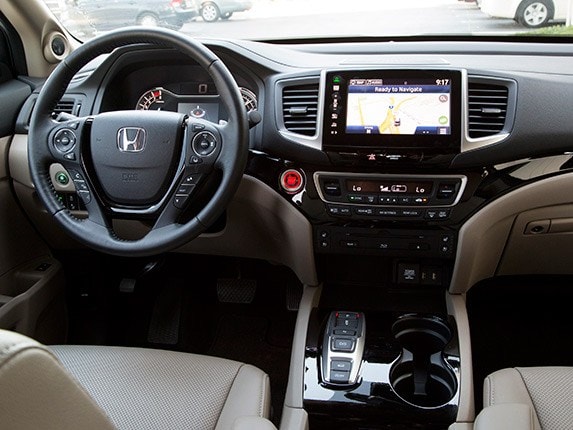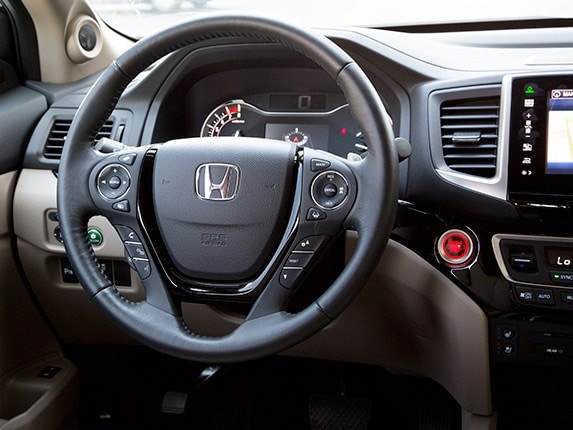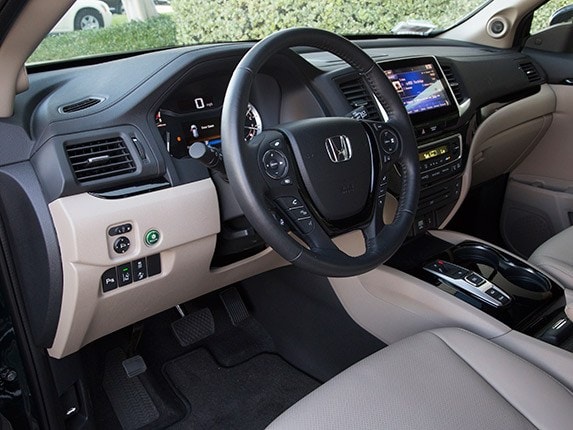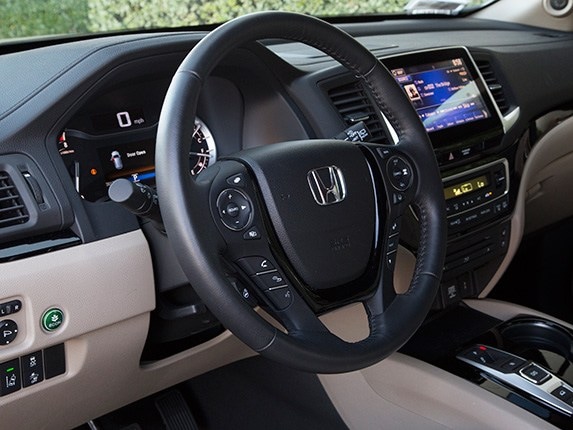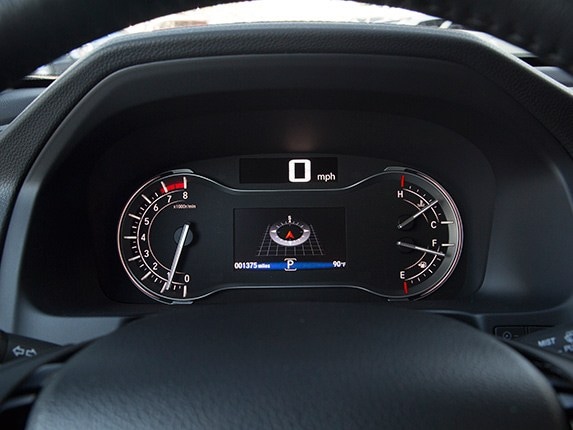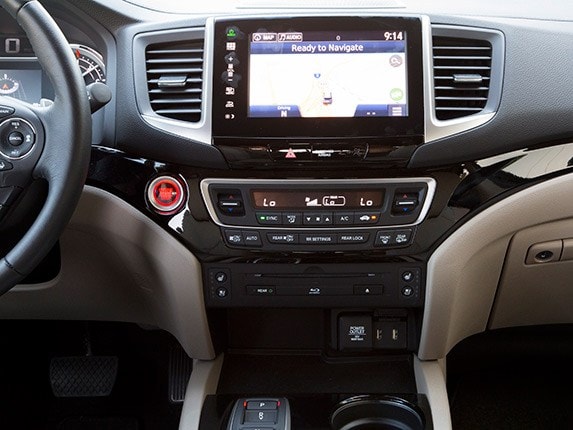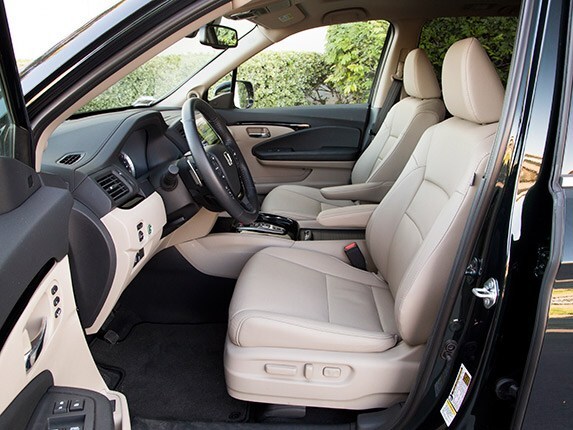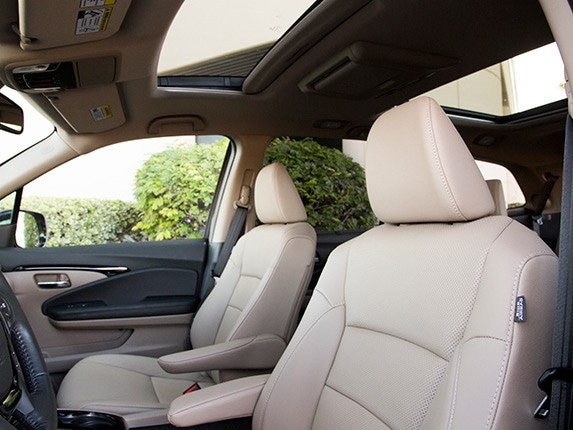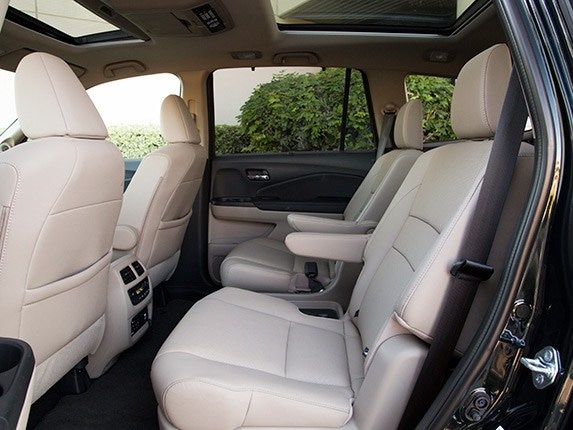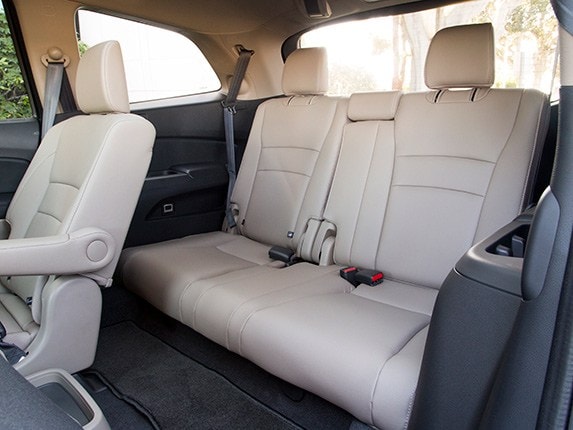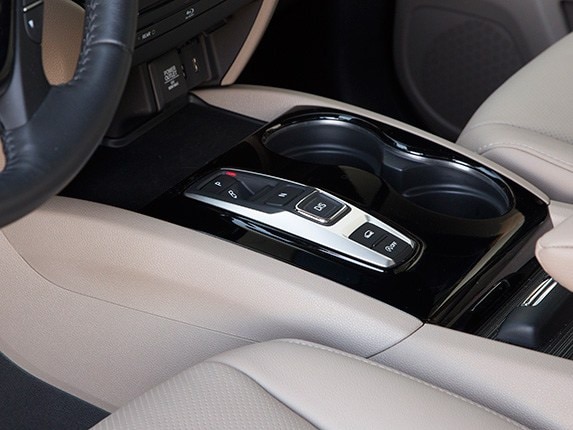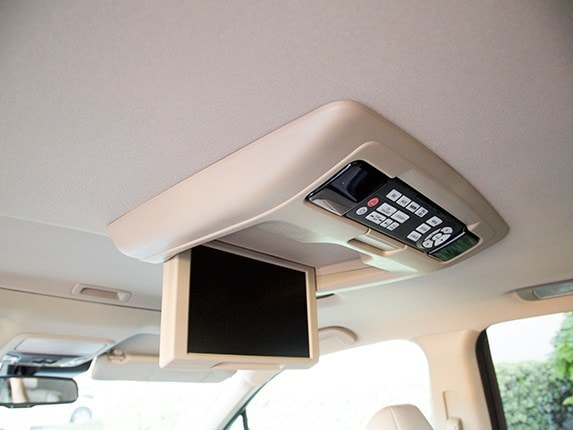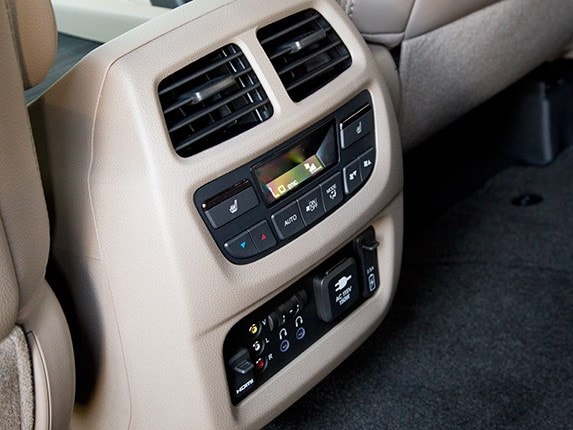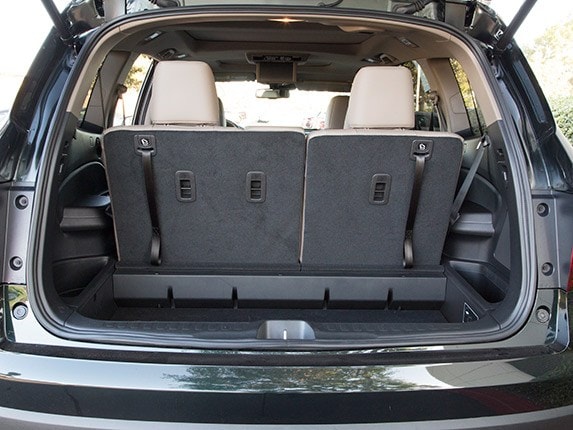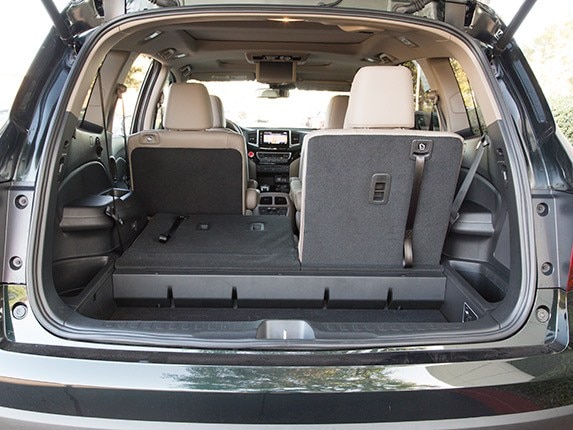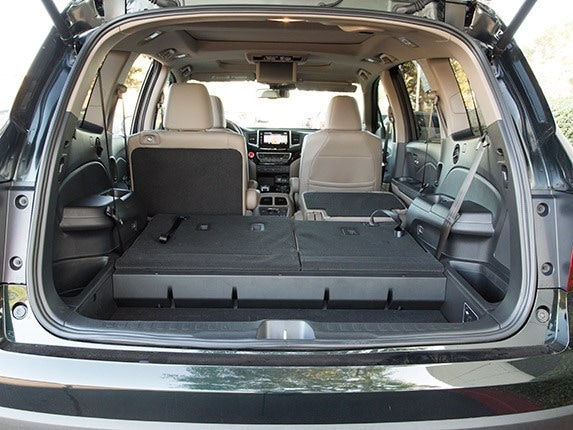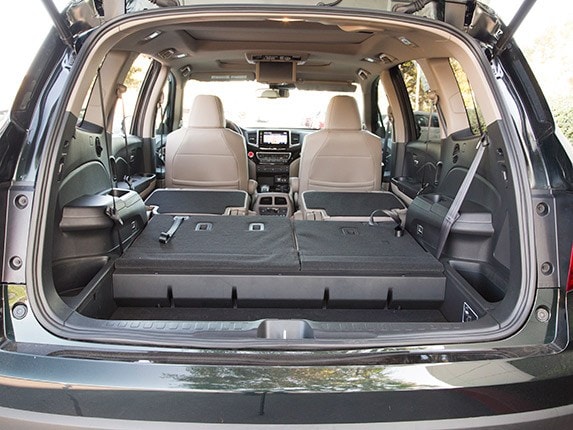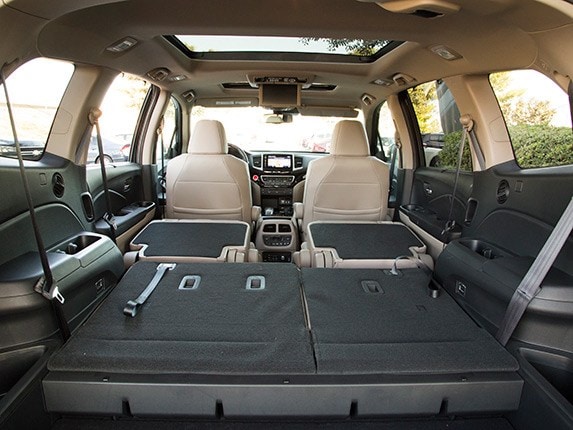 2016 Midsize SUV Best Buy Finalists

The 2016 Honda Pilot is our Best Buy pick and a can't-lose choice for nearly any SUV buyer, but it's possible that your priorities may differ. Luckily, there's no shortage of choices in the midsize SUV market, with a plethora of high-quality choices available. The three other vehicles we drove all had a shot, and each offers its own unique take on what buyers might need. In alphabetical order: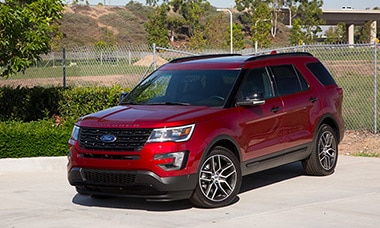 2016 Ford Explorer
The Ultimate Family Truckster

Fresh off a styling update, the 2016 Ford Explorer is a top seller in its class. Buyers can choose from three different engines, with a fuel-efficient 2.3-liter turbocharged 4-cylinder and powerful 3.5-liter twin-turbo V6 available as alternatives to the standard 3.5-liter V6. It also comes in several distinct styles, be it the workaday XLT, luxurious Platinum, or hotrod twin-turbo Sport that we drove. It's big, too with a minivan-like cargo well behind the third row, which in our test car power folded.
Downsides were size and price. Despite its physical size it can only accommodate up to seven passengers, it doesn't feel particularly roomy inside, and it's a hassle to park. The base price is already higher than the Toyota and Honda, and they escalate quickly as you add features; our Explorer Sport test vehicle was nearly $52,000, almost $5,000 more than the Pilot, and despite the powerful engine we didn't feel it offered enough for the extra money. With the Explorer's lower resale value, you're also less likely to recoup that investment.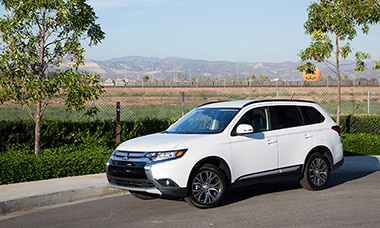 2016 Mitsubishi Outlander
Value-Packed Tweener SUV
Whether the 2016 Mitsubishi Outlander is a small-midsize SUV or a large compact SUV is a matter of some debate -- it's only a little bigger than a Nissan Rogue -- but there's no question that Mitsubishi has done a solid job with its little midsizer. The small size makes it super easy to park and see out of, and the price was the lowest in the group by several thousand dollars. It's still a nicely equipped vehicle as well, with leather seating included at our test car's $27,400 price.
But the Outlander felt surprisingly dated in several ways. The third row, for example, forces you to remove the rear headrests rather than folding them down. The Bluetooth requires you to enter a PIN on your phone instead of simply connecting automatically as it does on the Toyota Highlander. Plus, there's a last-generation feel to the interior, with its hard plastics, single USB port, and relative lack of storage space.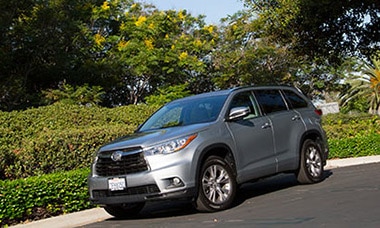 2016 Toyota Highlander
Comfy, Quiet and Family-Friendly

The Toyota Highlander was our midsize SUV winner last year, and it's not like we'd talk someone out of getting one. There's a powerful V6 engine, and the 2016 Toyota Highlander is the only midsize SUV in our test available as a hybrid. It covers a wide price range, and even the base LE comes nicely equipped, albeit with a 4-cylinder engine in place of the 3.5-liter V6 that's standard in the rest of the lineup (it's a $910 option). It also offers up a comfortable and quiet interior, and the smoothest ride in the group. It's smaller than the Explorer, and even the Pilot, making it a bit easier to park. We dig clever features like the padded shelf on the dash for cell-phones, and the touch-screen infotainment system was the easiest to use in the group. It also offers excellent resale value, and very good fuel economy even if you don't pick the hybrid.
So why didn't it win? Because even with all the things it does well, the new Honda Pilot does it all just a little bit better. For example, there's more room in the Pilot, translating into better cargo space behind the third row and more space for passengers. And as good as fuel economy is in the Highlander, the Pilot's is just a smidge better.