2016 Subaru WRX Expert Review
By Keith Buglewicz
Introduced last year, the latest Subaru WRX and WRX STI sedans gained newfound civility without losing any of the performance that made it so popular in the first place. For the 2016 Subaru WRX and WRX STI, the taming continues with the addition of driver-assist technologies and Subaru's newest navigation system. However, they retain the all-wheel drive and powerful turbocharged 4-cylinder engines that have made them favorites of those who want high performance at a (relatively) low price, and WRX models are even available with an automatic transmission. The WRX and WRX STI don't really have direct competitors; the Ford Focus ST and Honda Civic Si are both front-wheel drive and therefore different beasts, and the all-wheel-drive VW Golf R is less powerful and more expensive.
You'll Like This Car If...
Anybody can appreciate the powerful 4-cylinder engine and sharp handling of the Subaru WRX, especially with its new continuously variable automatic transmission (CVT). And if you're the type who wakes up at 3 a.m. to watch World Rally Championship races, shouldn't you already have a WRX STI in your garage?
You May Not Like This Car If...
The Subaru BRZ and its Scion FR-S twin offer a more classic rear-wheel driving experience, while the Ford Focus ST is a bit less expensive. Also, while not as quick, the Volkswagen Golf R is no slouch, and offers a slightly more refined day-to-day driving experience.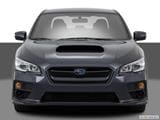 What's New for 2016
Subaru WRX buyers can now opt for EyeSight, which adds adaptive cruise control and collision warning, among other features. Subaru WRX STI buyers can add Subaru's rear-vision detection system, which includes blind-spot detection and rear cross-traffic alerts. Subaru's new Starlink navigation system is also available.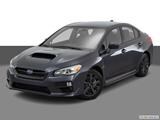 Driving Impressions
While the automatic transmission civilizes the 2016 Subaru WRX a little, make no mistake: This car is still focused on performance like few others. A lot of the credit goes...
... to the all-wheel-drive system, which helps keep this compact performance sedan unflappable in corners. No matter how hard we pushed the WRX, traction under power was beyond reproach, and understeer (a trait where the front wheels lose traction first) went unnoticed. That's impressive considering the electrically assisted steering, and that most cars, even sporty all-wheel-drive ones, succumb to understeer. Yet the good handling doesn't come at the expense of a good ride, as the WRX handles rough pavement with unexpected compliance. It's especially surprising considering Subaru engineers stiffened virtually every steering, chassis and suspension component. However, the extreme-sport STI is a different story, as every road imperfection – big or small – transmits directly into the cabin.
6-SPEED MANUAL TRANSMISSION
Automatic transmissions are a legitimate option on a performance car these days, but there's just something satisfying about rowing your own gears. That goes double for the standard 6-speed manual on the WRX and STI, with its precise action, positive-engaging clutch and short throws.

SPORT SEATS
While many cars claim to be sporty, their seats don't back it up. That's not the case in the WRX and WRX STI, as the standard front seats in these Subarus feature high-grip fabric and aggressive leg and side bolstering to keep you in place and focused on driving.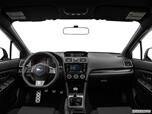 Interior
It used to be that the Volkswagen Golf R had an edge in refinement over its Subaru rivals. However, the newest Subaru WRX and WRX STI narrow that gap considerably, with soft-touch upper dash and door panels, a full-color driver-information display between the gauges, a leather-wrapped flat-bottom steering wheel, and available 8-way-power driver's seat. As for functionality, remember that the Subaru WRX is based on the Impreza, giving you a comfortable rear seat, even for adults, and a trunk that offers nearly twice as much space as the Lancer Evo.
Exterior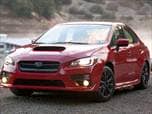 Although still mechanically based on the Subaru Impreza, the WRX and WRX STI no longer carry the Impreza label, or its styling. This little sports sedan has taken on an identity all its own, sharing only a few pieces of glass with its more mainstream counterpart. The front and rear fenders flare aggressively, the "nose-cone" front-end design is unique to this sporty sedan, and even the windshield pillars are thinner for better visibility. Finally, less attention-hungry 2016 Subaru WRX STI buyers can substitute a smaller rear spoiler to replace the standard humungous rear wing.
Standard Equipment
The basic 2016 Subaru WRX comes standard with automatic climate control, a rearview camera and a new audio system using Subaru's Starlink touch screen, which includes Bluetooth, Pandora, iHeart Radio, and USB and auxiliary inputs. Performance items include a 268-horsepower 4-cylinder engine, 17-inch alloy wheels with performance tires, and Subaru's active torque-vectoring system that uses the brakes to control understeer. The Subaru WRX STI gets dual-zone climate control, heated front seats, 18-inch wheels, LED headlights and suede-like Alcantara upholstery. Safety features include seven airbags, a suite of electronic stability aids and Subaru's rigid body structure.
Optional Equipment
Subaru divides most of the options for its WRX and WRX STI into trim levels. WRX Premium models get an inverted-strut suspension similar to the higher-performance STI model, plus fog lights, an all-weather package that adds heated front seats, and bigger wheels and tires. WRX and WRX STI Limited models get a navigation system (optional on WRX Premium models), 8-way-power driver's seat, and leather upholstery. Stand-alone options include Subaru's rear-vision system, which includes cross-traffic alert and blind-spot detection. Curiously, Subaru's EyeSight collision avoidance and active cruise control are available for the WRX, but not the WRX STI.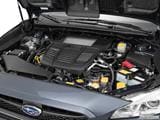 The standard 2016 Subaru WRX gets a 268-horsepower 2.0-liter 4-cylinder turbo connected to either a 6-speed manual or a continuously variable automatic transmission. Yes, a CVT isn't an intuitive first choice for performance drivers, but it works extremely well in the WRX. The 2016 Subaru WRX STI again comes with a 305-horsepower 2.5-liter turbocharged 4-cylinder engine, and is available only with the 6-speed manual. Both models come with the symmetrical all-wheel-drive system designed to enhance traction in performance driving; its off-pavement settings are a nod to the car's World Rally Championship heritage, where most races are run on unimproved dirt roads. Last, it's worth noting that both engines require premium fuel.

2.0-liter turbocharged flat-4
268 horsepower @ 5,600 rpm
258 lb-ft of torque @ 2,000-5,200 rpm
EPA city/highway fuel economy: 21/28 mpg (manual), 19/25 mpg (automatic)

2.5-liter turbocharged flat-4
305 horsepower @ 6,000 rpm
290 lb-ft of torque @ 4,000 rpm
EPA city/highway fuel economy: 17/23 mpg
Considering the performance envelope, the $27,400 Manufacturer's Suggested Retail Price (MSRP) for a basic 2016 Subaru WRX is pretty reasonable, and the CVT automatic adds $1,200 to that. The WRX STI starts higher, at a little more than $35,000, but even that undercuts the starting price of a new Volkswagen Golf R. A fully loaded WRX Limited will cost about $36,000 or so, while a decked-out STI is a bit under $41,000. The Ford Focus ST and Scion FR-S start around $25,000, while the Honda Civic Si sedan and Hyundai Veloster Turbo begin in the low-$23,000 range; none of those cars offer all-wheel drive though. Be sure to check KBB.com's Fair Purchase Price tool to ensure you get the best deal on your next car. Down the road, 5-year resale values for the 2016 WRX and STI should be topped only by the segment-leading Civic Si.
To compare current market prices, check out KBB.com's car classifieds to view the new and used Subaru WRX vehicles for sale near you.