Used 2009 Porsche Boxster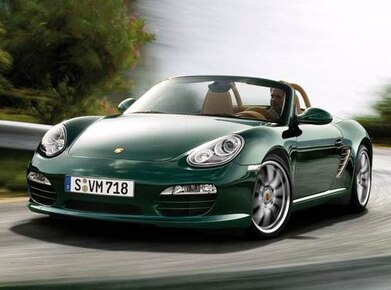 Pros
The 2009 Boxster carries on the legacy of Porsche's legendary 550 Spyder and 356 Speedster in a thoroughly modern convertible format that combines day-to-day utility with performance and handling that rival more exotic machinery. Either model, but especially the basic Boxster, provides all the benefits of belonging to one of motoring's more exclusive clubs without paying excessive dues.
Cons
Anyone looking for edgy, aggressive styling and racetrack performance to match would be better served by the Cayman. Although both the Boxster and Boxster S come fairly well equipped for the money, the option list is long and pricey and your Boxster may drive out the door with a price tag equivalent to a 911.
What's New For 2009
The Boxster receives a new 2.9-liter boxer engine, while the Boxster S receives an upgraded 3.4-liter engine, both providing more horsepower and improved fuel economy over last year's units. A new PDK (Porsche-Doppelkupplungsgetriebe) double clutch auto-manual transmission replaces the Tiptronic-S, while a six-speed manual gearbox is now standard on the base Boxster. LED daytime running lights occupy the space previously reserved for the Boxster's fog lights.
Read less
Used 2009 Porsche Boxster Pricing
Used 2009 Porsche Boxster Expert Review
Now entering its twelfth model year and third iteration, the 2009 Porsche Boxster continues to reap the benefits of Porsche's traditional evolutionary method of engineering. As Porsche's most affordable offering, the Boxster convertibles offer all the stylish good looks and "Hey, I'm somebody" attitude of rivals from Audi, BMW and Mercedes-Benz, but in a package that is 100-percent performance oriented. New engines this year increase horsepower and fuel economy, although both models still trail their Cayman siblings by about 10 horsepower each. The numerical difference may seem minor but the performance difference is remarkable.
Driving the Used 2009 Porsche Boxster
Porsches are excellent driving machines and both Boxster models more than live up to that heritage. They are rewarding to drive at nearly any level of expertise. The feel and responsiveness of the steering is incredible, allowing for accurate and exact placement through just about any type of turn and at just about any speed a reasonable person might attempt. The handling is as exceptional as the steering, although the combination of optional 19-inch wheels and the "sport" setting of the PASM on certain road surfaces can result in a very harsh ride. Through the years, the term "Porsche brakes" has become a synonym for the ultimate in safe, positive stopping. Best of all, even though it is a convertible, the Boxster is no fair-weather-only vehicle when it comes to safe and exceptional levels of performance in wet or dry conditions. The performance of the all-new PDK double-clutch gearbox is light years beyond the previous Tiptronic S automatic and delivers faster performance times than the excellent six-speed manual.
Favorite Features
PDK Double-Clutch Gearbox
Really two transmissions in one, the 1,3,5,7 and Reverse gears are controlled by one unit while the even number gears are operated by the other. This setup allows instantaneous shifts on par with the best manuals in the business.

Porsche Stability Management (PSM)
Porsche Stability Management is great for what it doesn't do – interfere with your fun during aggressive driving – as much as what it does do – bail you out when the fun stops because your gumption has exceeded your ability.
Used 2009 Porsche Boxster Interior
The interior, a modern interpretation of the classic Porsche look – notably the instrument panel, which is dominated by a large centered-mounted tachometer – carries over the major 2005 revamp that stressed roomier accommodations and upgraded materials. Four leather-covered seating choices range from mainly-manual six-way adjustable standard seats to fully-powered "adaptive" sport seats.
Used 2009 Porsche Boxster Exterior
Styling carries over from the subtle, but effective muscular enhancement of the fender lines that debuted in 2005. You can spot the S model by its additional horizontal cooling duct in the lower front fascia and the dual exhaust outlets at the rear.
Used 2009 Porsche Boxster Standard Features
The 2009 Porsche Boxster comes equipped with a six-speed manual transmission with a 2.9-liter six-cylinder engine, while the Boxster S includes a six-speed manual and 3.4-liter six-cylinder engine. Both models have four-wheel disc brakes with four-piston calipers at each wheel. The Boxster rides on standard 17-inch alloy wheels and the S on 18-inch alloys. Each model features a canvas top, which can be operated at speeds up to 40 mph and includes an electrically-heated rear glass window. Because of the mid-engine location and lack of a spare tire and jack (an electric air compressor and can of tire sealant are substituted), the Boxster offers ample storage with a 5.3 cubic-feet capacity front trunk and a rear trunk of 4.6 cubic-feet capacity. Safety items include the excellent Porsche Stability Management system (PSM), as well as anti-lock braking system (ABS), Anti-Slip Regulation (ASR) and Automatic Brake Differential (ABD). In addition to two-stage front airbags, both driver and passenger are protected by a side-impact system that includes torso-protecting airbags at the outside of the seat backrest and head airbags in the door windowsills.
Used 2009 Porsche Boxster Options
Porsche aficionados look forward to personalizing their new Porsches nearly as much as driving them. Porsche acknowledges this with an extensive, and expensive, list of options. The pleasure cruisers will opt for a full leather interior, Bose Surround Sound, a six-CD changer and the Porsche Communication Management (PCM) system that combines controls for the audio and on-board computer readout with a DVD navigation system. An all-new PDK double-clutch gearbox is available on both models. Boxster buyers can also move up to the 18-inch wheels of the Boxster S, while 19-inch wheels are optional on both models. Porsche Active Suspension Management (PASM) applies sophisticated computer controls to allow drivers to adjust the suspension for comfort or sport use. The Sport Chrono Package Plus allows a driver to dial in even more aggressive sportiness by adjusting the computer controls for the PSM, PASM and engine management. It also includes a somewhat gimmicky lap timing function. Big spenders and track enthusiasts can drop over $8,000 for Porsche Ceramic Composite Brakes (PCCB).
Used 2009 Porsche Boxster Engine
Both 2009 Boxster models benefit from new engines providing more horsepower and better fuel economy. The base Boxster receives an all-new 2.9- horizontally-opposed (boxer) six-cylinder engine that pumps out 255 horsepower and, even more importantly in terms of on-the-road performance, substantial torque (214 pound-feet) that peaks from 4,400 to 5,500 rpm. The Boxster S benefits from an improved 3.4-liter horizontally-opposed six-cylinder engine that puts out 310 horsepower, allowing it to accelerate from zero to 60 mph in under five seconds when equipped with the new PDK double-clutch gearbox.

2.9-liter Boxer-6
255 horsepower @ 6400 rpm
214 lb.-ft. of torque @ 4400-6000 rpm
EPA city/highway fuel economy: 19/27 (manual), 20/29 (automatic)

3.4-liter Boxer-6
310 horsepower @ 6400 rpm
266 lb.-ft. of torque @ 4400-5500 rpm
EPA city/highway fuel economy: 19/26 (manual), 20/29 (automatic)
How Much Does the Used 2009 Porsche Boxster Cost?
The 2009 Porsche Boxster's Manufacturer's Suggested Retail Price (MSRP) starts around $47,500, while the Boxster S is closer to $57,500. Adding the new PDK transmission, adds another $3,400 to the price. Fair Purchase Prices that represent prices consumers are actually paying at any given moment, can differ substantially, so click on the Fair Purchase Prices to compare and see what the Boxster is going for in your area. Over time, both the Boxster and Boxster S retain similar above-average resale values; percentages on both trump those of a comparable Audi TT Roadster, Mercedes-Benz SLK350, BMW Z4 and Honda S2000.
Read less
Used 2009 Porsche Boxster Consumer Reviews
---
Shawny Mac
06/11/2019
2005 Porsche Boxster
"Hard to beat performance"
Performance, quality craftmanship
2005 Boxster S that still looks current and has the HP to get your blood flowing. Excellent summer car. Interior appointments are lacking somewhat (can't even plug in auxiliary music for example). On the open road this car screams.
---
David S
01/11/2019
2010 Porsche Boxster
"An excellent sports car with practicality"
Fast, fun, superb handling, actual practicality
Kinda noisy; base stereo is bad
My 2010 Porsche is an unusual sports car in terms of practicality. My base Boxster has lots of storage capacity...and much more than the current 2018/2019 Boxster model. Since I don't have the Bose sound system, I have two horizontal storage nooks behind me and two places to hold crushable driving hats. I have storage in both doors, a center console storage nook, and a large glove box. In addition to the fronk and trunk, there's a large storage box under the hood, too. Wow. OK. Storage...who cares...what about the sports angle? This car
is plenty fast (though it's not torquey at the low-end), superb handling characteristics, terrific braking, and a glorious sounding flat-6 engine. The ride is respectable for a sports car. The only real letdown is/was the paucity of standard options and the mediocre sound quality of my alleged "sound plus" stereo. The 7-speed PDK automatic is revelatory in terms of precision. One option you "must" have is the bi-xenon headlights.. Mandatory. Nearly must have: the 18"/19" wheels. Every drive in the Porsche is fun!!
Read less
---
Car fan
10/10/2018
2006 Porsche Boxster
Handling, style, value for money used
I bought this 2 owner vehicle with 19200 miles purchased in 2014 from a Porsche Dealer. The car has some minor cosmetic issues internally and externally but mechanically sound. It drove well with the highlight being the handling. This mid engined car is an absolute gem. The 06 s had good performance too although the tiptronic transmission has a let down (see below). The steering is tight, great sounding 6 pot and can be used as a daily driver. The ride is firm but pretty comfortable. General interior is well laid out but like all older Porsc
he's the temperature and fan buttons were worn and the sil plastic does not wear well. The car (even today) looks great and a fresh looking design. Typical classic Porsche design. The tiptronic transmission - I just don't like it. At first, I thought I would but the car just doesn't change at the right time and when you ease back after hard acceleration it takes time for it to shift down. This is the reason I put performance at 8. The IMS bearing had been changed and if it had not I would have had it done. I know there is a lot of advice out there on this issue but personally I would not take the risk of it failing. Altogether, it is a great sport car and in manual transmission is one of the best and most affordable, big smile factor car you can buy.
Read less
---
caneventer
07/25/2017
2007 Porsche Boxster
"Extraordinary Experience"
Ridiculously fun to drive, low ownership costs
Lets be clear.....I have had a great number of cars in my life, some of them sports cars, but this 07 Porsche Boxster has been the most fun for the investment that I ever had. I bought the car used, have driven it just over 12,000 miles in a year, and it has been 100% reliable---certainly not what I expected. The NVH is good for a car of this class, the interior is functional with good ergonomics and the ride and handling make you want to just drive for hours, it is never uncomfortable. It has cost me nothing other than routine maintenance,
and, having raced cars and such for years, I do drive it pretty hard sometimes. If you can find a good, clean used one in the marketplace then get it---you wont be disappointed!
Read less
---
DPicc
10/13/2016
2005 Porsche Boxster
"Best car I have ever bought/owned: Porsche Boxster"
Great handling, comfortable, reliable, powerful
Should be covered when not in use
The handling is incredible, the comfort is top-nothc, and the style turns heads. Overall, I am very pleased with this vehicle. It holds up well over the miles, short and long distance travel, and as far as maintenance goes...it is an extremely sturdy car. VERY reliable.
---
2009 Porsche Boxster Specs & Features
Based on lowest-priced style.
Technology
Bluetooth Wireless Technology

Cruise Control

Hands Free Phone

Navigation System

Remote Keyless Entry

Telematics / Communication Systems

USB Port

Voice Recognition System
Entertainment
AM/FM Radio

CD Changer

iPod Connector

MP3 Player

Premium Radio

Satellite Radio

Auxiliary Input Jack

CD Player
Seating
Dual Power Front Seats

Dual Power Lumbar Support Front Seats

Heated Front Seats

Leather Seats

Memory Driver's Seat

Memory Front Seats

Power Driver's Lumbar Support Seat

Power Driver's Seat

Power Passenger's Seat

Ventilated Front Seats
Comfort & Convenience
Front Air Conditioning

Power Locks

Auto-Dimming Interior Mirror

Automatic Air Conditioning

Heated Steering Wheel

Integrated Garage Door Opener

Remote Control Liftgate/Trunk Release
Fuel Economy
EPA City - 19 mpg

EPA Class - Two Seaters

EPA Hwy - 27 mpg

EPA Combined - 22 mpg
Performance
Horsepower - 255 hp

Horsepower RPM - 7200 rpm

Stroke - 3.05 inches

Torque - 214 foot pounds

Torque RPM - 4400 rpm

0 to 60 - 5.6 seconds

Top Speed - 163 mph
Interior
Cup Holder

Leather-Wrapped Steering Wheel

Power Windows

Rear Window Defroster

Leather Interior Trim

Power Outlet

Tilt Steering Wheel

Tilt/Telescoping Steering Wheel
Exterior
Alloy Wheels

Heated Mirrors

HID Headlights

Number of Doors - 2 doors

Power Mirrors

Tires / Wheel Size - 18"

Tires / Wheel Size - 19"

Tires / Wheel Size - P205/55ZR17

Tires / Wheel Size - P235/35ZR19

Tires / Wheel Size - P235/40ZR18

Upgraded Wheels

Wheel Type - Alloy

Rear Tires / Wheel Size - P235/50ZR17

Rear Tires / Wheel Size - P265/40ZR18

Rear Tires / Wheel Size - P295/30ZR19

Rear Tires / Wheel Size - P305/30ZR19

Adaptive Headlights

Auto-Dimming Exterior Mirrors

Fog Lights

Memory Exterior Mirrors

Power Retractable Soft Top

Rain Sensing Windshield Wipers

Rear Spoiler
Warranty
Basic Miles - 50000 miles

Basic Years - 4 years

Corrosion/Rust Through Miles - Unlimited miles

Corrosion/Rust Through Years - 10 years

Powertrain Miles - 50000 miles

Powertrain Years - 4 years

Roadside Assistance Miles - 50000 miles

Roadside Assistance Years - 4 years
Mechanical
Axle Ratio - 3.88

Brakes: Front - Disc

Brakes: Rear - Disc

Braking System - Anti-Lock

Drivetrain - RWD

Engine Immobilizer

Engine Type - Gas

Power Steering

Transmission Type - Manual

Cylinders - 6 cylinders

Displacement - 2.9 liter

Bore - 3.50 inches

Compression Ratio - 11.5

Fuel Induction - Sequential Fuel Injection

Total no. valves - 24 valves

Valve Train - Dual Overhead Cam

Engine Configuration - Inline

Max Engine Speed - 7500 rpm

# of Speeds - 6 speed

Overdrive - w/Overdrive

CID - 177 cubic inches

Amps - 60 amps

Recommended Fuel - Premium

4-Wheel Disc Brakes

Anti-Lock Brakes

Limited Slip Differential
Dimensions, Weights & Capacities
Curb Weight - 2943 pounds

Fuel Capacity - 16.9 gallons

Head Room: Front - 38.4 inches

Height - 50.9 inches

Leg Room: Front - 41.6 inches

Max Seating Capacity - 2

Overall Length - 172.1 inches

Shoulder Room: Front - 51.7 inches

Standard Seating Capacity - 2 passenger

Towing Capacity, Maximum - Not Recommended

Trunk or Cargo Capacity - 9.9 cubic feet

Wheel Base - 95.1 inches

Width with mirrors - 70.9 inches
See less
2009 Porsche Boxster Safety
Safety information is currently not available for this vehicle.
Please check back in the future.
2009 Porsche Boxster Safety Technology
Child Seat Anchors

Driver Airbag

Passenger Airbag

Stability Control

Traction Control

Front Head Curtain Airbag

Front Side Airbag

Rear Parking Sensors