McLaren 570S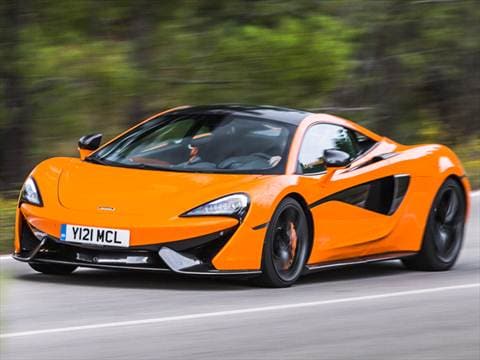 The 2017 McLaren 570S and 570GT constitute the brand's "entry-level" line of sports cars. Starting at about $190,000, that's a little hard to swallow, but the cars compete against the world's most premium luxury-sports cars with a 562-horsepower engine, a curb weight of less than 3,200 pounds, and a true-to-life Formula 1 pedigree.
New Features and Revisions
Joining the 570S this year is the new 570GT, a mechanically similar but more luxurious model boasting a slightly softer suspension and nicer interior. The 570GT also has slightly different bodywork, with an additional cargo area behind the rear seats and a reworked rear end to match.
Other Model Years
2016
‑

2016 McLaren 570S
(2016 model pictured)
New Features and Revisions:
The 570S is an all-new model for McLaren, and though it utilizes a variation of McLaren's MonoCell carbon-fiber chassis and bears the same engine displacement as the 650S, the engine incorporates 30-percent new parts, and the transmission has been recalibrated for faster shifts.
See how style, options and other factors can impact pricing in your area.