Used 2015 Ferrari 458 Speciale
Change Vehicle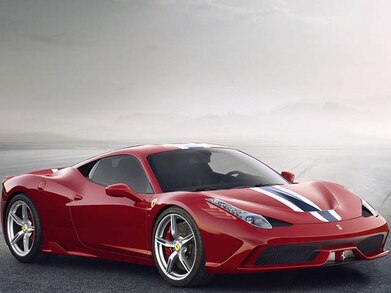 Price Range :
$357,742 - $357,742
Combined Fuel Economy
14 MPG
Used 2015 Ferrari 458 Speciale Pricing
$357,742 - $357,742
See how style, options and other factors can impact pricing in your area.
For Buyers
You'll get:
Fair Purchase Price
Local Inventory Listings
For Sellers
You'll get:
Blue Book® Values
Trade-In, Private Party, Instant Cash Offer
Used 2015 Ferrari 458 Speciale Expert Review
There's nothing quite like a Ferrari, and fans of the Italian exotics will tell you there are few Ferraris like the 2015 Ferrari 458. Already boasting a pedigree edge over rivals like the Audi R8 V10 and Lamborghini Huracan simply because of its breeding, it boasts a considerable performance advantage as well. Using its racing expertise, Ferrari has imbued the 458 Italia and 458 Spider with a 562-horsepower V8 teamed with a 7-speed dual-clutch gearbox. It also boasts a design that not only looks breathtaking, but includes features like active winglets in front that deform at speed to improve downforce and aerodynamics. It's all managed by a race-inspired suspension that, with little modification, underpins the race-ready 458 Speciale models.
Driving the Used 2015 Ferrari 458 Speciale
It's entirely possible that the Ferrari 458 is the best performance car ever built. All exotic sports cars offer something special – extreme styling, an incredible soundtrack, otherworldly performance among them. Yet we've found that the 458 is in a class of its own. The perfectly tuned chassis and suspension increase your confidence, the precise steering feels perfect in your hands, and the fabulously-quick dual-clutch transmission ticks off gear changes in just nanoseconds. Are there flaws? Sure. Ferrari has crammed too many controls onto the steering wheel, and there's no manual-transmission option (although it's hardly missed). Our biggest complaint is that with a starting price of about a quarter-million dollars, even the one-percenters need to think twice.
Favorite Features
RETRACTABLE HARDTOP
Mid-engine convertibles too often look ungainly and awkward compared to their hardtop cousins. However, in just 14 seconds the lightweight aluminum hardtop on the Ferrari 458 Spider comes down, and the result is just as stunning as the fixed-roof Italia.

4.5-LITER V8
The 4.5-liter V8 engine in the Ferrari 458 puts out a remarkable 562 horsepower, or 597 in the Speciale. Think about that for a moment: Each one of the eight cylinders in this Ferrari puts out at least 70 horsepower. That's as much as some economy cars.
Used 2015 Ferrari 458 Speciale Interior
The Ferrari 458 is a mid-engine sports car, so the bulkhead separating the engine and passenger compartment means tall drivers may not be able to recline quite enough. However, legroom is terrific, and the interior styling is just as stunning as the exterior. There are fine leathers and eye-pleasing shapes all around, and if that's not enough Ferrari allows you to enhance the interior further with numerous upgrades. Okay, fine, the steering wheel doesn't need quite so many buttons, and analog gauges might be more pleasing than the cluttered multi-role LCD screens.
Used 2015 Ferrari 458 Speciale Exterior
The Ferrari 458 Italia and 458 Spider are proof that one need not compromise between form and function. For example, those exciting-looking vents atop the fenders and the cool carbon-fiber section below the rear bumper are both there to improve airflow around the car and high-speed handling, not just to look cool. On the convertible Spider, the hardtop actually weighs less than many soft-top convertibles, adding only 100 pounds compared to the coupe. Besides that, the Spider looks stunning with its top down, avoiding the awkward, tail-heavy look many mid-engine convertibles suffer from.
Used 2015 Ferrari 458 Speciale Standard Features
You'd expect a lot for $250,000, and you get it. The standard-issue Ferrari 458 Italia and Spider include sublime leather seating and trim, light and powerful carbon-ceramic brakes, a power-adjustable steering wheel, low/high-beam automatic bi-xenon headlights, dual-zone climate control, and an 11-speaker JBL Professional sound system with a basic auxiliary audio jack for portable music players. Oddly, basics such as cruise control, power seats and navigation are not part of the standard-equipment roster, although you do get a cool launch control for speedier getaways from stoplights. Safety-wise, every 458 for 2015 includes performance-tailored traction and stability control.
Used 2015 Ferrari 458 Speciale Options
Options for the Ferrari 458 include the kinds of racy things you'd expect, such as 4-point seatbelts, carbon-fiber racing seats and carbon-fiber body pieces. On the luxury side, there's a 1,000-watt premium audio system by JBL, along with things like cruise control and navigation. Of course, being a Ferrari the 458 is highly customizable, with bespoke items including contrast stitching, a carbon-fiber steering wheel with integrated LED shift lights, numerous paint and interior color schemes and a choice of three different seat designs (standard, Daytona-style and diamond-tufted).
Used 2015 Ferrari 458 Speciale Engine
The 2015 Ferrari 458 Italia and 458 Spider boast an aluminum 4.5-liter V8 engine connected to a 7-speed dual-clutch high-performance automatic transmission. The engine puts out an incredible 562 horsepower, and if that's not enough the Speciale versions add another 35 horsepower on top of that. The 7-speed dual-clutch automatic performs surprisingly well when left on its own. However, with a quick flick of the steering-wheel-mounted paddles, driver involvement increases exponentially, with nearly instantaneous up/down shifts and perfectly timed rev-matches.

4.5-liter V8 (Italia and Spider)
562 horsepower @ 9,000 rpm
398 lb-ft of torque @ 6,000 rpm
EPA city/highway fuel economy: 13/17 mpg

4.5-liter V8 (Speciale)
597 horsepower @ 9,000 rpm
398 lb-ft of torque @ 6,000 rpm
EPA city/highway fuel economy: 13/17 mpg
How Much Does the Used 2015 Ferrari 458 Speciale Cost?
Like all Ferraris, the 458 Italia and Spider fall squarely in the "if you have to ask" category. That said, the Manufacturer's Suggested Retail Price (MSRP) for a 2015 Ferrari 458 Italia starts at about $245,000, and the drop-top 458 Spider is just under the $270,000 mark. If you want the even sportier Speciale – as if the standard Italia was a slug or something – you'll be looking at prices closer to the $300,000 mark. That's a lot of money, and while the 458 is worth it, alternatives like the $182,000 Audi R8 V10 and $200,000 Lamborghini Huracan aren't exactly slouches. Then again, neither are Ferraris. Be sure and check the Kelley Blue Book Fair Purchase Price before signing the paperwork. We expect the Ferrari 458 Italia, Spider and Speciale to return quite high residual values in the years to come.
Read Less
Used 2015 Ferrari 458 Speciale Consumer Reviews
---
moose
- 10/8/12 7:04:39 PM
2011
---
Eddie
- 3/11/15 8:03:33 PM
2011 Ferrari 458 Italia
Fantastic to drive on the road or on the track
Very expensive to maintain - but it's a Ferrari
c
This is a fantastic car. Very powerful and agile. It is easy to drive anywhere - almost idiot proof. And it attracts a whole lot of attention.
---
vstip
- 12/19/16 7:47:42 PM
2015 Ferrari 458 Italia
great for drifting... Drift Queen.
to expensive for my liking. dents easy.
c
I love this car its the best car i have ever owned. has about 3,000 miles. Interior and exterior is fantastic. I live in Montana so it is great for drifting in this winter weather. Its the best car i have ever owned but it was a little on the pricey side. love my 2015 ferrari 458 italia.
---
2015 Ferrari 458 Speciale Specs & Features
Based on lowest-priced style.
Exterior
Number of Doors - 2 doors

Tires / Wheel Size - P245/35ZR20

Rear Tires / Wheel Size - P305/30ZR20
Warranty
Basic Miles - Unlimited miles

Basic Years - 3 years

Corrosion/Rust Through Miles - Unlimited miles

Corrosion/Rust Through Years - 3 years

Powertrain Miles - Unlimited miles

Powertrain Years - 3 years

Roadside Assistance Miles - Unlimited miles

Roadside Assistance Years - 3 years
Mechanical
Anti-Lock Brakes

Dual-Clutch Automatic Transmission
Dimensions, Weights & Capacities
Curb Weight - 3075 pounds

Fuel Capacity - 22.7 gallons

Height - 47.4 inches

Max Seating Capacity - 2

Overall Length - 180.0 inches

Standard Seating Capacity - 2 passenger

Wheel Base - 104.3 inches

Width without mirrors - 76.8 inches
See less
2015 Ferrari 458 Speciale Safety
Provided by the National Highway Traffic Safety Administration
2015 Ferrari 458 Speciale safety technology
Stability Control

Traction Control
2015 Ferrari 458 Speciale Rankings
Consumer Ratings
5.0 Rating