History
For over 90 years, consumers and the auto industry have trusted Kelley Blue Book for legendary valuations and accurate information. Today, the history of innovation continues!
1918
Les Kelley starts Kelley Kar Company in Los Angeles with three Model Ts. His "Selected Blue Seal Automobiles" reflect the earliest version of the Kelley Blue Book seal.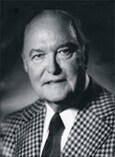 ---
1920s
During a time when all cars were black, Les and his brother Buster innovate by painting them pink. Sales soar.
Les Kelley begins circulating a list of cars he wants to buy and what he's willing to pay.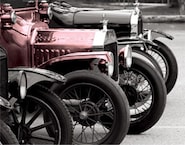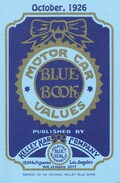 ---
1930s
Buster Kelley becomes GM of the dealership and publisher of the Blue Book. Every day, the line of cars waiting to be appraised winds around the block.
As Blue Book subscriptions soar, Kelley Kar Company moves to the corner of Figueroa and Pico in Los Angeles and becomes the largest used car dealership in the world.
The Kelleys open their own insurance company and auto club, and sell both with the cars.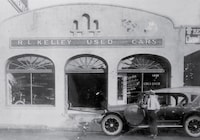 ---
1940s - 1950s
Cars are bought in the East and shipped in freight cars. The Kelley Car Company offers the "G.I. Credit Plan," featuring no money down and five-year credit terms.
During WWII, the government uses Blue Book Values to set used car price ceilings.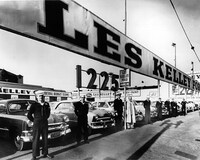 ---
1960s - 1970s
Now the largest Ford and used car dealership in the world, Kelley Kar Company is sold to devote full time to Kelley Blue Book. It becomes the first publication to use mileage to determine a car's value.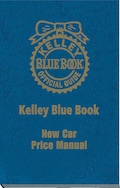 ---
1980s - 1990s
Kelley Blue Book goes digital, with vehicle values software for dealers, financial institutions, and insurance companies.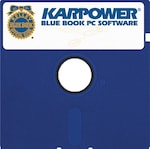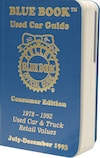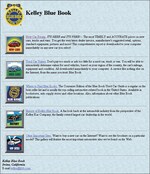 ---
2000s
KBB.com introduces new car previews, side-by-side comparisons, Blue Book Classifieds, and editors' market commentary.
New Car Blue Book Value shows what consumers are actually paying for new cars. KBB.com visitation exceeds 10 million per month.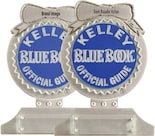 Introduction of the Best Resale Value Awards paves the way for more annual award programs.
KBB.com adds consumer ratings, resale values, video reviews, 360° views and more, with 160 million annual visitors.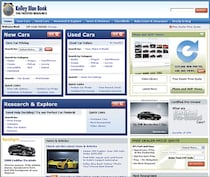 Brand Image Awards are given to automakers with outstanding brand attributes that truly capture the enthusiasm of new car shoppers.
Kelley Blue Book begins updating its values weekly instead of monthly.
---
2010 - Present
AutoTrader.com acquires Kelley Blue Book, combining two of the strongest brands in the auto industry.
Mobile apps for iPhone, Windows and Android are introduced.

The introduction of Fair Purchase Price helps consumers make smart car-buying decisions by providing the average transaction price based on region.

KBB.com named Online Shopping Brand of the Year by Harris Interactive.
The 5-Year Cost to Own Award honors the top brands and models with the lowest projected costs over the initial five-year ownership period.
Formation of Cox Automotive brings over 20 brands together to provide end-to-end digital marketing, wholesale and commerce solutions.

Learn more about KBB.com