VW working on a high-output TDI and 10-speed DSG transmission
by
Bob Nagy
|
April 26, 2013 1:17 PM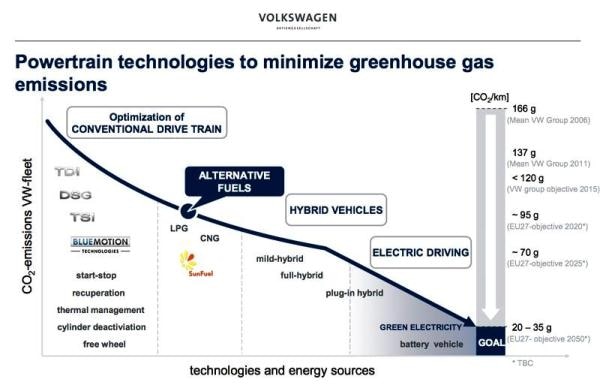 Speaking this week to a group of engineers at the International Vienna Motor Symposium, Martin Winterkorn, Chairman of the Board of Management of Volkswagen AG, outlined a number of future drive system technologies the automaker is currently developing. Heading that list is a new strain of high-performance turbodiesel engine that will be capable of turning out 134 horsepower per liter and a 10-speed version of VW's DSG dual-clutch automatic transmission that will help deliver even better fuel economy.
Also: 10 Coolest Cars under $25,000
While specific details were limited, VW's new ultra-spec TDI engine -- which could well make its first appearance in a new Audi model -- features a variable valvetrain assembly and a high-pressure injection system that delivers fuel at up to 3,000 bar (43,500 psi). It also incorporates a compound force-feeding setup that pairs a conventional turbo unit with an electrically-actuated supplemental pressure-assist device, which it has dubbed the e-booster.
Also: A dozen great reasons to consider a 2013-2014 midsize sedan
Winterkorn went on to note that despite inroads being made by various emerging technologies, the internal combustion engine still has a good deal of unexploited potential. "Since the year 2000, we've reduced the fuel consumption of our TDI and TSI engines by more than 30 percent. I'm convinced that by 2020 we can achieve further increases in efficiency of around 15 percent." He sees those gains coming largely as a result of improvements to the combustion process, reduction of weight and internal friction, better thermal management and "innovative operating strategies."
On the near-term alternative front, VW's chief touted the impressive potential in natural gas as a clean, affordable and sustainable fuel of the future. Specifically, he cited the firm's upcoming Audi A3 g-tron and Volkswagen Golf TGI BlueMotion models as well as the new VW eco-Up!, which is the world's most economical natural gas-powered car. Winterkorn also indicated that he believes plug-in hybrid technology makes the most sense as a potential mid-term solution. He confirmed that VW will launch at least six new plug-in models in the coming years, with the first to go on sale starting in 2014.
The 2014 Chevy Cruze 2.0TD Turbodiesel gets 46 mpg on the highway
The all-electric 2014 Fiat 500e goes on sale this summer in California
Toyota's total global hybrid sales have now topped 5 million units
Popular at KBB.com