Volkswagen completes its buyout of Porsche
by
KBB.com Editors
|
July 6, 2012 2:51 PM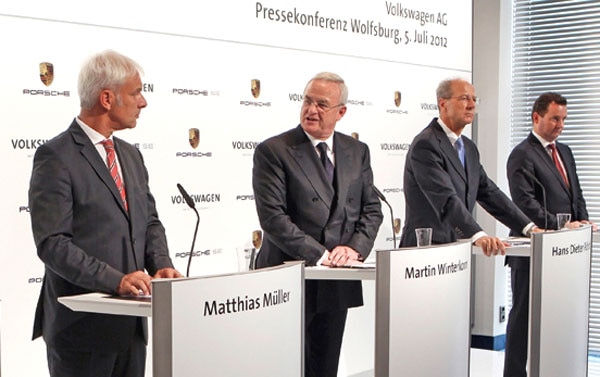 In play for three years, the long and often torturous process by Volkswagen AG to acquire the final 50.1 percent of Porsche Automobil Holding SE's auto-making operation that it didn't already own has finally been concluded. This landmark deal -- which cost VW approximately $5.6 billion plus one share of its ordinary stock -- is set to take effect August 1 with the establishment of the Integrated Automotive Group. This construct effectively will bring the business operations of Porsche AG under full control of the Volkswagen Group some two years earlier than would have been economically feasible under provisions in the original Comprehensive Agreement the two companies signed back in August 2009. It also will help Volkswagen AG move more quickly towards achieving its stated goal of becoming the world's largest automaker by 2018.
"The unique Porsche brand will now become an integral part of the Volkswagen Group," said VW Chief Executive Officer Martin Winterkorn, in commenting on the agreement. "That is good for Volkswagen, good for Porsche and good for Germany as an industrial location. Combining their operating business will make Volkswagen and Porsche even stronger -- both financially and strategically going forward. We can now co-operate even more closely and jointly leverage new growth opportunities in the high-margin premium segment through targeted investments in pioneering products and technologies."
Porsche now becomes the eleventh car/truck/motorcycle brand in the wide-ranging Volkswagen Group. It will join Audi, Bentley, Bugatti, Ducati, Lamborghini, MAN, Scania, Seat and Skoda in addition to Volkswagen itself. While VW's ultimate impact on Porsche's corporate culture is a question that remains open to speculation, industry analysts are predicting that its current 119,000 annual unit sales volume number will more than triple by 2020.