Toyota worldwide hybrid sales top 7 million
by
Bob Nagy
|
October 14, 2014 12:30 PM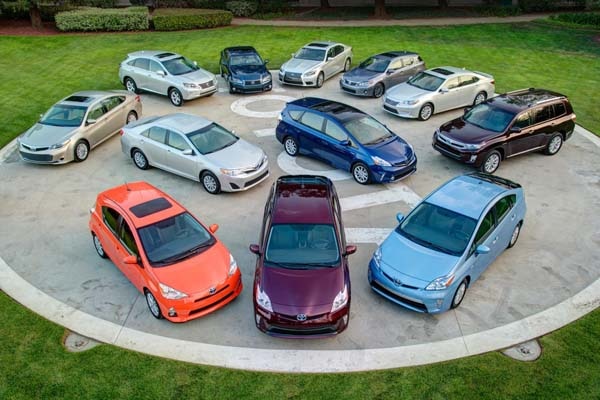 Toyota Motor Corporation announced global sales of its Toyota and Lexus branded hybrid models have moved past the 7 million mark. It took just nine months to surpass this latest million-vehicle milestone, slightly less time than was needed to transition from the 5-million to the 6-million total last December. To date, Toyota says its eco-friendly technology has saved 4.75 billion gallons of gasoline and led to the creation of 49 million fewer tons of CO2 emissions since it was introduced in Japan in 1997.
Also: The Class of 2015 -- New Vehicles Ready to Roll
Although the Toyota Hybrid System is still most closely associated with the groundbreaking and best-selling Prius that first went on sale here in 2000, total Toyota/Lexus Hybrid model count now stands at 28. At least one of those vehicles is currently available in over 90 countries. Here in the U.S., 12 of these fuel-efficient hybrids and the plug-in Prius account for 70 percent of the entire segment.
Also: 10 Coolest Cars Under $18,000
Even as Toyota prepares to launch its first production fuel-cell vehicle, the company remains fully-committed to hybrids for the foreseeable future. It plans to introduce a total of 15 new hybrids globally through 2015, including the next-gen Prius which promises to be significantly more fuel-efficient than the current iteration.
More Hybrids and Plug-ins...
Come along for a drive in the new 2014 BMW i8 plug-in sports car
We put the new 2014 Honda Accord Hybrid through its paces
Volvo's new 2016 XC90 will be available with T8 Twin-Engine Hybrid power