Toyota RAV4 Culinary Road Test: In Search of Fish Tacos
by
Matt Degen
|
March 27, 2014 9:40 AM
If you're not from Southern California, the idea of fish tacos probably sounds as odd to you as curd-addled poutine sounds to us. But in these parts, fish tacos are more than just cheap, satisfying food. Here they are as much a way of life as they are tasty, on-the-go sustenance. From their origins in Baja Mexico to their present-day status as a favorite snack for everyone from surfers to sales executives, the simple idea of perfectly cooked fish stuffed into a tortilla with minimal garnish has a special way of speaking to the hearts and minds of harried Southern Californians. Heck, eating one of these while watching the waves roll in and the sun go down qualifies as therapy after a day fighting traffic.
While countless restaurants and fast-food chains serve fish tacos -- Wahoo's and Rubio's are consistently good -- part of the fish taco's allure is finding smaller establishments that can make the simple spectacular. With open eyes and keys to the latest-gen Toyota RAV4 in hand, I set out to find some of the tastiest fish tacos in Southern California. Why a RAV4? Well, Toyota's mantra is "Let's Go Places." So I did, venturing out on a two-day, 550-mile trek that would lead up the coast to Santa Barbara, south to San Diego, then back to Orange County.
After gathering suggestions from friends and doing some online culinary detective work, I set out with a hungry stomach and tacos on the brain. I began with several locales in mind, but the best parts of any road trip are the spontaneous ones. That being the case, I left plenty of opportunity to stop at any spot that caught my eye or tugged my heart. Here are some of the sights and tastes experienced over the miles, and observations on the RAV4 as the vehicle that would make it all possible.
Getting N'Sync
Aside from copious amounts of caffeine, a must for any road trip is a good soundtrack. One of the best features of today's cars is their ability to play music from a USB input and/or via Bluetooth wireless streaming. The Toyota RAV4 offers both as standard. Before putting the RAV4 in drive or even inputting my first destination in the navigation system, a top priority was syncing my iPhone via Bluetooth and plugging in a USB drive filled with tunes. The phone setup took a couple of long minutes but after that, pairing was near-instant every time I entered Toyota's compact SUV.
The MP3-filled thumb drive was initially rebuffed, but after a few minutes the RAV4 changed its mind and was willing to play any of the variety of artists I brought along for the road trip, a musical palette that ranged from the Beach Boys to Radiohead. Soon enough, Thom Yorke was telling me, it's the best thing I'll ever have. Or would I be left high and dry? I started the journey to find out.
The Best Fish Taco in Ensenada?
If you believe this restaurant's quirky name, Ensenada's best is actually a little taqueria in Los Angeles wedged between car repair shops and small homes. And it was at this first stop that I learned fishing for fish tacos is like fishing itself: Some days you end up with nothing. I attempted getting into the Best Fish Taco in Ensenada twice. At my first go, it isn't open. Coming back a little later it is, but there is not a single parking spot within a mile of the place. Time to spread my net further.
Winding through L.A.'s notoriously aggravating traffic, the RAV4 proved the perfect urban utility tool. It's small enough to squirt through traffic, boasts a high seating position and has good visibility. These positive traits create confidence amid snarled roads.
Seafood Shack by the Shore
After grinding through traffic and bleak concrete scenery, the spot where the 10 Freeway dumps you onto Pacific Coast Highway in Santa Monica may as well be heaven. Yes, there can still be congestion, but the view west is epic: miles of white-sand beach, an endless blue ocean, and myriad beach homes whose dirt lots alone are worth seven figures.
From here it's a delightful drive a few miles up the coast to Malibu Seafood. And now we come to the first rule of fish tacos: Whether the fish is battered and fried or skinless and grilled, the freshest fish makes the best fish tacos. At Malibu Seafood, it doesn't get much fresher. I pull the RAV4 into the adjacent lot that also provides hiking access to Coral Canyon, and easily slot the compact SUV into one of the tight spaces. Malibu Seafood appears more shack than restaurant, but there's a line of locals out the door -- always a good sign.
For an instant I fear I've struck out again, as there's a big "OUT" scrawled on the menu over "Fish Ta..." Turns out it's the fish taquitos they're out of this day (yes, that's a thing, too, and they can be fantastic.) Fifteen minutes later I'm seated on a picnic table amid one of Malibu Seafood's outdoor terraces, grilled fish taco in hand. Today's selection is a grilled white fish, adorned as a fish taco should be with cabbage, a pico de gallo salsa, and creamy dressing. It's a good fish taco, made ever tastier by the ocean view.
Coastal Cruiser
From here I put the RAV4's highway manners to the test as I wind up Highway 1 to Santa Barbara. Traveling north up the California coast is a scene for the senses, and I can't help but pull off the highway in spots like Point Dume, Point Magu, and the iconic Big Rock along PCH. Off-ramps to state parks dot the route, and stopping at any one of them is a good idea if you need to stretch your legs, let the kids work off some of the sugar, or simply want to snap some photos of the rugged coast.
Highway on-ramps here can be short, and traffic moves fast. Thankfully the RAV4's 176-horsepower 4-cylinder engine was sufficient. There's a Sport mode for better response, but I found it wasn't needed, and the button to enable it is awkwardly placed below the dash, anyway. There's also an Eco mode, which I definitely didn't use because it mutes throttle response. Most pleasantly surprising was the 6-speed automatic transmission, which debuted in 2013 with this new-gen RAV4. It is eager to kick down and helped shuffle this 5-passenger crossover SUV up to speed.
Search is on in Santa Barbara
I reach Santa Barbara a couple of hours later in dire need of caffeine. A small joint called Hot Spots at the west end of State Street grants a great shot of espresso and some info for this tourist. I'm told to check the seafood restaurants across the way on the pier for tacos, which I promptly do. I scour Santa Barbara's quaint pier and bustling State Street, but nothing cries "Fish Taco."
I finally pull into the Cuernavaca Taqueria a couple of miles away. The place looks and smells promising, but alas no fish taco is on the menu. A friendly staffer suggests a nearby spot called Rudy's.
Located in a residential area on Montecito Street and just a few blocks from the ocean, Rudy's has a welcome, neighborhood feel. More important for this Culinary Road Test, it has fish tacos. The portions are large and the fish is fresh, just under-seasoned. Thankfully the stellar salsa bar rectifies some issues in the flavor department.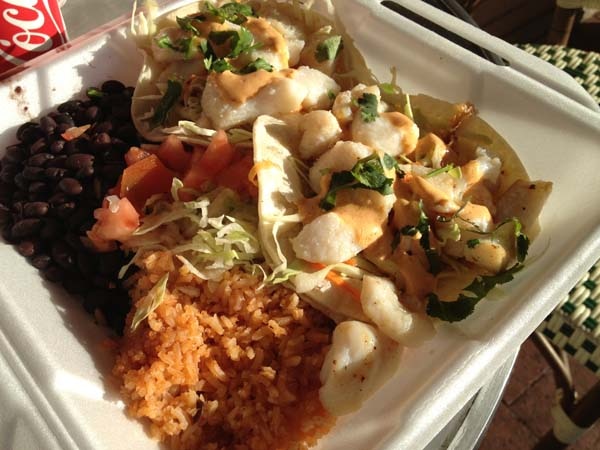 After stuffing myself once more, I take in another glimpse of Santa Barbara's quaint harbor and pier before starting the hours-long journey home. Thankfully the miles go by fairly quickly and the RAV4's driver's seat doesn't leave my back aching. The fabric-lined seat in the RAV4 XLE isn't the most supportive, but it was up for the task at hand. If you plan to be a RAV4 road warrior, I'd suggest stepping up to the faux-leather SofTex that's standard on the top-line Limited model.
Day 2 Destination: "The World's Best Fish Taco"
Look up South Beach Bar & Grille online, and the first thing you'll notice after its name is that modest declaration above. I'd heard about this San Diego hot spot from a friend, and now it was time to see if the hype was right. Firmly settled into the RAV4 for another day, I programmed its navigation system with the restaurant's address and headed south. It's here I must say that for whatever gripes I have with the RAV4's infotainment system (see observations below), the nav system worked like a champ. It was always on point, and directions were announced clearly and without missing a beat, or my case, an intersection.
Getting down to San Diego from Orange County is a shorter hop that going up to Santa Barbara, and there are many opportunities to stop and shop or sightsee along the way. Sights to see and places to pause at span from quiet seaside communities like Leucadia to military craft practicing drills at Camp Pendleton Marine base. There's even the unmistakable domes of the San Onofre nuclear plant. One of the best places to stop when heading south on the 5 Freeway is a rest area just north of Oceanside. There is ample parking, clean washrooms, and plenty of space and trails to stretch legs, relieve pets and take in the expansive ocean views.
Consume Calories, Burn Calories
From here it's only about an hour's drive to The World's Best Fish Taco. With a boast like that, how can my expectations not be sky-high? South Beach Bar & Grille is in the Ocean Beach neighborhood of San Diego, not far from SeaWorld. The RAV4 again easily slots into a small parking space I find on the street, and I walk down bustling Newport Avenue preparing myself for what could be the best fish taco of my life. Will I react with sheer delirium, or perhaps pass out right there on the table? As a formally trained chef and former restaurant reviewer, heaven knows I've eaten plenty of tasty things in my life, but anticipation, unlike hunger, is never quelled.
The guy checking ID at the door in the middle of the day proves this place is bar first, then grille. It's busy but there are plenty of seats and the staff is more than hospitable. I grab a window seat facing the ocean and nearby pier, and promptly order a 5-taco mini sampler consisting of mahi-mahi, wahoo, shrimp, calamari and a battered white fish. The culinary reckoning awaits. I eagerly try a bite of each, knowing this could be taco nirvana. They were all good, and one in particular was great. If you only try one, get the wahoo. Its meaty, soy-tinged flavor was a standout. The best in the world? Not quite in my book, but maybe yours.
After eating what may or may not be the best fish taco in the world, go walk off the calories in Ocean Beach and beyond. I stop into a sweet little second-hand music shop called Cow Records. It offers an impressive selection of CDs, vinyl, cassettes and even some 8-tracks. I pick up a sampling of Led Zeppelin, a U2 single I somehow didn't already own, and a "Pure Moods" album on clearance. I'm fessing up to that last one, so please don't sneer.
San Diego is brimming with vistas both natural and manmade, and it'd be a waste to not treat yourself to one or some of them. From Ocean Beach, it's only a short drive Point Loma, where you can roam the Cabrillo National Monument and take in views of the crashing Pacific below to the west and Coronado island to the east.
With stomach and soul satisfied, I returned to Orange County, stopping at one more restaurant on the way. Taco Rosa in Irvine is known for its gourmet fare, and here I grab a lobster taco and salmon taco. Both are very recommendable, but the best? Not quite, which only means my search must continue...
Summing it Up
The Toyota RAV4 XLE proved a faithful partner in my journey. While it didn't stand out in any one major respect, part of its appeal is that it does almost everything well and without fuss. In other words, it's a vehicle that's ready and willing when you are, adept in both the city and on the open highway. Here are a few other observations:
* Toyota's Entune infotainment system works with mobile phones to access apps such as Facebook and OpenTable -- a potential asset to finding friends and restaurants. Unfortunately, Entune wasn't playing nice with my iPhone 4S despite me downloading the app.
* And that issue was just one part of the larger letdown of the RAV4's infotainment system. The 6.1-inch touchscreen was difficult to see with sunglasses on, and overall sound quality was just so-so.
* The Toyota RAV4 has excellent cargo space. With nearly 40 cubic feet of space behind the rear seats (or over 73 with the seats folded), there's plenty of room for a big ice chest, folding chairs and rods and reel -- perfect if catching fish is more your thing than trekking for tacos.
* Overall fuel economy was good, with this all-wheel-drive RAV4 showing 25.4 mpg over the 500-plus miles. That's a hair above the EPA's 25 mpg combined rating.
* The standard backup camera is a real plus when finagling the RAV4 into tight parking spots and reversing in general.
Bonus: Make Your Own Fish Taco
At its most basic, a fish taco involves a tortilla (usually corn) and fish. Most any fish will do, from salmon to sole, but your best bet is something milder, such as haddock, tilapia or mahi-mahi. The fish can be battered and fried, fish and chips style, or grilled or sautéed. Whatever you choose make sure you cook it, otherwise we'd be talking about sushi -- and that is for another Culinary Road Test. Garnish is important. Chopped cabbage is almost essential, and the fish taco is completed with a light cream sauce such as Mexican crema, crème fraiche, or sour cream. Finally -- and this is important -- don't forget a squirt of lime for tanginess to bring it all together.
More Road Trips...
In search of some pie, we take to the open road in a 2014 Chevrolet Corvette convertible
Explore the Florida Keys in a 2014 Jeep Grand Cherokee
Trekking through Iceland in a 2014 Subaru XV Crosstrek Hybrid
Popular at KBB.com