This Week in Car Buying: The China Syndrome; VW to hold line on U.S. pricing; Never on Sunday; Safety sells; GM short on EV goal
by
Matt DeLorenzo
|
May 8, 2015 8:12 AM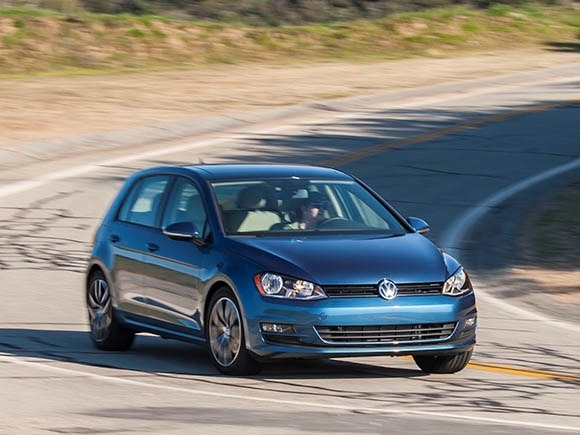 China has long been viewed as the salvation of car makers all over the globe. Its large population and robust economy has made it the largest vehicle market in the world. Now, however, Bloomberg News reports that the public desire to purchase new cars has declined to its lowest level since last year even as some manufacturers like Volkswagen and Honda offer discounts and interest-free loans.
A survey by MNI Indicators reported that car ownership has slipped 2 percentage points to 42 percent from a month earlier and that fewer respondents are saying that they are shopping for expensive cars. Although the market is expected to grow by just under 7 percent, the expansion is down from earlier double digit levels.
A downturn in the domestic market could also have an impact on hastening exports from China to other countries, including the United States. And those cars could be offered at bargain basement prices thanks to low labor costs. Wu Song, general manager of Guangzhou Automobile Group (which goes by GAC), told Automotive News his company is gearing up to sell its GS4 crossover SUV in the U.S. by 2017 and is aiming to offer them at prices 30 percent less than the competition, a level he believes is necessary for the brand's success. Launched in China, the GS4 is priced between $16,245 and $24,088 and would likely compete with the Toyota RAV4, which starts at $24,565. Using Wu Song's calculus, it would probably start at about $17,000.
The GS4 wouldn't be the first Chinese-produced vehicle sold in the U.S., as Volvo will begin marketing its China-built 2016 S60 Inscription later this year. GAC is expected to be followed into the market by Great Wall Motor Co. and BYD Auto Co.
VW holds line on pricing
While Volkswagen is offering incentives both in China and the U.S., a VW board member said the German automaker won't be lowering base prices in order to lift market share, despite a weakening Euro against the U.S. dollar. "We do not see major changes needed in terms of our pricing strategy," said Christian Klingler, VW Group's board member told financial analysts last week.
While incentives are likely to continue, the move to keep pricing at current levels is designed to protect margins. VW has been struggling to raise profitability and has increased its margin from 1.8 to 2.0 percent in the first quarter this year over 2014. Klingler told Automotive News that while the Euro is down against the dollar, the change has a minimal impact because "we have a big part of the volume of our cars coming directly from the North American market, and as a consequence, volumewise, this impact is not extremely strong." He added that he expects sales to hold at 2014 levels, which were 367,000, down 10 percent from 2013.
Also: Kelley Blue Book Best Buy Awards of 2015
Sunday sales bans
Not all car buyers are equal in the eyes of the law, especially in 14 states that have outright bans on Sunday car sales. Places where you can't conduct business at dealerships on that day include Maine, New Jersey, Delaware, Pennsylvania, Indiana, Illinois, Wisconsin, Minnesota, Iowa, Missouri, Mississippi, Louisiana, Oklahoma and Colorado, according to Automotive News. Seven other states including Utah, Texas, Michigan, Nevada, Rhode Island, Maryland and North Dakota have some restrictions on Sunday sales rather than outright bans.
Typically in those areas that have the prohibitions, dealers continue to lobby to keep the laws in place, citing the strain of 7-day-a-week operations on employees, the fact that banks aren't open and that the extra day doesn't necessarily result in more sales. They add that long hours during working days and Saturday openings are enough to meet consumer needs and that some buyers actually like shopping the lots of closed stores on Sunday unbothered by dealership personnel.
Those dealers committed to staying closed on Sunday also argue that if the laws are changed, the competition may force them to open. As a result, most states that have closings aren't likely to change their laws anytime soon. Conversely, moves to prohibit Sunday sales in states that allow them are equally unlikely to see a change in the status quo.
Safety sells
While there is considerable attention being paid to the integration of Apple's Car Play into automotive infotainment systems, a recent study suggests that car buyers are less interested in the latest entertainment and connectivity technologies as opposed to systems that enhance vehicle safety.
According to J.D. Power's inaugural U.S. Tech Choice Study, the top five valued technologies include blind-spot detection and prevention; night vision; collision mitigation; rearview cameras, and self-healing paint. The research firm said "These findings demonstrate growing customer acceptance towards the concept of the vehicle taking over critical functions such as braking and steering, which are the foundational building blocks leading to the possibility of fully-autonomous driving."
The study also found that advanced sensor technologies, such as hand gesture controlled seats, biometric driver sensors or haptic touch screens have low preference. Technologies in the navigation category have low preference across all vehicle price segments.
"There is a tremendous interest in collision protection technologies across all generations, which creates opportunities across the market," said Kristin Kolodge, executive director of driver interaction & HMI research at J.D. Power. "In contrast, there is very little interest in energy efficiency technologies such as active shutter grille vents and solar glass roofs. Owners aren't as enthusiastic about having these technologies in their next vehicle because of other efforts automakers are taking to improve fuel economy, as well as relatively low fuel prices at the present time."
GM short of EV goal
It appears that General Motors will fall short of its goal to have a half-million GM vehicles that rely on electrification in one form or another on the road by 2017. Through 2014, nearly 181,000 of these EV, extended range EV or electric-hybrid vehicles had been sold. The company's 2014 Sustainability Report said "Our forecasted outlook currently projects us, along with the broader automotive industry, fallling short of expectations for 2017. GM is committed to electrification...but consumer demand for these vehicles had not kept up with our initial projections."