This Week in Car Buying: Sales up, GDP not so much; Big incentives expire; Tesla launches CPO program; CTS-V to return
by
Matt DeLorenzo
|
May 1, 2015 9:59 AM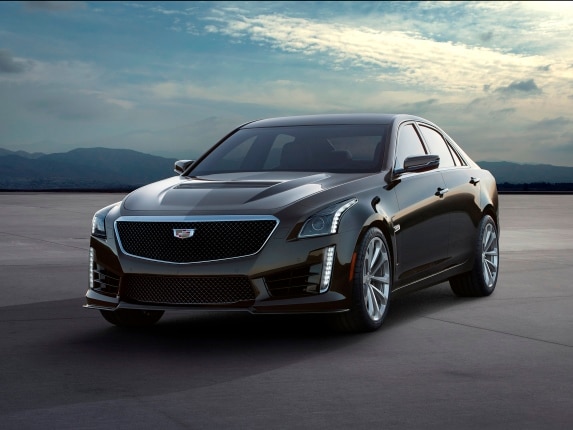 Despite an economy that has seen only 0.2 percent growth in Gross Domestic Product (GDP) during the first quarter, auto sales have been humming along with the industry doing its part to keep the country out of recession. Kelley Blue Book estimates that April sales will come in 5.2 percent higher than a year ago for the month. "While April won't bring too many surprises, sales should continue to grow at a steady pace," said KBB senior analyst Alec Gutierrez.
Even as sales are ahead of last year's on a month-over-month basis, they have leveled off some from March's torrid pace which pushed the seasonally adjusted annual rate (SAAR) to over 17 million. In April SAAR dropped back to 16.5 million, still a half million units more than a year ago.
Among the hottest segments is the crossover SUV allowing Jeep to post strong gains on the launch of its new 2015 Renegade, while Nissan has capitalized on the popularity of its Murano and Rogue, the latter comprising 20 percent of all the brand's sales. The only segment to see a decline during April is midsize car, down 3.1 percent over a year earlier levels. Part of that drop is attributed to the discontinuation of the Dodge Avenger, although three of the top four models also saw their sales ebb with only the Toyota Camry posting an increase.
Gutierrez concludes that "Retail sales continue to be strong which continues to keep the overall sales outlook healthy. There is retrained incentive spending and steadily rising transaction prices, which are good for the industry."
Incentives set to expire
Speaking of incentive restraint, GM's program expired April 30 and featured payments as high as $4,000 on 2014 Buick Lacrosse models and GMC Sierra 1500 (the previous generation pickup), and on 2015 models, payments as high as $2,000 on the Cadillac SRX and the heavy duty models of the Chevy Silverado and GMC Sierra. Financing ranged from 0 to 6.9 percent.
Fiat Chrysler Automobiles (FCA) will end its current incentive program May 4, which offers rebates ranging from $500 to $3,000 across its range of 2015 vehicles, and as much as $4,250 on select 2014 Chrysler 300 models. On 2015 models, Jeep Patriot has cash back ranging from $500 to $3,000, Dodge Journey, $500 to $2,750, while Dodge Grand Caravan and Chrysler Town & Country minivans max out at $2,500. Financing deals from the automaker have rates ranging from 0 to 7.9 percent.
Among Asian imports, programs at Mazda, Honda, Subaru and Toyota expired April 30. Mazda was offering $4,000 on the CX-9, plus finance deals on other models; Nissan's rebates ranges from $500 on 2015 Rogue and Versa Note to $4,000 on 2014 Maximas; Toyota's payments includes as much as $3,000 on 2014 Prius c models and Subaru and Honda offered subsidized financing ranging from 0 to 8.9 percent and 0.9 to 5.9 percent respectively. BMW, Mercedes and VW program that ended April 30 were finance only. Ford's current program runs through June 1, Jaguar/Land Rover through June 30 and Volvo and Audi through July 1. Stay tuned for the next round of deals which will likely be keyed to Memorial Day sales events.
Also: Kelley Blue Book Best Buy Awards of 2015
Tesla debuts CPO program
Joining the ranks of other luxury car brands who have certified pre-owned sales programs, electric car maker Tesla launched its CPO program via an all-new website which offers used Model S units with a 4-year 50,000-mile warranty. Tesla inspects these vehicles and guarantees the remaining battery life and drive system as well as offering 24-hour roadside assistance.
The site allows buyers to shop various markets and also specify color, vehicle type, ranging from the entry-level 60 kWh, the extended-range 85 kWh model or the performance model, also with 85 kWh.
According to trade journal Auto Remarketing, prices on used Teslas ranged from $55,000 for a 2013 60 kWh Model S in Atlanta with 24,558 miles to $91,500 for a performance version Model S with 19,894 miles in the San Francisco Bay area. Buyers can select vehicles from 2012-2014 model years.
Cadillac CTS-V to return
After a one model year hiatus, the Cadillac CTS-V is slated to return this summer as a 2016 model boasting 640 horsepower, a 200-mph top speed and a sticker price of $83,995 plus $995 destination. While that represents a considerable bump up over the $65,000 sticker of the previous generation model, Cadillac says it compares favorably against the competition (BMW's M5 and Mercedes' E63 AMG) in performance and MSRP, offering more output for less money than its rivals, which retail for $93,600 for the 560-hp M5 and $101,700 for the 577-hp E63.
Offered previously in coupe, sedan and wagon bodystyles, the CTS-V will return initially as a sedan boasting 84 more horsepower than the car it replaces. It will again offer a supercharged 6.2-liter V8. Cadillac is looking to cover a wide swath of the performance market by introducing the smaller ATS-V model, which produces 454 horsepower from its twin-turbo 3.6-liter V6. That model starts at $60,465 plus destination and is offered in coupe and sedan body styles.
Audi to share
Audi is testing two car sharing programs in the U.S., one geared to residential scenarios called Audi at Home and the other, a short term rental program called Audi on Demand. The former is being tested in Miami where a luxury condominium complex will keep Audis on hand for shared used by the residents as a perk of unit ownership. In San Francisco, the German automaker has started the Audi on Demand, which employs smartphone apps and a similar pool approach as Zipcar and Daimler's Car2Go program feature Smart cars.
But unlike their rivals, the Audi on Demand program features luxurious offerings and instead of having to travel to a central lot to pick up the vehicle, Audi delivers the car concierge-style and will pick it up at the end of the loan.