This Week in Car Buying: Pro tips on leasing; truck wars loom
by
Zach Doell
|
December 11, 2014 12:32 PM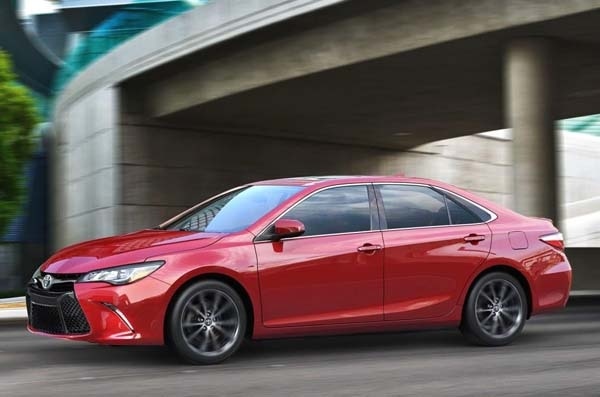 The most important car-related purchase you make this week continues to be the fuel that fills your gas tank. As we've previously reported, gas prices continue to tumble across the U.S., equating to the cheapest fuel bill many Americans have seen since 2010. Today, the average price of regular gasoline sunk to $2.62 a gallon, according to AAA. It marks a $0.31 decrease over the past month and a $0.64 drop since December 2013.
The trend has no doubt spurred vehicle sales during the closing months of the year, though it has sparked worry over consumer interest in electric and hybrid vehicles. Tesla Motors in particular has witnessed its stock fall more than 70 points over the past three months, following an all-time high of $286.04 in September.
If the low fuel costs continue, consumer enthusiasm toward electric and hybrid vehicles may wane, though it's doubtful the same can be said for Tesla. With its higher price, Tesla Model S customers are generally less interested in dodging fuel price fluctuations than they are in buying for a luxury experience, fossil fuel independence, or performance, as compared to lower cost EV models.
Leasing a 2015 Can Actually be Cheaper than 2014
Conventional thinking usually dictates that 'older' means 'cheaper'. But in terms of leasing an outgoing 2014 model or an incoming 2015 model, it might pay to go with the new. Swapalease.com recently analyzed nationwide lease deals between 2014 and 2015 model year vehicles and found that by and large, the 2015 vehicles are cheaper, even amidst year-end sales initiatives for current models.
For instance, consumers can expect to pay around $293.71 per month on a 2015 Toyota Camry lease versus a 2014 Camry lease at $319.22. The reason for the price disparity has to do with the car's residual value, which will generally be higher for new model years. When leasing - the higher the residual value, the lower your monthly payment.
End of Year Sales Estimates and Outlook
With the holidays approaching and end-of-year deals now in full swing, Ford looks poised to take another runaway crown as America's number one selling brand. Last month, Ford sales fell 2.6 percent year-over-year (178,887 vehicles in November), but KBB data suggests the Blue Oval could jump above 215,000 vehicles sold in December, a 17 percent increase due in part to strong performance from the Escape, Explorer, and Mustang. During 2012 and 2013, Ford holiday sales leapt 17 and 13 percent respectively, between the months of November and December.
Also: The Class of 2015 -- New Vehicles Ready to Roll
Honda appears to be on a banner year of its own. With month-to-date gains between 5.5 and 9.1 percent since August and 1,253,557 vehicles sold through November, the Honda brand looks in good shape to eclipse its largest US sales year ever, set at 1,371,438 vehicles in 2007. Sales of the Civic, Accord, and CR-V alone total more than one million units already.
December to Remember' Effectiveness
Although we won't officially know year-end sales results...well...until the year's end, Swapalease measured the effectiveness of last year's 'December to Remember' sales events in order to gauge this year's performance, by tracking over 700,000 web searches during the 2013 holiday season. Among luxury brands, Lexus fared the best with an uptick in search activity at 0.6 percent, while luxury standouts Mercedes-Benz and BMW dove to the tune of 6.9 and 5.8 percent respectively. Chrysler led non-luxury brands with an increase of 14.8 percent, followed by Mazda at 9.2 percent, and Jeep with 4.6 percent.
But do web clicks translate into actual sales? According to the data, yes and no. Mazda, Jeep, and Lexus all experienced double digit sales percentage increases from November to December, while click-leading Chrysler sunk 3.6 percent. On the flip side, Mercedes-Benz slumped 4.0 percent, while BMW surged 17.8 percent. It's no science.
Trucks wars set to heat up
With the 2015 Ford F-150 taking the top honors in the inaugural Kelley Best Buy Awards and Chevy's Colorado, along with the Ford as finalists for North American Truck of the Year, these two strong contenders will see some new competition in the next calendar year starting in January at the North American International Auto Show in Detroit. Because that's where two key competitors for each will have their coming out parties.
In the full-size truck segment, where the F-150 has reigned supreme along with the Chevy Silverado, Nissan is looking to make some headway with an all-new Titan. Promising fuel-efficient diesel power, striking looks and an expanded model range, the Nissan full-size pickup hopes to take a page from the Ram, which has through cutting edge design and powertrain options (which includes 8-speed transmissions and a diesel V-6, has carved out a larger share of the market. Fred Diaz, who worked at Chrysler on the Ram strategy is now head of Nissan's North American unit. So buyers who may be waiting for the pipeline to fill with new aluminum-bodied F-150s, might also be convinced to hang back and wait to see what the 2016 Titan can deliver.
Meanwhile, Chevrolet's return to the mid-size truck market will not go unchallenged, as Toyota has announced that a revamped 2016 Tacoma will debut at the Detroit show. Bill Fay, head of the Toyota Division told Automotive News that "with the new entries [the 2015 Chevy Colorado and GMC Canyon] coming in, the market should expand." Backing that bet, the Japanese automaker is ramping up its three-shift operation in Mexico to boost production of the revamped mid-size pickup.