This Week in Car Buying: Prices continue upward; Low cost leases; Refinance your loan; CarMax pushes into small markets
by
Matt DeLorenzo
|
July 2, 2015 4:37 AM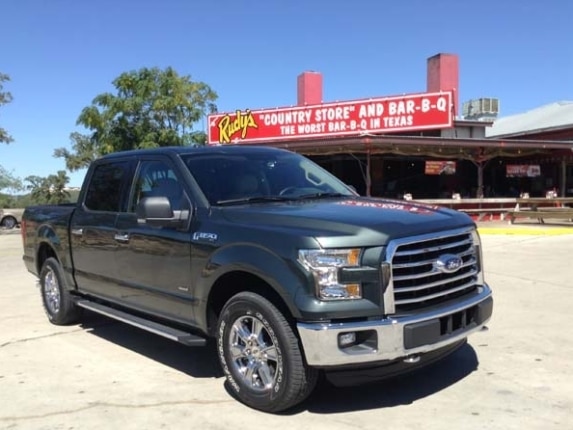 Estimated transaction prices for new cars continue to march upward, according to Kelley Blue Book data that shows the average hit $33,340 in June, a gain of 2.5 percent or $821 over last year. Month-over-month, the average price ticked up $209, a 0.6 percent increase.
"Ford showed the strongest Average Transaction Price (ATP) gains last month, driven largely by its all-new F-150 and a transaction price 6.6 percent higher than previous generation F-150 last year," said Karl Brauer, senior analyst for KBB. "The all-new Edge and Mustang, along with updated versions of the Expedition and Lincoln Navigator, also contributed to Ford's pricing gain."
Another brand posting strong numbers was Nissan, which saw a 4.5 percent increase in ATP over both its Nissan and upscale Infiniti brands. The all-new Murano transacted at prices 10 percent higher than the previous generation model a year ago, while the still-hot Rogue was up 6.6 percent. Volkswagen was the only automaker to see prices fall with a 5.8 percent decline on Jetta transactions and a 1.1 percent decrease on Passat.
Lease deals heat up
As manufacturers continue to increase sales, posting a robust 3.9 percent jump in June fueled by strong truck sales, the number of low cost leases of $200 or less on slower selling sedans and crossovers are on the rise. Wantalease.com, a new lease marketplace subsidiary of Swapalease.com, found 16 lease deals in June at or below $200, with 6 of them clocking in at less than $160 per month.
According to Wantalease, the least expensive deal was for the Volkswagen Jetta S, which was listed at $139 per month, which is also why the ATP for that model may have dropped for June. The Jetta was followed by the Chevy Cruze LT at $147 and the Chrysler 200 Limited at $149.
The biggest decline in lease rates was on the Chrysler 300 model with rear-drive, dropping to $200 from the previous offer of $283 per month in May, a cut of nearly 30 percent. Two crossover SUVs did make the list, although they are older models in the hot selling segment. A front-drive Chevrolet Equinox had a $189 per month deal for 39 months, while the Ford Escape front-drive was at $199 for 24 months.
"It's not uncommon to see many monthly lease offers under $200," said Scot Hall, executive vice president of Wantalease.com. "However, it is surprising to see the high quality of vehicles seeing such aggressive deals currently." Look for the deals to continue this summer as manufacturers look to keep the sales momentum rolling through the beginning of the 2016 model year this fall.
Also: Class of 2016 -- New Cars Ready to Roll
Refinancing your car loan
Everyone knows at least someone who has taken advantage of historically low interest rates to refinance their home mortgages, but now the practice may be spreading to car loans, as their terms stretch out to 72 and even 84 months. Bankrate.com says that if the conditions are right, refinancing a car loan could save owners hundreds of dollars each year and thousands over the life of the contract. The site, which monitors lending rates, says that those with rates above 6 percent should look into a lower rate and that the process is quick and easy with no appraisal required and minimal fees, if any.
The website said borrowers should look to refinancing in five instances:
There's a drop in interest rates. If rates have dropped more than a couple of points, buyers can save money, although refinancing is considered a used car loan and often those are issued at a slightly higher rate than a new car loan. But if the spread is significant enough, there could be savings.
Your credit score goes up. An improved credit rating can translate into a lower rate since a higher score means less risk to the lending institution.
Your original rate was higher than average. Brankrate.com says that sometimes a high credit score and good credit history doesn't insure that you got the lowest rate possible when you bought your car. Shopping around for a lower refinance rate could yield savings.
You find your monthly payment is getting hard to manage. Refinancing isn't just about the rate, you can also change the terms and move to a longer term contract that will reduce your monthly outlays even if the rate is the same or a little higher than what you are paying now.
At the end of your lease, you have an option to buy. If you like your car and the buyout at the end of the lease is attractive versus what a similar car would cost on the used car market, you may want to use refinancing as a means of staying in and eventually owning the car outright.
Keep in mind, that the age of the vehicle and the outstanding balance could be factors in whether or not you will be eligible for a new loan, but according to bankrate.com, if you have four years left on a five-year loan of $25,000 at 7.75 percent, a new loan at 4.75 percent would save nearly $30 per month or $1,373 over the remaining life of the loan.
Also: Kelley Blue Book Best Buy Awards of 2015
CarMax looks to smaller markets
Used car sales chain CarMax is looking to expand its operations into secondary markets in a major shift away from its strategy of targeting large and midsize urban areas. CarMax CEO Tom Folliard told Automotive News that the company is moving into at least 80 markets that will support smaller version of the company's big box store approach to retailing used cars.
The company has opened six of these so-called small-format stores that are situated on 3 to 7 acres and carry an inventory of about 150 vehicles. A typical CarMax outlet stocks 250 to 300 cars. The new approach will allow the company to open in a market selling as few as 75 cars a month, Folliard told the trade journal. Among the new cities targeted by CarMax are Tallahassee, Fla.; Norwood, Mass.; Bloomington and Springfield, Ill., and Pleasanton, Calif.
Popular at KBB.com