This Week in Car Buying: Leasing grows, but not for long; Safety sells; Miata priced; Lotus, it's not for you
by
Matt DeLorenzo
|
April 3, 2015 7:34 AM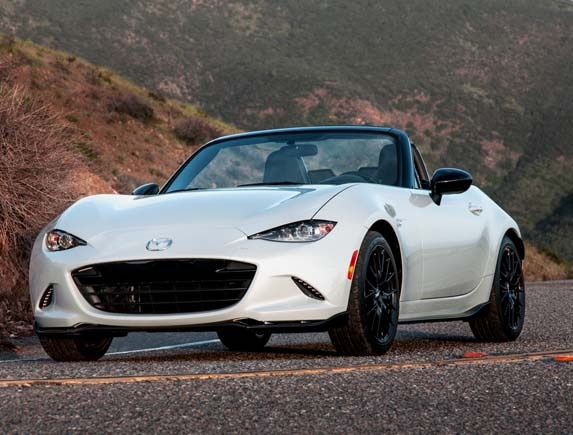 Leasing has grown to record levels, however, its share may soon begin to level off as a glut of off-lease vehicles return to the market and have an impact on vehicle residual values. While more off-lease cars sold as Certified Pre-Owned can provide good value for the money, the sheer numbers of them are bound to cause residual values on new leases to be lower, according to Automotive Lease Guide. That in turn will affect the overall cost of the lease and cause monthly payments to rise. Higher monthly payments will in turn make leasing a less attractive option to new car buyers.
The CPO cars have been a critical element in keeping residual values up and monthly payments down as manufacturers with these programs carefully manage the number of cars returning to the market. The factories have shown an ability to charge a premium for them because of their low miles, good condition and factory-backed warranties. But as manufacturers more heavily rely on lease programs to move more cars - their lease programs effectively hide incentives since the transaction is primarily based around the monthly payment - the number of off-lease cars will continue to grow. At some point, the big supply and lower residual values will hit a tipping point and you will see manufacturers begin to scale back the lease offers or raise prices. The net effect may be a downturn in the overall market, which has been setting a sizzling sales pace not seen in nearly a decade.
However, KBB analysis shows that this impact on residual values won't be felt across the board. There are some models, like hybrids, EVs, near luxury and luxury vehicles where supplies exceeds demand and as a result, these are the vehicles buyers should seek out when seeking a deal. On hotter models, like the compact crossover SUV, there will be less of an impact on residuals and as a result, firmer used vehicle prices. Still, in the short term, this growing number of late model used cars will prove to be a bonanza for those looking for an alternative to a new car, while in the longer term, if leasing becomes more expensive, there may be better deals in store for cash buyers.
Safety sells
There's no question that cars continue to get safer with each passing model year and it's not just the regulators in Washington that are responsible. Rather, smart shoppers look for value in safety systems that offer peace of mind for little investment. Manufacturers have recognized this trend and are moving safety features found on their expensive cars into more affordable models. The most recent case in point is the decision by Toyota and Lexus to introduce low-cost automated braking packages on some of its largest volume lines.
At the New York Auto Show, the Japanese automaker introduced the all-new 2016 Toyota RAV4 Hybrid and redesigned 2016 Lexus RX promising that new, multi-feature safety packages, both using automated pre-collision braking, will be offered across both model ranges at prices below those of the competition.
Also: Kelley Blue Book Best Buy Awards of 2015
Sold under the respective brand names of Toyota Safety Sense (TSS) and Lexus Safety System+ (LSS+), the packages combine technology to prevent or mitigate rear collisions, keeping drivers in their lanes and enhancing road safety during nighttime driving. TSS C (for compact size cars) and TSS P (for mid-size and premium entries) will be available for a respective $300 and $500, while the LSS+ technology will be offered in packages on all Lexus models at price points ranging from $500 to $635.
"Taking a high-level driver assist to the next level, the safety packages will be offered as a very-low-cost option and will be systematically introduced across nearly all U.S. Toyota and Lexus models and trim levels, top-to-bottom, by the end of 2017," said Jim Lentz, president and CEO of Toyota North America. "Pushing these systems across our lineup, as quickly as possible, can help protect people in the event of a crash. More importantly, it will help prevent some crashes from ever happening in the first place."
Mazda prices MX-5 Miata, announced Launch Edition
Mazda's much-anticipated next generation MX-5 Miata will launch later this year with a base price of $24,915 plus $820 destination for the Sport level trim. Among the features that will become standard for the first time are a 6-speed manual transmission, LED headlights, USB audio input, Bluetooth connectivity, leather-wrapped shift knob and power locks. That compares favorably to the 2015 Mazda MX-5 Miata with a base price of $24,790 (plus $820 destination) with a 5-speed manual.
Mazda also announced a limited run of the first 1,000 units of the new roadster called the 2016 Mazda MX-5 Launch Edition based on the premium Grand Touring model, which includes an exclusive Soul Red exterior and a Sport Tan interior. No pricing for this special edition model has been announced, but the automaker will begin allowing customers to pre-register for the cars at www.longlivetheroadster.com by placing a $500 deposit.
The MX-5 Launch Edition includes 17-inch alloy wheels, heated seats, automatic climate control, Sirius XM radio, Mazda Connect infotainment system, Bose 9-speaker audio, blind spot monitoring with rear cross traffic alert, lane departure warning and automatic high beam control.
No Lotus for you!
Lotus has taken a different approach to marketing the Lotus Evora 400 by advertising the fact that if you don't know about this latest generation of its two-seat sports car, then "#itsnotforyou." As part of the program, the British automaker employs an online game accessed through its website. By clicking on a banner, a challenge is offered saying "Can You Handle it" which leads to a reaction-time challenge video game based on those given in fighter pilot selection program. If the player fails, the player is told "Pretty good, but perhaps a Bavarian cruiser would be more comfortable?"
"The game complies totally with Lotus's brand values - pure, unconventional and competitive - and the #itsnotforyou campaign is fun, addictive and inclusive," said Jean-Marc Gales, CEO of Lotus. "We recognize that Lotus is and always has been a challenger and a more effective and efficient approach to our marketing is vital. It encourages alternative thinking through our unconventional approach. Try it now and if you're good enough, it might just be for you." Lotus is pushing out this viral marketing program as a way of reintroducing the Evora to the U.S. market this fall.