This Week in Car Buying: GM dials back warranties; Ally dials up longer loans; Shorter waits for top-line Teslas
by
Matt DeLorenzo
|
March 13, 2015 7:27 AM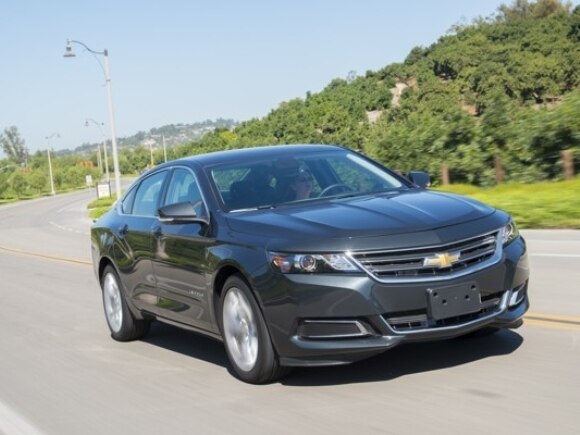 General Motors announced that it will be scaling back its powertrain coverage on 2016 model year Chevrolet and GMC branded vehicles from 5 years/100,000 miles to 5 years/60,000 miles saying it doesn't believe the extended coverage makes a difference in whether or not customers will buy these vehicles. In addition, it will reduce the amount of free-maintenance visits for routine items like tire rotation and oil changes, from four to two visits, also starting with the 2016 model year.
A dealer memo from Chevy vice president Brian Sweeney and GMC vice president Duncan Aldred outlining the changes said "through research, we have determined that when purchasing a new vehicle, including maintenance and warranty rank low on the list of reasons why consumers consider a particular brand over another. As a result, we have benchmarked our competitors, reviewed our current offerings and have concluded the following modifications to align closely with our customers' needs and expectations."
It's reported that GM will invest the savings from these changes into other product programs and incentives that it feels are closer to customer needs. These extended warranties may add a level of confidence in the purchase; however, typical new car buyers do not keep their vehicles for the entire 5-year/100,000 life of the warranty. The real benefits of the programs are transferred onto the second owner. In that case, this move would make the Certified Pre-Owned programs, which offer extended powertrain warranties, more valuable. Eric Ibara, Kelley Blue Book's director of residual value consulting, observed that "Resale value for the 2016 model year vehicles will likely be unaffected by the decision, as consumers will have the option, in many cases, to choose a certified used vehicle which will deliver the same peace of mind."
Also: Kelley Blue Book Best Buy Awards of 2015
Ally ups
Ally Financial, formerly known as GMAC before it was spun off as a separate entity in the GM bankruptcy, began rolling out 84-month (7-year) loans last month to relatively well-qualified buyers, reports Automotive News. Ally spokeswoman Gina Prioa told the trade journal that the company is "committed to offering competitive products designed to help dealers provide their customers with a variety of options that meet a range of consumer credit needs and monthly payment preferences." Typically the longer loans result in a lower monthly payment, however, the total interest paid on the contract is much higher. With no formal ties to Ally, GM has reconstituted its own captive lender in GM Finance and also offers 84-month terms. However, other manufacturer captive finance arms have shied away from the loans, including Ford Motor Credit, Nissan Motor Acceptance Corp. and Volvo Car Financial, the latter two offering a maximum term of 75 months.
Shortest circuit to a new Tesla is upmarket
Buyers of the Tesla Model S have become accustomed to waiting for their new cars, with deliveries taking as long as three months. However, the Wall Street Journal reports that if you opt for a top-line Model S P85D, the new $105,000 all-wheel drive version of the luxury sedan, Tesla can deliver the car to you in about 20 days. A $71,000 standard Model S, if ordered now, would not be delivered until May.
A company spokeswoman told the paper that the P85D has priority, which has led some industry analysts to speculate that Tesla is looking to sell more of this higher margin vehicle in order to boost revenues. This move is also seen by analysts as a departure from its previous stance of building cars to order to selling them from built-up inventory. Adding to this speculation is the fact that Tesla declines to regularly report sales on a monthly basis leading to widely varying estimates on the number of cars the company has actually sold. WardsAuto.com estimates U.S. sales in February of 997 units, while Autodata put the number at 1,200.
VW adds a row to the next Tiguan
While Volkswagen finally announced that its much-anticipated 3-row mid-size crossover SUV will be built at its Chattanooga, Tennessee, assembly plant, that vehicle won't be the first of its kind in the lineup as the company announced that it will add a third row bench to the 2017 Tiguan. According VW, $1 billion will be spent retooling its Puebla, Mexico, plant to accommodate the addition of the new Tiguan on the assembly line.
This next version of the Tiguan will be built on the new MQB platform, which underpins the all-new Golf family. "Localization has become key to safeguarding our competitive position on the global market and manufacturing the Tiguan in Mexico will bring production closer to the U.S. market," said Michael Horn, president and CEO of Volkswagen Group of America. "With the production of Golf A7 and Tiguan now moved to Puebla, we will build approximately 90 percent of our productions in the NAFTA region."
Also: The Class of 2015 -- New Vehicles Ready to Roll
Jeep continues to roll
Jeep continues its torrid pace with sales up 22 percent this year as the brand cracks the 100,000-unit level in just two months. And that's with the all-new Renegade just starting to hit showrooms. According to Arthur Henry, Senior Manager of Market Intelligence, this new subcompact crossover SUV has peaked shoppers interest on kbb.com, with shopping activities on this model jumping over 127 percent just in the last week. While Jeep Renegade is snagging a lion's share of the attention, the brand also is offering some fairly generous incentives on the compact-class siblings, the Patriot and Compass, with cash back ranging from $500 to $2,500 on the former and $500 to $2,250 on the latter.