This Week in Car Buying: GM cuts prices: Transaction prices jump; Used sales soar
by
Matt DeLorenzo
|
February 6, 2015 8:12 AM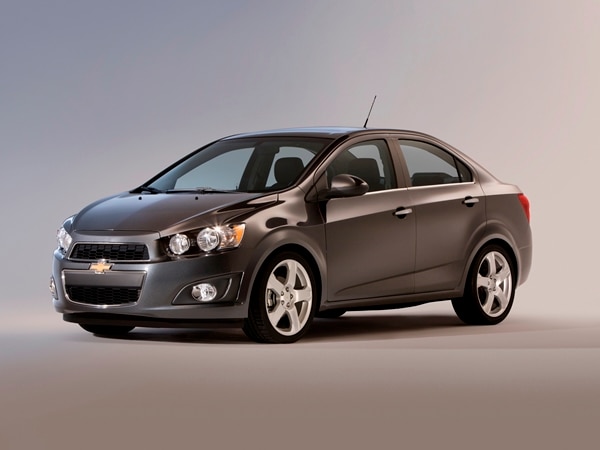 Last week, GM quietly dialed back production of its Buick Verano and Chevy Sonic subcompacts by scheduling two weeks of downtime at its Orion Township assembly plant north of Detroit. This week comes word that the auto giant is cutting prices on four vehicles by nearly $2,600 in order to boost sales.
All four models are nearing the end of their product cycles with new or refreshed versions set to be launched over the next year and include the 2015 Chevrolet Cruze, Chevy Equinox (its replacement will bow next week at the Chicago Auto Show), the Buick LaCrosse and GMC's Terrain (an Equinox sibling).
According to the Detroit News, the cuts were quietly added to the three divisions' websites and range from $1,575 for the base Cruze L (now priced at $16,170) up to $2,570 for the 2015 Buick LaCrosse 1SV -- which now retails for $31,065 plus destination. Both the Equinox and Terrain have new base prices that are about $2,400 lower. The former now opens at $22,120 down from $24,520, while the latter is priced at $24,070, reduced from $26,560. Again, these prices exclude $875 destination.
Also: The Class of 2015 -- New Vehicles Ready to Roll
All these models are entry-level variants, but still come with a relatively high level of content. In the case of the Cruze L, buyers get power windows and locks, remote keyless entry, and OnStar 4G LTE wireless. Other models, like the Buick and Terrain, feature equipment changes like smaller 17-inch wheels instead of the previously standard 18-inch rims on the Buick and no floor mats nor body-colored outside mirrors on the Terrain to justify the price adjustments.
The other point is that these entry level vehicles are often not eligible for incentives offered on higher trim level models. However, the price adjustments give these models an advantage over some key competitors. The Cruze now undercuts the Civic LX by over $2,000 while the 2015 Buick LaCrosse is more than $1,000 less than the Toyota Avalon.
January starts off with a bang
When it comes to new car transaction prices, KBB has found that January has come out strong. At $33,993, the average is up by more than 5 percent compared to January 2014's $32,299 figure. The average transaction price, however, cooled a bit from December's average of $34,563.
The biggest mover was GM, which saw an 8.2 percent gain in the average price of a new vehicle, an increase attributed to lower gas prices and the popularity of the maker's full-size trucks and SUVs. Prices for the Cadillac Escalade, Chevrolet Suburban, Chevrolet Tahoe and GMC Yukon/Yukon XL are up about 10 percent over last year.
Ford has also benefited, thanks to the strong launch of the all-new 2015 F-150. "The F-Series average transaction prices have increased 7.5 percent in January, even as the all-new 2015 model is still growing in availability," observed Tim Fleming, a KBB analyst. He added that "Another iconic Ford, the Mustang, is up 12.9 percent following its recent redesign."
Also: Kelley Blue Book Best Buy Awards of 2015
Used values remain strong
While industry observers are eying a potential glut of off-lease cars hitting the market soon, that prospect hasn't impacted the overall used-vehicle market in January. According to CNW Research, used vehicle sales during the first month of the year totaled 2.38 million, up 2 percent over a year ago. But more importantly, average transaction prices for used vehicles gained 27 percent over a year earlier, that strength attributed to the higher number of Certified Pre-Owned cars being retailed as well as the number of low-mileage off-lease cars beginning to trickle into the market.
Certain vehicle types are also faring well in the used market, with KBB analyses showing that full-size pickups, crossovers and SUVs are more than holding their own. Even though there have been significant launches of all-new pickup trucks over the past two years, values for used full-size models are up 9.5 percent over a year earlier and up 12.7 percent from two years ago. Lower fuel prices may be a contributing factor to those strong numbers. While not as high as pickups, the crossover/SUV segment saw values rise 2.3 percent. If retail sales slow during the winter months, the first quarter may prove to be a good time to trade in a high value used vehicle on a new model.