This Week in Car Buying: Chicago show; Cadillac's conundrum; Fuel prices on the march
by
Matt DeLorenzo
|
February 13, 2015 9:37 AM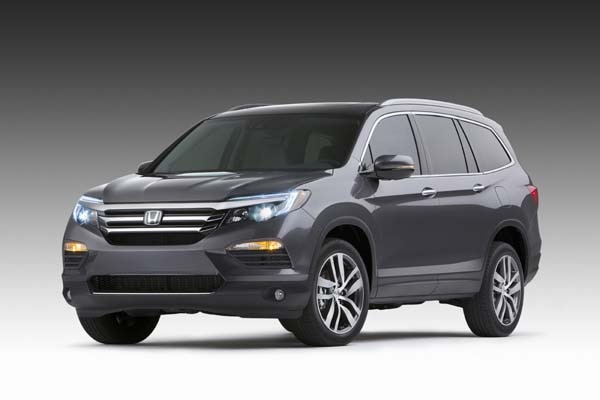 The auto industry's moveable feast of show cars move into Chicago's McCormick Place for 10 days and while the show lacks the firepower of Detroit, its strength lies in the more than a million visitors that pass through the turnstiles. It is the top publicly attended show in North America and most of the showgoers probably won't care that the new Ford GT or Buick Aviner concept officially bowed a few weeks earlier.
The Chicago Auto Show also will mark the debut of several important new vehicles, principally crossover SUVs like the Honda Pilot and Acura RDX, but also some facelifted models, like the Toyota Avalon. Smart shoppers will be eyeing the current iterations of these vehicles looking for closeout deals, while those with a bit more time and money to burn, will probably want to wait a few months or so for the all-new versions to appear in showrooms.
The 2014 Toyota Avalon in particular is carrying rebates ranging from $1,000 to $3,000, according to AIS Rebates, while the hybrid version has cash back of $2,500 to $3,000. While Nissan is waiting for the New York Auto Show to take the wraps off its next generation Maxima and recently introduced an all-new Murano, 2014 models of both have cash back offers of $3,000 to $4,500. The 2014 Titan, which is slated to be replaced later this year, also has incentives ranging from $2,000 to $3,500. Honda, on the other hand, is currently touting finance deals of 0.9-4.9 percent financing on the current Pilot, it has nothing on the Acura RDX, but is subsiding Acura ILX financing with 0.9-1.9 percent finances as it officially launches that luxury compact's replacement.
Poking around AIS data also reveals that the all-new 2015 Chrysler 200 has rebates of $500 to $2,250, a bid to spur sales more, while Jeep is looking to move as many Compass and Patriot models before the new Renegade, which is smaller, but will likely attract a lot more attention, begins to hit dealer lots. The Compass/Patriot compact SUV duo has respective rebates as high as $1,750 and $2,000.
Also: Kelley Blue Book Best Buy Awards of 2015
Cadillac's conundrum
As ex-Audi and Infiniti chief Johan DeNysschen works to revitalize GM's luxury division, January sales figures underscored how its lineup is blessed and cursed at the same time. According to Reuters, Cadillac can't build enough of its top-line Escalade full-size SUVs, which more often than not, retail in excess of $100,000. And yet at the same time, its Cadillac ATS entry-level sedan, which competes with the BMW 3-Series, is being deeply discounted. The report cited a Renton, Wash., dealer, Brotherton Cadillac Buick GMC offering up to $12,000 off the sticker of 2014 ATS sedans. Officially, Cadillac is offering rebates of up to $4,000 on 2014 ATS sedans. Reuters also found at Bommarito Cadillac outside St. Louis, was discounting as much as $17,500 off 2014 CTS models, a model which officially has $6,000 cash back. The incentives have helped clear out as much as 90 percent of these 2014 models.
The rebates aren't quite as generous on 2015 models, $1,000 on ATS and $4,000 on CTS, but DeNysschen has announced a strategy where the division won't overbuild these products and won't offer generous rebates in an effort to hold the line on pricing. Cadillac has been criticized by some for pricing at the same levels as its European competition. Others maintain that if the performance and styling of the cars are on par with the likes of Audi, BMW and Mercedes, then the product should command the similar MSRPs. A test case will be the upcoming 2016 Cadillac ATS-V performance coupe and sedan, which are set to rival the BMW M3/M4 by offering a 455-horsepower twin-turbo V6 and a top speed of 189 mph. Cadillac has priced the sedan at $61,460 and the coupe at $63,660.
The bottom line is that Cadillac will continue to ride the Escalade's success while attempting to not only lift the image and pricing of its car lineup, but also by introducing new crossover SUVs including a replacement for the aging Cadillac SRX. Cadillac is also reported to be working on two new SUV models, one to bridge the gap between the SRX and the full-size Escalade as well as a compact entry-level crossover. Still, Cadillac still has a long road ahead before its plans, which include a new flagship CT6 sedan and additional crossovers, come to fruition.
Fuel prices climb
Lower fuel prices were cited as a driver in strong January sales that saw an uptick in the popularity of trucks and large SUVs, but recently gas prices started to move in the other direction. However, it's not clear whether the recent changes will have little if any effect on overall vehicle sales in the short term. Following a rather dramatic drop in prices, in some cases below $2 per gallon in some areas, the national average has moved from $2.04 to $2.19 per gallon of regular in two weeks. Meanwhile, diesel has remained fairly stable at $2.83 per gallon, according to the U.S. Energy Information Agency. Analysts are expecting prices to hold or increase, especially in the spring, when more expensive summer blends of fuel required by law hit the market. Still, gasoline currently costs more than $1 per gallon less than it did a year ago.