Tech Brief: A look inside GM's 3D Rapid Prototyping lab
by
KBB.com Editors
|
July 26, 2011 11:34 AM
One of the coolest and most efficient technologies to come into prominence during the last decade is three-dimensional rapid prototyping. This CAD-based (Computer Assisted Design) process effectively uses a digitally rendered or scanned design as a pattern from which either a scale or full-size component can be created far more quickly than prototype parts made using the traditional clay modeling and molding processes. In 3D prototyping, the finished part or parts are rendered in solid form by repeatedly depositing and then using a suitable laser to instantly "cure" successive layers of material -- generally a UV-sensitive photopolymer liquid or powder resin -- with a degree of precision that yields an exact and precisely-toleranced duplicate of the original engineering drawing.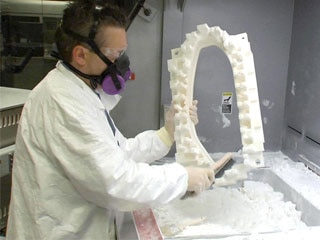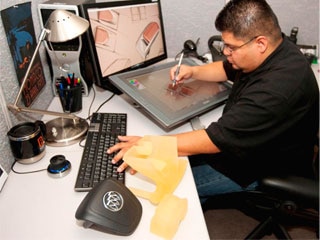 Today, virtually all of the world's leading automakers -- as well as many other manufacturers -- employ this 3D rapid prototyping process to some extent. According to General Motors, its adoption of Selective laser sintering (SLS) and stereolithography (SLA) techniques allow it to manufacture literally thousands of various would-be components at a pace that has literally doubled its overall testing capacity in the past two years alone. Located in Warren, Michigan, GM's 3D rapid prototyping shop has turned out everything from pre-production interior bits for the Chevy Volt to complete bodies for the trick GM EN-V personal urban mobility vehicles that were presented at the 2010 Shanghai World Expo.
"In design, we work with conceptual ideas in preproduction. Early part iteration allows us to get 'hands on' to see what works and what doesn't at the point where people actually touch the car," said Checo Pacheco, a lead creative designer in the Branded Component Studio. In addition to enabling designers at Buick, Cadillac, Chevrolet and GMC to "stretch the creative envelope," John Green, superintendent, GM Design Fabrication Operations, succinctly points out the more tangible benefits of this advanced technology by noting: "We can bring more attractive, functional and aerodynamic vehicles to market in less time and at lower cost than ever before.