Subaru introduces EyeSight driver assist system
by
KBB.com Editors
|
March 16, 2012 11:24 AM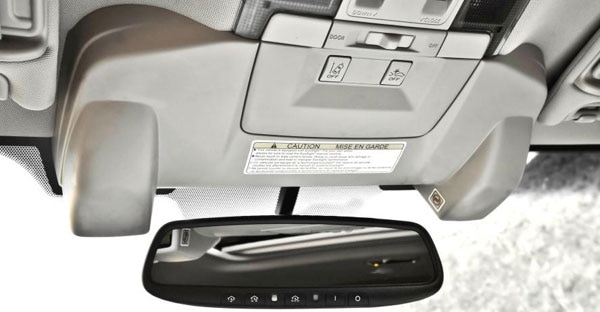 When the 2013 Subaru Legacy and Outback models debut next-month at the New York Auto Show, they'll be fitted with the automaker's new Subaru EyeSight driver-assist option. Also slated for subsequent introduction on other models in the Subaru lineup, the comprehensive EyeSight package integrates adaptive cruise control, pre-collision braking and vehicle lane departure warning with technology that can detect obstacles in front of a parked car and help limit potential damage in the case of an impact.
The external hardware for Subaru's EyeSight package is located inside the car on the upper windshield margin above the rearview mirror. Key EyeSight elements include a pair of Subaru-designed charge-coupled device (CCD) cameras that produce forward-looking stereo images which cover a wider viewing angle than a conventional -- and costlier -- radar-based system. These images get sent to the system's computer, which is fully integrated with the vehicle's anti-lock brakes and electronic throttle and can recognize a variety of programmed objects such as other vehicles, motorcyclists, bicyclists and pedestrians.
At speeds of up to 19 mph, the Subaru EyeSight system can automatically activate when it detects a person or object in a potential impact zone and apply sufficient braking power to completely stop the vehicle to prevent a collision. Above that speed, EyeSight will attempt to apply the brakes in a threatening situation if the driver takes no evasive action of fails to brake appropriately. Functional from 1-87 mph, EyeSight's Adaptive Cruise Control system operates in a similar manner, and can apply full braking force if necessary to avoid impact with the vehicle ahead. Subaru EyeSight also is capable of reading road markers and can detect and warn a driver should the car begin to wander in lane.
Pricing for the Subaru EyeSight system has not been announced. However, the automaker promises it will be one of the most affordable CCD/camera-based driver-assist packages available when it becomes available later this year.