'Smart'' headlights promise better vision in bad weather
by
KBB.com Editors
|
July 12, 2012 11:45 AM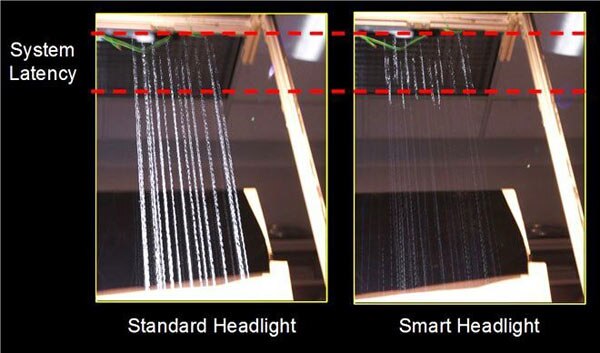 A research team at Carnegie Mellon University's Robotics Institute has developed a new headlight technology that promises to give drivers a far better view of what lies ahead when they're traveling through rain or snow conditions. The system, which is based around an LED lamp design, uses a camera to record the position and track the path of individual drops or flakes. It then applies a predictive algorithm via a digital light processing unit that shuts off individual banks of rays, preventing these particles from being illuminated while still permitting the unaffected beams to function normally. "If you're driving in a thunderstorm, the smart headlights will make it seem like it's a drizzle," said Srinivasa Narasimhan, associate professor of robotics. "A human eye will not be able to see that flicker of the headlights."
Lab tests on the prototype version of these smart headlights have demonstrated the system has a response time of about 13 milliseconds, an interval that allows them to eliminate 70 to 80 percent of visible rain during a heavy storm while losing only 5 or 6 percent of the light from the headlamp when the vehicle is traveling at approximately 19 mph. At the moment, that cloak of invisibility figure drops to around 20 percent when the pace rises to 60 mph -- a challenge that Narasimhan and his associates continue to work on in addition to their efforts to develop a production-capable iteration that will take full advantage of purpose-designed elements to reduce both size and cost.
Although even the best of these smart headlamps will never be able to fully eliminate all reflected glare, Narasimhan says they do have the potential to substantially improve visibility for the driver while greatly reducing distraction levels. As an added benefit, the system also has the capability to detect oncoming traffic and automatically adjust the headlights to eliminate the need for manually switching from high to low beams.