Shelby SuperCars Tuatara - boldly breeding the need for speed
by
KBB.com Editors
|
July 19, 2011 2:01 PM
What's in a name? In the case of the new Shelby SuperCars Tuatara, a somewhat obscure confirmation that it's being designed to significantly outperform the boutique automaker's previous offering, the Ultimate Aero TT, and in the process reclaim the title of world's fastest production car.
According to the SSC's founder and lead designer, Jerod Shelby, the name "Tuatara" (twu-tar-ah) was inspired by a lizard-like reptile in New Zealand that reportedly has the fastest evolving DNA of any creature in the world -- a characteristic Shelby says is true of his operation, which is based in West Richland, Washington. In Maori, the word translates into "peaks on the back," also deemed apropos of the successor to the Ultimate Aero TT because of the winglets found on the back of this new car.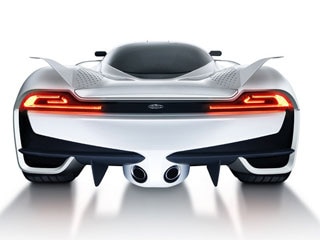 "The design specifications for the Next Generation SSC were so extreme; we knew early on that a proper name would be a key piece of the puzzle for this project," says Shelby. "Most manufacturers essentially use the same basic model and body shape for up to 10 years, while only making small refinements to it each year. After only three years in production with the Ultimate Aero, SSC's Tuatara is about to monumentally evolve in the areas of sophistication, design, aerodynamics and sheer all-around performance. We felt that the fastest evolving DNA was a perfect definition of SSC's latest project."
Shelby is no stranger to making good on bold claims. In September 2007, SSC's Ultimate Aero TT toppled the 253.5 mph speed record set by the original 1001-horsepower Bugatti Veyron EB 16.4 with a blistering 257 mph clocking. Although it was subsequently eclipsed by a 267.85-mph record run by the more-potent Bugatti Veyron Grand Sport, Shelby is confident the Tuatara will have plenty in hand to return the "world's fastest" bragging rights to SSC. While many details are still being kept under wraps, we do know that the carbon-fiber, mid-engine Tuatara will be fitted with a custom-designed 7.0-liter DOHC twin-turbocharged V8 tuned to develop around 1,350 horsepower which will be shipped to its rear wheels via a seven-speed transmission.