Nissan's Outlook: Next-gen Titan and Autonomous Driving
by
Zach Vlasuk
|
August 26, 2013 7:11 AM
Nissan recently held a global media event in Southern California to showcase the company's forthcoming product plans, technological achievements and overall vision for the future. As you can see in the photo gallery above, Nissan also put on display a dizzying number of current and conceptual vehicles from around the globe. Here's a quick rundown of the big takeaways.
5.0-liter V8 Diesel Engine for Next Titan Pickup
While the Cummins name has long been associated with heavy-duty Ram pickups, Nissan announced its plans to offer a newly developed Cummins diesel engine in the second-generation Nissan Titan, which is expected to debut as a 2015 model. Similar to the way in which Toyota promoted the second-generation Tundra, Nissan seeks to market the 2015 Titan as a 1/2-ton truck with the capability of a 3/4-ton. "We have done our homework on the next-generation Titan. Truck owners told us there's a demand for the performance and torque of a diesel in a capable truck that doesn't require the jump up to a heavy-duty commercial pickup," said Fred Diaz, divisional vice president of Nissan Sales & Marketing.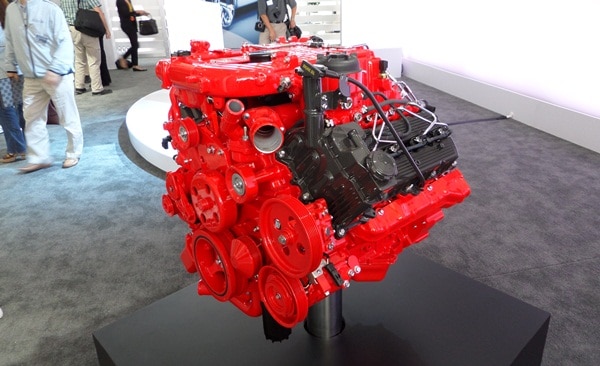 Because the engine is still in the latter stages of development, specific output specs have yet to be released, though Cummins did indicate that the new V8 diesel will boast torque figures in the mid-500 lb-ft range and more than 300 horsepower. By comparison, the Ram 1500's optional diesel powerplant generates 240 horsepower and 420 lb-ft of torque.
And while it's no secret that most owners of full-size trucks are devoted to a particular brand, 17-percent of current and prospective light-duty pickup buyers who participated in Nissan's focus group testing would consider switching brands if a Cummins V8 turbodiesel were available.
Inching Towards Full-Autonomy
Google, Audi and Volkswagen have garnered a fair share of public interest in their autonomous vehicle programs. Nissan, not to be outdone, provided us the opportunity to experience its proprietary autonomous technologies in a closed-course setting.
An all-electric Leaf outfitted with five laser sensors (two up front and three out back) working in conjunction with Nissan's current Around View Monitor (comprised of four cameras) scan the surroundings of the vehicle in a 360-degree fashion, constantly searching for obstacles, potential hazards and roadway infrastructure. Nissan demonstrated three fully automated vehicle systems: Side distance control, intersection entry and overtaking with oncoming traffic.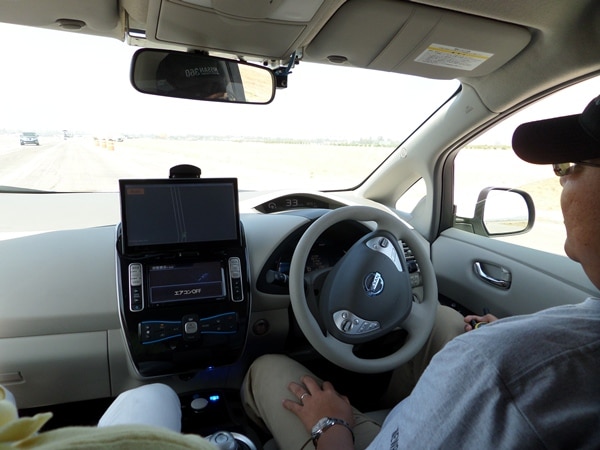 Side distance control is a software package designed to detect a lane obstruction at highway speeds and automatically apply steering effort to avoid a collision. In city driving, intersection entry recognizes the point at which oncoming vehicles reach a 4-way stop and determines the correct order before proceeding. Overtaking with oncoming traffic is also intended for use in urban situations, wherein the system identifies a parked car on the side of the road, scans for a gap in oncoming traffic, and steers the vehicle around the obstruction once it's safe to continue.
Seeing as this story was not in fact written from a hospital bed, it goes without saying that each prototype application performed seamlessly during the live demo. And despite the fact that all three of these automated driving features are early prototypes, most will likely come to market within the next decade, according to Nissan's research and development team.