Nissan working to create a healthier, less-stressful experience
by
KBB.com Editors
|
August 3, 2010 7:39 AM
Seeking to create an even better overall 21st century driving environment, Nissan Motor Company has just launched its new "Health & Well-Being" concept aimed at making life in the fast -- or slow -- lane be more rewarding for body and soul. Part of its even larger "Life on Board" initiative that's intended to upgrade all aspects of the human side of the motoring equation, this latest effort entails adopting new and innovative approaches to interior design that will optimize driving ease, cabin comfort and other prime people-oriented qualities. So far, Life on Board has spawned two items of particular note: the new and more user-friendly multi-function "Intelligent Control Display" system introduced on the Nissan Juke and the "Forest AC" air conditioning system used on the Nissan Fuga, which recreates the refreshing breezes, humidity and aroma of a natural forest as well as regulates the temperature.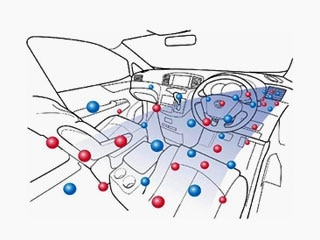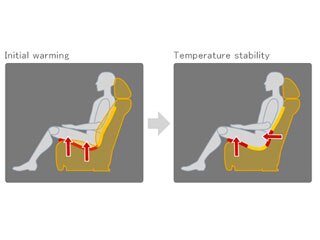 The first tangible advances to emerge under the "Health & Well-Being" banner center on seat design and climate control. Primarily intended to pamper second-row passengers in vans and SUVs, the "Comfortable Captain Seat" melds three layers of engineered mission-specific cushioning materials with an articulated backrest and integrated leg rest to provide balanced support to all areas of the body. Offering even broader application potential is the "Quick Comfort Seat Heater" system. Based on what Nissan claims is pioneering research that shows heat transfer efficiency and sense of comfort vary according to specific body regions, the Quick Comfort Seat Heater uses staged and sequenced warming -- thighs and gluteals first followed by lower back and thighs -- to shorten the time required for an occupant to feel "warm" by some 35 percent compared to traditional seat heaters.
Last, but perhaps most intriguing, Nissan is working on a new "Advanced Climate Control System" that uses a Plasmacluster Ions generator and grape polyphenol air filter made from fibers that contain natural grape-seed polyphenol. Where the highly concentrated Plasmacluster Ions reportedly help keep the skin naturally moisturized, grape-based polyphenol does its part to reduce airborne bacteria and mold levels, control odors and blast pesky ticks and microbe allergens that may be present in the cabin air. The setup also incorporates a special supplemental odor detector In addition to the conventional emission gas sensor, which automatically engages the system's recirc mode at the merest whiff of any other outside odors.