Nissan Vision Gran Turismo: The next GT-R?
by
Bob Nagy
|
June 10, 2014 11:24 AM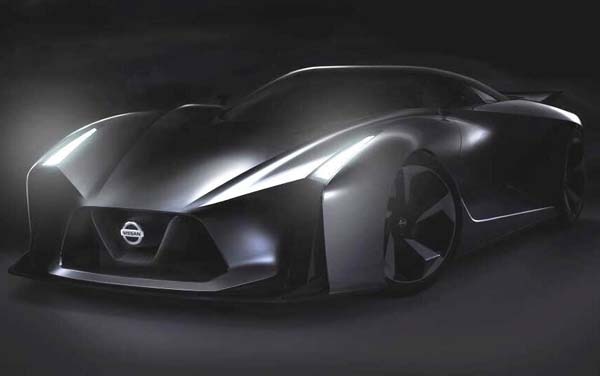 Promising to "reveal the next chapter in our Nissan story to an audience that has always shared our passion for performance" on June 16th, the automaker has released a teaser image of what's its upcoming entry for the popular Sony Playstation racing game Gran Turismo 6. Set to join other factory-created rivals that include the Mercedes Benz AMG Vision Gran Turismo and Volkswagen Golf GTI Roadster Vision Gran Turismo on the videogame's fantasy grid, this futuristic one-off will be the 149th Nissan vehicle to be part of the Playstation franchise - a number that gives it bragging rights over all other manufacturers.
Also: The Class of 2015 -- New Vehicles Ready to Roll
But there could be considerably more to the saga of Nissan's latest and most intriguing digital competitor. When it was first launched, Gran Turismo played a pivotal role in elevating the original Nissan GT-R to legendary supercar status. At the moment, there's no hint of what design elements found in the Nissan Vision Gran Turismo might be headed to production as part of the next-gen GT-R due in 2016. However, we might see at least some form of its aggressive V-Motion exterior styling cues and still-unknown powertrain components hit the street when the new model does arrive.
Also: 10 Coolest Cars Under $25,000
Like earlier Vision exercises from other automakers, Nissan is expected to present a full running prototype of its Vision Gran Turismo at the formal reveal next week. Based on a Twitter posting by the firm's Chief Planning Officer Andy Palmer, we could well see the car in action later this month at the annual Goodwood Festival of Speed that runs from June 26-29.
More Nissan News...
An updated 2015 Nissan Juke goes on sale here in the fall
The all-new 2015 Nissan Murano boasts show-car style and a host of upgraded features
The 2015 Nissan Sentra Sedan sports a new look and more standards