Nissan plans to cut costs by using Common Module Family design
by
KBB.com Editors
|
February 29, 2012 6:02 AM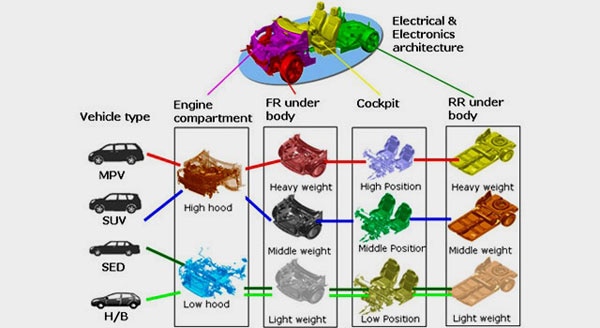 Nissan Motor Corporation has announced a new approach to vehicle engineering aimed at generating significant cost savings by the far wider use of common components across its various vehicle lines. The goal is to realize about a 30 percent reduction in overall cost by doubling the percentage of shared parts - from 40 to roughly 80 percent - while still maintaining the requisite differentiation levels for each of the vehicles.
The heart of Nissan's ambitious new program involves the use of Common Module Family (CFM) elements. These basic building blocks include the engine compartment, cockpit, front underbody and rear underbody in addition to the architecture required for electronic components. By effectively tweaking each module to accommodate the specific needs of a given vehicle, Nissan says it will be able to mix, match and scale them in ways that will allow it to create subsequent generations of unique products in a more cost effective manner while ensuring these future offerings also are even safer and more fuel efficient.
Because it will facilitate the simultaneous application of currently high-end-only features across numerous lesser model lines, the new CMF system is destined to play a pivotal role in helping the automaker meet its goal of introducing some 90 new technologies to its products by 2016. The first vehicle to benefit from the CMF design philosophy will go on sale in 2013 and be the first of some of 51 new models Nissan plans to bring to market during the course of its mid-term business plan.