New Shelby Cobra 427 S/C is emissions-free and strictly for kids
by
Bob Nagy
|
August 21, 2013 11:53 AM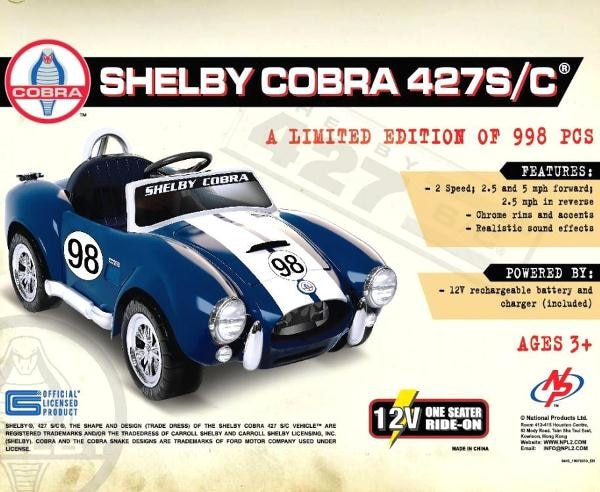 While it can't match the visceral thrills of an original Shelby Cobra 427 S/C, this scaled-down 12-volt repro variant will definitely ramp up enthusiasm in the younger set. Officially licensed through Carroll Shelby International and co-developed by Carroll Shelby Licensing and National Products Limited, the battery-powered kid-sized replicar made its debut at the 2013 Rolex Monterey Motorsports Reunion at Mazda Raceway Laguna Seca. Billed as "the ultimate reward for aspiring children" this zero-emission variation on the theme will be produced in two versions: a standard model and a limited edition run of 998 - which equals the total number of all legitimate Shelby Cobras produced between 1962-67.
Also: 10 Cars That Exude Attitude
Capable of carrying a child up to 65 pounds and running for up to 45 minutes on a single charge while producing appropriate engine-like sounds, both iterations of this new Shelby Cobra feature low (2.5 mph) and high (5 mph) forward gear ratios as well as reverse. Standard mini Cobras will be finished in red or blue set off with the classic Shelby white racing stripes and details like chrome wheels, side exhausts and a rear-fender gas cap as well as a rollbar and official badging. In addition to navy blue metallic pearl paint, each limited-edition Cobra variant will have functional headlamps, Shelby's famed "98" racing number on its hood and doors, and a unique serial number that will be documented in an official Shelby Cobra 427 "ride-on" registry.
Also: 10 Best Sedans Under $25,000 for 2013
"One of the earliest photos of Carroll Shelby is of him as a child in a pedal car," noted Jimmy Chau, V.P. of Sales and Marketing for National Products. "This inspired us to give youngster a chance to follow his footsteps but in something far more powerful, a Shelby Cobra." Chau also indicated that the prototype limited edition ride-on Cobra will be used to help raise awareness about the Carroll Shelby Foundation, a organization the late racing legend established to help provide financial support for children fighting life-threatening illnesses. No word yet on pricing but the mini-scaled Shelby Cobra 427 S/C will go on sale in October at select retailers and online at www.funcreation.net.
More (Full-scale) Electric Cars...
The 2013 Ford C-MAX Energi is the EPA's most fuel-efficient plug-in hybrid
An all-electric Mercedes-Benz B-Class will arrive here in early 2014
Vegas Vacation: Driving a Tesla Model S from LA to LV