Mitsubishi i-MiEV Evolution Pikes Peak challenger unveiled
by
KBB.com Editors
|
May 21, 2012 5:02 AM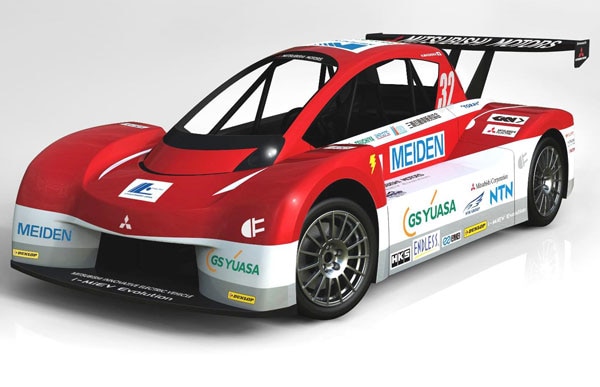 Mitsubishi has high hopes of setting a new absolute record for electric vehicles at this year's annual Pikes Peak International Hillclimb an event that will take place July 3-8. In addition to entering a slightly modified version of its Mitsubishi i production model, the automaker has created a purpose-built single seat, all-wheel driver dubbed the Mitsubishi i-MiEV Evolution. Mitsubishi says the Evolution uses the same primary drive motor and 35kWh lithium-ion battery pack as its standard "i" model, however, this ultra-spec one-off also is fitted with a pair of supplemental motors, one driving each rear tire -- and packs a total of 322 horsepower. Based on a custom tube-frame chassis and featuring a good deal of mass-reducing carbon fiber, the Evolution also has a full-on race suspension and wears custom 245/40 Dunlop/Goodyear tires on lightweight 18-inch alloy wheels.
To maximize its chances for success in the legendary Race to the Clouds, the Mitsubishi i-MiEV Evolution will be driven by Hiroshi Masuoka. In addition to his official duties overseeing vehicle development, training company test drivers and conducting various dynamic evaluations in Japan and the rest of the world, Masuoka also happens to be a superbly accomplished wheelman. He began driving in the then Paris-Dakar Rally Raid back in 1987, and subsequiently notched back-to-back overall wins there in 2002-2003, becoming the first Japanese driver ever to do so.
To claim the absolute EV title at Pikes Peak Masuoka will have to better the current mark of 12 minutes 20.084 seconds set in 2011 by another Japanese ace, Ikuo Hanawa driving a one-off racer fitted with a powertrain developed by AC Propulsion. "Given the tough driving conditions that Pikes Peak is known for, I'm really keen to show people the world over those electric vehicles are capable of gutsy motive performance and excellent handling in addition to their superior environmental performance." Masuoka's chances should be aided a bit by one change to the Pike Peak course surface. For the first time since the event began in 1916 its entire 12.42-mile distance will be fully paved, the last remaining dirt section having been replaced by asphalt following last year's event. That transition also should help the efforts of veteran off-road racer, Beccy Gordon, who'll be behind the wheel of the production Mitsubishi i.