Mitsubishi Concept G4 Sedan could preview a U.S. Mirage 4-door
by
Bob Nagy
|
April 15, 2013 3:36 PM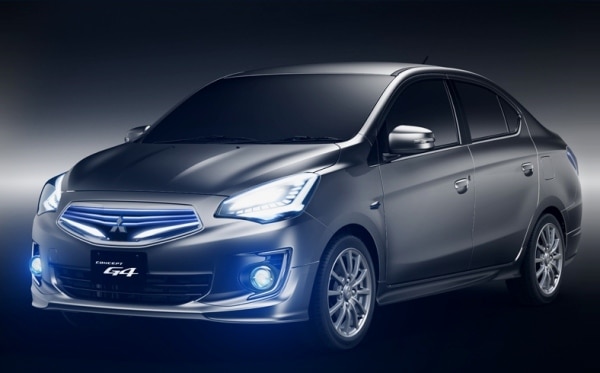 The Mitsubishi Concept G4 that will be on the automaker's stand at the Shanghai Auto Show this week previews a production version of a compact sedan that will likely will be marketed globally as the next-generation Mirage. As we reported last month, it's possible this vehicle also could have a future here in the U.S.
Also: 40 mpg Cars of 2013
Although the exterior styling of the Concept G4 bears only a passing resemblance to the look of the new 2014 Mirage 5-door hatchback that was presented at the recent New York Auto Show, Mitsubishi Motors Corporation says the visual character of this one-off sedan accurately reflects what we can expect to see carry forward into its volume-build successor.
Also: 10 Coolest Cars Under $25,000
Underneath the skin, the G4 Concept and Mirage 5-door share much common engineering, starting with the automaker's RISE (Reinforced Impact Safety Evolution) body structure that makes extensive use of high-strength steel to enhance rigidity while reducing curb weight. The two vehicles also use the same 1.2-liter/3-cylinder MIVEC engine paired with a CVT continuously variable automatic transmission to help boost overall fuel efficiency. Rated at 74 horsepower and 74 lb-ft of torque in the Mirage 5-door that will go on sale here this fall, this engine/CVT combo is expected to earn 40 mpg EPA combined ratings and should match that figure in the sedan.
There's still no final word from Mitsubishi regarding when -- or even if -- this future Mirage sedan will be sold in America.
You Should Also Know...
• Quick take: 2014 Mitsubishi Outlander vs 2014 Kia Sorento
• Mitsubishi Concept CA-MiEV revealed
• Mitsubishi Concept GR-HEV unveiled