Mercedes-Benz wind tunnels provide the ultimate in climate control
by
KBB.com Editors
|
July 19, 2011 1:52 PM
Taking computer simulation to a whole new level, Mercedes-Benz has just brought a pair of high-tech wind tunnels online that can dial up the most extreme ranges of climates and atmospheric conditions at the touch of a button. Between them, M-B engineers can now subject prototype vehicles to everything from -40C to +60C (-40F to +140F) degree temperatures to hurricane force 265 kph (165 mph) wind complete with driving rain/snow storms as a way to optimize the final design specifications and reduce the amount of actual on-road weather-testing evaluation times.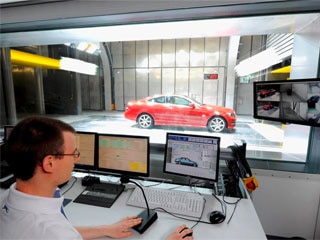 Constructed over a two-year period, each of these state-of the-art super-climate tunnels incorporates a twin-axle roller dynamometer that can simulate speeds of up to 265 km/h (165 mph), making it possible to test even high-performance M-B models under these extreme conditions. By comparison, evaluations in the old hot tunnel, which had a maximum temperature of +40C (+104F) degrees, could only take place at a speed of 64 km/h; and tests in the old cold tunnel, with its -20C (-4F) degree minimum, were limited to just a 100km/h (62 mph) level. Each new tunnel permits a full range of operational variations that allow for focused evaluations of specific functional systems as well as for the complete vehicle. With an eye to the future, they've also been designed to accommodate all alternative and fuel-cell-powered models.
In outlining the advantages out these new wind tunnels, Dr Thomas Weber, Member of the Board of Management of Daimler AG responsible for Group Research and Mercedes-Benz Cars Development noted: "Even in the arctic regions of Sweden, the temperatures in winter are not always as low as we would like them to be for our test drives. Likewise, nor can we always rely on getting the extreme high summer temperatures we need for testing, even in America's infamous Death Valley. In our new climatic wind tunnels we can create whatever climate conditions we want at any time of year, whenever we need them. And we can do so with very tight tolerances, so the measurements can be reproduced at any time. That's just not possible out in the open air."