Mazda prepping SkyActiv turbodiesel for 2013 Rolex Grand Am GX Series
by
KBB.com Editors
|
June 5, 2012 6:34 AM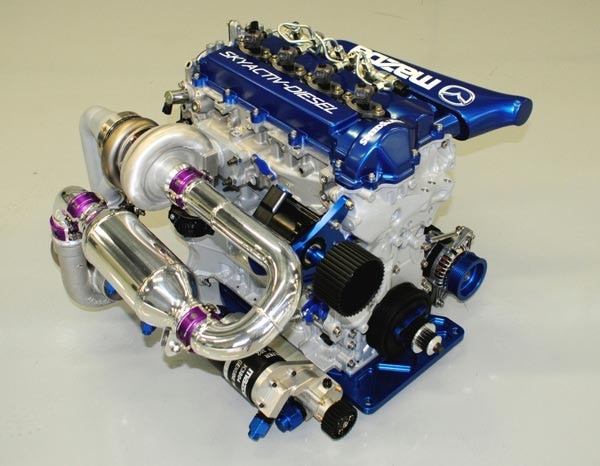 Looking for a new motorsport challenge - and a novel way to promote its trick SkyActiv-D turbodiesel engine - Mazda will provide racing versions of this ultra-efficient, ultra-clean motivator to privateer competitors who enter the new GX class that will be part of the 2013 Rolex Grand Am Series. These competition-tuned engines will be based on the standard 2.2-liter SkyActiv-D engine that Mazda will launch in at least one, and likely more, production models here in the U.S. within the next 12 months. Development on this race-spec oil-burner is currently taking place between Mazda Motor Corporation, Mazda North American Operations and SpeedSource Engineering with on-track testing set to start late this year and pricing/contract terms to follow.
The recently-announced Rolex Grand Am GX category - which is intended to showcase new and more advanced engine technologies -- will feature vehicles similar to those in the present GT class. Mazda currently supports teams that quite successfully campaign its rotary-powered RX-8, a model that ceased production for the U.S. in the 2011 model year. While it has yet to specify which vehicle will replace that car in both GT and GX guise, the Mazda6 fits the profile most closely.
Rotary-powered Mazdas have been high-profile fixtures in the Rolex Grand Am GT series since 2007. In addition to notching numerous class wins, the SpeedSource Engineering RX-8 took GT Class honors in 2008 and 2010 at the 24 hours of Daytona. "This opens a new chapter in racing for us," said Jay Amestoy, Vice President of Mazda Motorsports, Mazda North American Operations (MNAO) in commenting on the new SkyActive-D racing program. "We've won with rotary technology, and now we're looking to again put our customers in the winner's circle with what we believe will be the most advanced and cleanest production-based powerplant the sport has ever seen."
Sylvain Tremblay, long-time Mazda rotary campaigner who both owns and drives the SpeedSource Engineering RX-8 looks forward to moving on into a new era of even keener competition. "As a motorsports engineering firm, we love a challenge, and starting a new program with a stock-block SkyActiv-D clean diesel engine gives us a wonderful opportunity. The ultra-low compression ratio stock engine has fantastic torque and fuel economy. Our job is to tune it such that it meets the needs of our racers."
Sporting intentions aside, John Doonan, Director, Mazda Motorsports, MNAO notes that this effort is being undertaken with the bottom line as a key measure of its ultimate success. "We operate our motorsports program as a business, selling everything from B-Spec performance kits for the Mazda2 to complete powertrains. We've won at Le Mans, Daytona and Sebring with rotary power. While the SkyActiv-D clean diesel engine is all-Mazda, the teams will be independents. We look forward to taking customer orders later this year."