Mazda and Toyota in Tech Tie-up
by
Bob Nagy
|
May 13, 2015 9:56 AM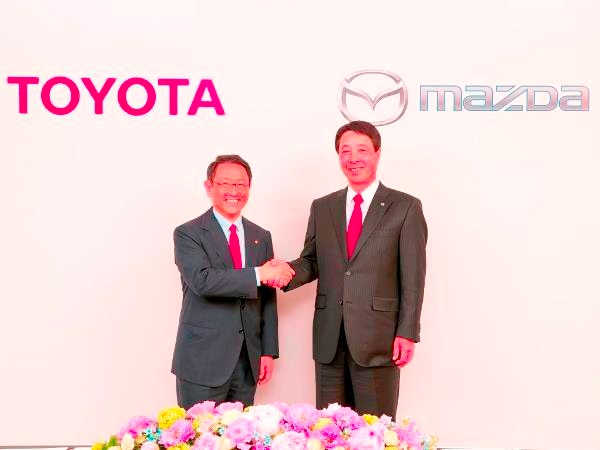 Mazda Motor Corporation and Toyota Motor Corporation have entered into an agreement "to build a mutually beneficial long term partnership" based around "leveraging the resources of both companies to complement and enhance each other's products and technologies." The nominal goal of the relationship is to create vehicles that will appeal to buyers in all global markets. The next step is the formation of a joint committee to find the best way to use each firm's strengths in a collaborative manner.
Also: Class of 2016 -- New Cars Ready to Roll
In commenting on the pact, Toyota President Akio Toyoda stated: "As evidenced by their SkyActiv Technologies and Kodo -- Soul of Motion design, Mazda has proven that it always thinks of what is coming next for vehicles and technology, while still managing to stay true to its basic carmaking roots. In this way, Mazda very much practices what Toyota holds dear: making ever-better cars."
Mazda President and CEO, Masamichi Kogai, responded by noting: "Toyota is a company that has shown steadfast resolve in acting responsibly on global environmental issues and the future of manufacturing as a whole. I also have tremendous respect for Toyota's dedication in its pursuit of ever-better cars through ongoing innovation. Furthermore, Mazda identifies with the way Toyota cherishes its roots and all of the communities it is involved in."
Also: Kelley Blue Book Best Buy Awards of 2015
The two companies are already working together. Toyota currently licenses some of its hybrid technology in the Mazda3 Hybrid (which is not sold in the U.S.) and Mazda will produce the Scion iA Sedan -- which is based on the new Mazda2 -- at its assembly facility in Salamanca, Mexico. Although offering no guidance on the specific timing or scope of future undertakings, more extensive joint manufacturing efforts as well as sharing expertise on various forms of advanced powertrain applications, from Mazda's SkyActiv engine technologies to Toyota's Hybrid Synergy Drive and fuel cell systems, certainly appear to be the basis for early cooperation.