Lexus tops 2012 J.D. Power and Associates U.S. Dependability Study
by
KBB.com Editors
|
February 15, 2012 1:37 PM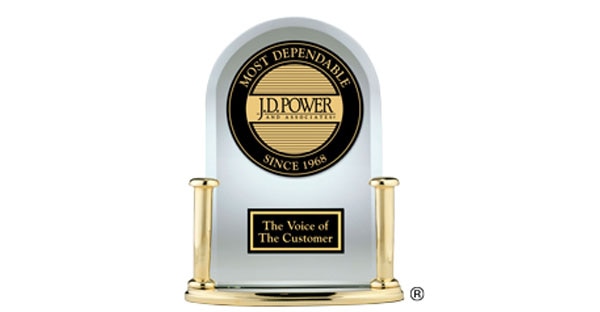 In a year that saw impressive gains registered by 25 of 32 manufacturers, Lexus moved to the head of the class in the 2012 J.D. Power and Associates U.S. Vehicle Dependability Study. The annual long-term survey was compiled using information provided by over 31,000 owners of 2009 model-year vehicles. The dependability index measures the number of problems experienced per 100 vehicles (PP100) during the last 12 months. According to J.D. Power, the 2012 Vehicle Dependability Study data showed that long-term vehicle dependability has improved by eight percent since 2009 and is higher than it's ever been.
Lexus, which ranked seventh in the 2011 Vehicle Dependability Study, scored an exceptional 86 PP100 in this year's evaluation, followed by Porsche (98) and a tie between Cadillac (104) and Toyota (104). Rounding out the top 10 brands for 2102 were Scion (111), Mercedes-Benz (112), Lincoln (116), Ford (124), Buick (125) and Hyundai (125). Two other brands, Acura (129) and Honda (131), also registered PP100 scores below the industry average of 132. In 2011, that collective figure was 151. At the other end of the spectrum, the four Chrysler Group brands trailed the field. RAM led the divisions with a PP100 score of 174, followed by Jeep (179), Dodge (183), and Chrysler (192).
As for individual standout performers, the Lexus LS Series led all comers in the 2012 J.D. Power and Associates U.S. Vehicle Dependability Study with a spectacular PP100 figure of 72 while Toyota Motor Corporation rolled off with top automaker honors by producing eight different category victors. On the car side of the mix, class segment winners included the Toyota Yaris (Subcompact), Toyota Prius (Compact), Scion tC (Compact Sporty), Ford Fusion (Midsize), Buick Lucerne (Large), Lexus ES350 and Lincoln MKZ (Entry Premium) and Hyundai Genesis (Midsize Premium). Sharing the spotlight among the truck/van/SUV set were the Chevrolet Equinox (Compact Crossover/SUV), Scion xB (Compact MPV), Ford Explorer/Nissan Murano (Midsize Crossover/SUV), Lexus RX 350 (Midsize Premium Crossover/SUV), Toyota Sienna (Midsize Van), Nissan Frontier (Midsize Pickup) and Toyota Tundra (Large Pickup).
"Despite facing immense challenges in 2009, automakers placed a keen focus on delivering outstanding levels of quality, which they understood would be essential to their long-term success," said David Sargent, vice president of global automotive at J.D. Power and Associates. "Three years later, owners of these models are enjoying unprecedented levels of vehicle dependability and manufacturers are experiencing market recovery. This is good news both for owners - who are holding onto their vehicles for longer than ever - and manufacturers, since perception of quality and dependability is a critical factor in vehicle purchase decisions."
Photo Credit: J.D. Power and Associates 2012 U.S. Vehicle Dependability Study