Infiniti Q30 Concept teased for Frankfurt Auto Show
by
Bob Nagy
|
August 9, 2013 2:50 PM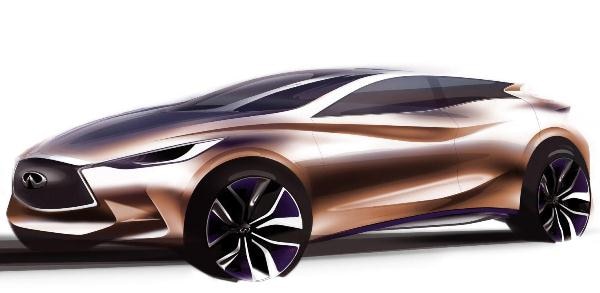 Infiniti has confirmed it will unveil the new Q30 Concept in Frankfurt next month. According to Johan de Nysschen, President of Infiniti Motor Company, Ltd., this striking 5-door one-off previews a compact production model that will match distinctive style with new levels of build quality and serve as "a prelude to the product portfolio expansion which underpins our aggressive global growth strategy." Ultimately, Infiniti hopes the Q30 becomes the impetus for "a radical shift in the premium compact segment" and that the Q30 Concept "will inspire greater expectations of what is possible beyond the designs dominant in the market today."
Also: 10 Best Sedans Under $25,000
Aimed at influencing opinions of younger and younger-minded potential buyers around the world who might otherwise consider alternatives like the Audi A3, BMW 1 Series or Mercedes-Benz A-Class, the Infiniti Q30 Concept reflects the latest evolution of the division's design language and borrows cues from the automaker's earlier Essence, Etherea and Emerg-e show cars. Alfonso Albaisa, Infiniti Executive Design Director, characterized the C30 Concept's lithe, muscular visual presence as being "slender, sleek and seductive" in a way that mimics the powerfully sensual feel of a cheetah or other big cat at speed.
Infiniti offered no specifics on the platform that underpins the Q30 Concept or what will appear beneath its volume-build successor. However, two years ago Renault-Nissan CEO Carlos Ghosn entered into a well-publicized deal with Mercedes-Benz that would have Infiniti use a variation of the German automaker's "MFA" small-car platform - currently used for its new A-Class/B-Class offerings - as the core of an upcoming front-drive luxury compact model. Given that the C30 appears to be that car, expect to see some type of force-fed 4-cylinder engine - likely M-B's 1.8-liter turbo - as part of this new Infiniti's motivator mix. The automaker did point out that the Q30 program was the first that had the company's Director of Performance -- three-time F1 World Driving Champion Sebastian Vettel - involved in development from the very start and that the production car will be infused with the division's own "race-bred performance" when it starts rolling off the assembly line sometime in 2015.
More Concept Cars...
Audi TT Ultra Quattro Celebrates the Light Stuff
The Subaru VIZIV Concept offers a look into the automaker's design future
The Volkswagen Design Vision GTI Concept is one hard-core hatch