Hyundai Veloster Midship Concept revealed
by
Bob Nagy
|
May 30, 2014 10:51 AM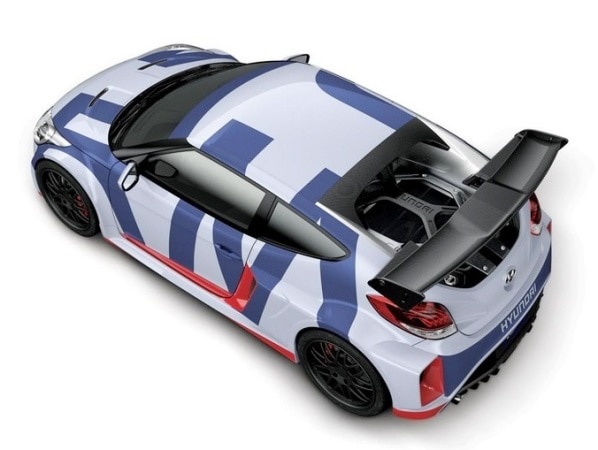 One of the surprise stars of the 2014 Busan International Motor Show in South Korea, the Hyundai Veloster Midship Concept offers a tantalizing look at the potential lurking within the automaker's sportiest offering. Developed by Hyundai Motor Company's High Performance Team - the same group that initially spearheaded the company's i20 World Rally Car effort - this 2-seat one-off is fully drivable and packed with the latest in Hyundai performance technologies. Given the leanings of its creators, we're not surprised to see this ultra-spec Veloster also boasts a full-on WRC-style body kit that includes dramatically flared fenders, a massive rear wing and functional rear diffuser to complement its assortment of go-fast mechanicals.
Also: The Class of 2015 -- New Vehicles Ready to Roll
Nestled behind the passenger compartment of the Veloster Midship Concept is a turbocharged 2.0-liter Theta GDI 4-cylinder engine tuned to make 295 horsepower. While Hyundai offered no additional details about the drivetrain or performance potential, it's safe to assume that's sufficient motive force to make this unique one-off blindingly quick in a straight line. With its rigid core structure, race-turned aluminum suspension and superb weight distribution, the Veloster Midship Concept also should be equally engaging in the twisty bits. Alas, Hyundai says this is strictly a learning exercise intended "only to explore possibilities for the Veloster chassis and is currently not related to any future production model."
More Cool Concept Cars...
The Audi A3 Clubsport Quattro Concept boasts a bad attitude and 518 hp
The Lamborghini 5-95 Zagato is collectable by design
The Mini Superleggera Vision Concept could see production