Hyundai Blue2 Concept forecasts future fuel-cell sedan plans
by
KBB.com Editors
|
April 1, 2011 1:00 PM
Described as a "blueprint" for its future sedans and intended to serve notice of the Korean automaker's serious intentions to become a dominant force in the still-embryonic automotive fuel cell arena, the Hyundai Blue2 Concept made its debut this week at the 2011 Seoul Motor Show. Developed under the code name HND-6 and officially pronounced "Blue Square," this mid-size FCEV matches a futuristic new styling theme Hyundai has dubbed "Intersected Flow" with a megaload of eco-friendly materials, advanced electronics/telematics and a hydrogen fuel cell stack that turns out 90kW (121 hp) and delivers about 82 eMPG.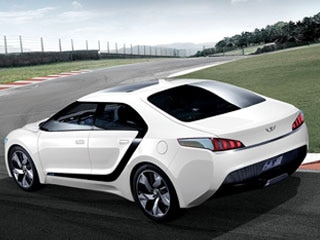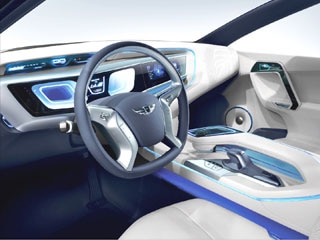 The Hyundai Blue2 Concept's dramatically sculpted aero-optimized bodywork is set off by appropriately wind-cheating alloy wheels wrapped in low-rolling-resistance tires and mini side- and roof-cams that replace conventional exterior mirrors. The exterior design themes transition into the Blue2's cabin, which is accessed via auto-opening doors. Open and airy, its asymmetrically rendered dash and door panels are meant to put primary focus on the driver and wider seats ease entry/exit and add more comfort for all on board. A cluster ionizer helps keep the air inside the Blue2 Concept's cabin fresh while antibacterial leather upholstery material featuring leaf-shaped "eco-graphic" perforation adds an extra touch of green.
To ensure excellent legibility of its primary instrumentation and supplemental readouts, the Hyundai Blue2 Concept is fitted with an advanced Transparent Organic Light Emitting Diode (TOLED) monitor and feature ultra-light tempered "GorillaGlass" that presents driver information in a more vivid manner. Primary input to the Blue2's multifaceted infotainment package is by a trick Motion Sensor Moustick that combines a touch-sensitive haptic wheel and motion sensor combo.